Add some bacon and eggs to this breakfast favorite with this light and easy recipe for bacon and egg avocado toast and start the day off right!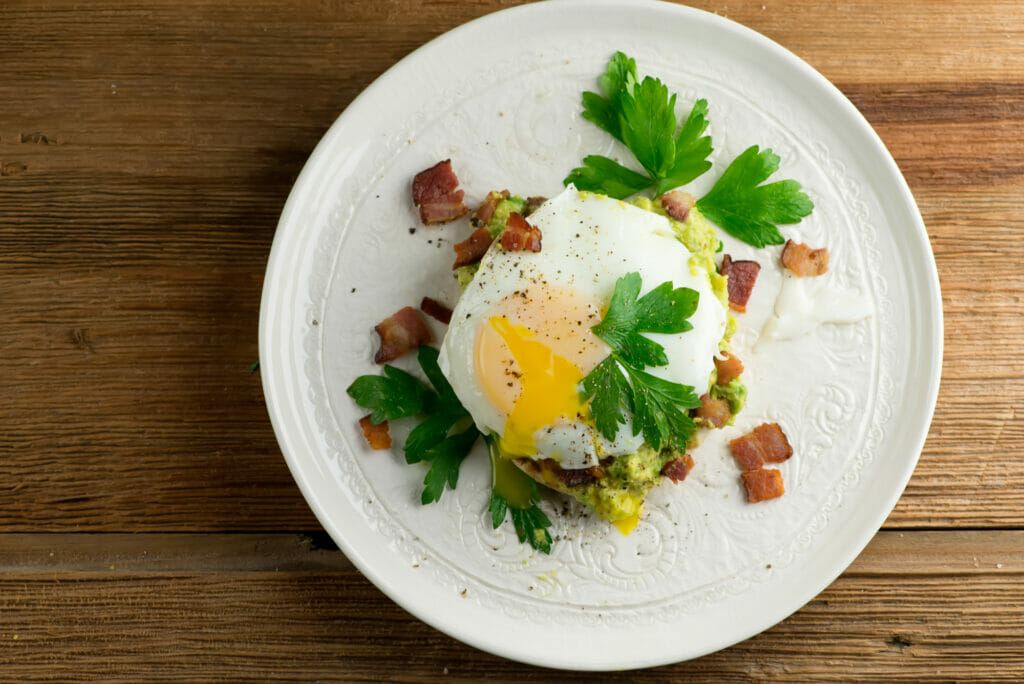 Yes, I know I already have at least two variations of avocado toast already, but as you know from my adventures with macaroni and cheese, when I find something I love I just can't stop messing with it.
And I love and adore avocado toast, especially with an egg on it. And we all know how I feel about bacon.
So WHAT ON EARTH took me so long to put all these things together? You are all probably way ahead of me, but just in case, I wanted to share my current breakfast crush.
Because as it turns out, when you tinker a little with a classic, wonderful things can happen. Take the Southern daughter and her best friend, for example.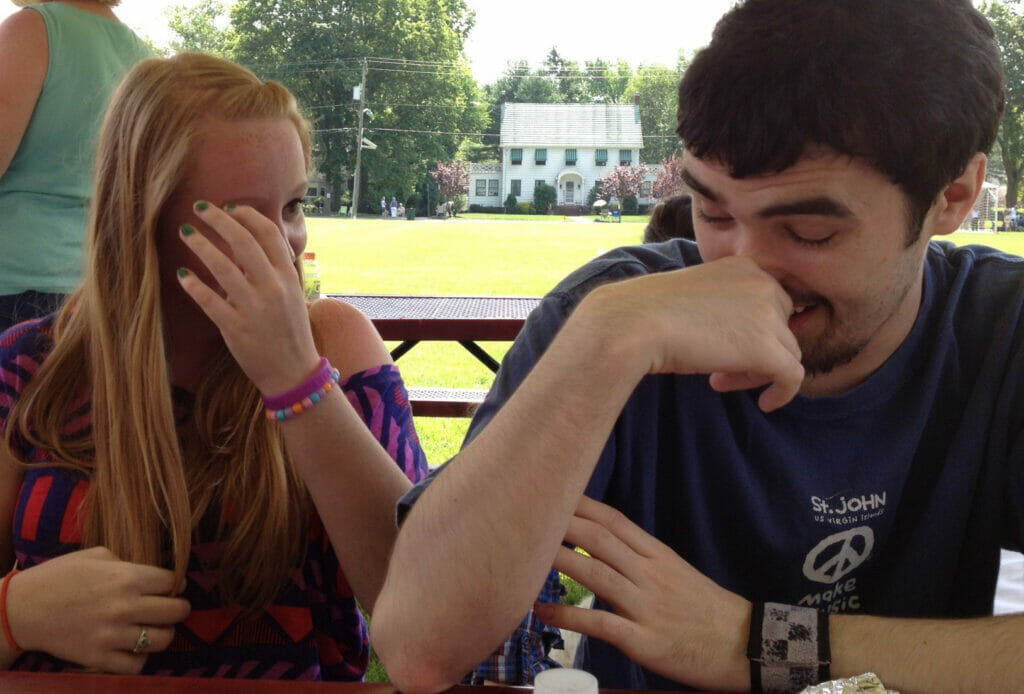 (I have one billion pictures of them but for some reason this one just speaks to me, because it is one of the 392,472 times they just sat around cracking each other up. Not to be confused with the other 183,382 they sat around bickering. I loooooooooove them.)
Anyway, even though his mama and I decided when they were ten years old that they would get married one day, they up and decided to marry other people.
This has worked out great for me, because now I have both my sweet son-in-law AND her best friends as my other children. Win!
Anyway, his wedding to his adorable sweetheart is in March, and of course my bunny is in the wedding. But not as a bridesmaid.
Nope. She is his groomswoman.
Which I am relatively sure is a new spin on things, because my spell-check keeps changing "groomswoman" to "groomsman" and I have the latest version of Word. HA.
At any rate, this interesting turn of events required her to attend the bachelor party.
I was on a need-to-know basis in terms of information about this event, but I did get this picture….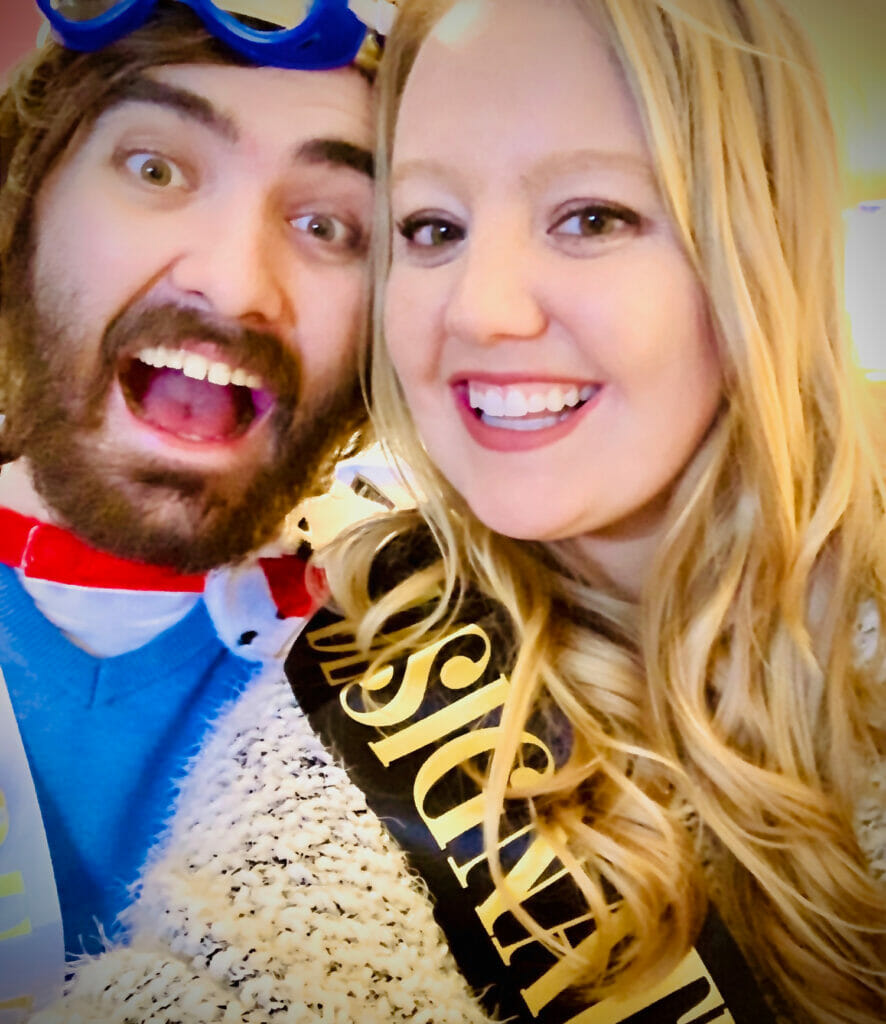 …which cracked me up and brought a few happy tears to my eyes, because (ignoring the goggles, I don't want to know) LOOK at them.
Laughing away like the goofballs that they have always been.
And after the weekend was over, I know they were both delighted that she got to crash this traditional guy event to be with her bestie, and all because he decided to tinker with tradition.
Which brings me back to bacon and egg avocado toast! (I know, but the comparison works for me so hang in there!)
Here's how you make bacon and egg avocado toast!
Mash up an avocado with some salt and lemon juice and toast up some bread or an English muffin, and let them hang out until you are ready to assemble.
Next, you want to chop up a couple of pieces of bacon and cook them up until they are done the way you like 'em.
Scoop out the bacon and fry up an egg in the bacon drippings…soft set, well-done, however you like your eggs.
Now! Spread your bread or muffin with the avocado mixture, sprinkle on the bacon pieces, pop the egg on top and if you are feeling fancy, scatter on some parsley.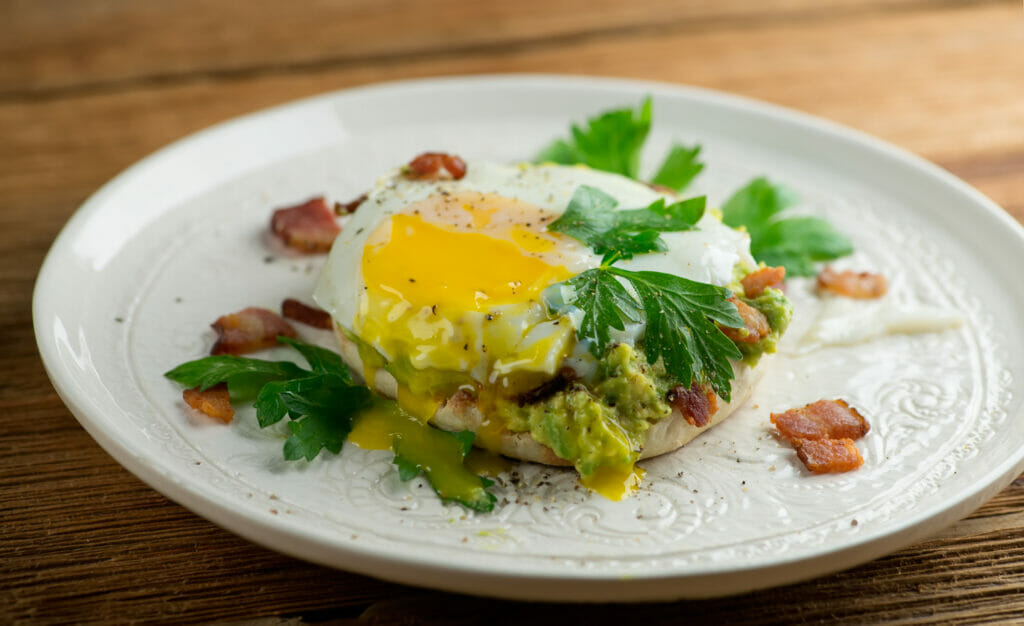 And dig in.
I can't promise that I won't mess around further with the deliciousness that is avocado toast, but for now I am all kinds of happy!
Want to round out your meal? This recipe pairs well with...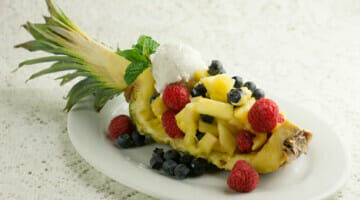 Pina Colada Fruit Salad
Print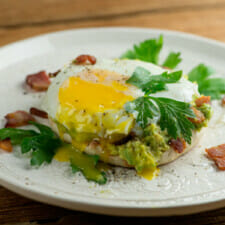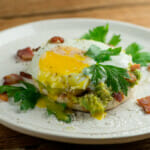 Bacon and Egg Avocado Toast
---
Author:

Prep Time:

10 minutes

Cook Time:

10 minutes

Total Time:

20 minutes

Yield:

2

1

x
Category:

Breakfast

Method:

Stovetop, Toaster

Cuisine:

American
Description
Add some bacon and eggs to this breakfast favorite with this light and easy recipe for bacon and egg avocado toast and start the day off right!
---
Ingredients
2

strips of bacon, chopped roughly into

½

inch pieces

2

eggs

2

slices bread or a split English muffin

1

avocado, peeled and pitted
Pinch of salt
Juice from

½

lemon
Chopped fresh parsley for garnish
---
Instructions
Mash the avocado with salt and lemon juice – a fork or potato masher works great for this.Set aside.
Toast the bread or English muffin lightly so it is all ready when you are ready to assemble things.
Put bacon in a skillet over medium high heat and cook until done to your liking. Scoop out the bacon and drain on paper towels, leaving the drippings in the pan.
Fry the eggs in the bacon drippings until they are done to your liking. Either sunny side up or over easy works fine!
Assembly time!Spread the avocado mixture on the toast, sprinkle with bacon and top with the fried egg.
Grind on some fresh pepper, sprinkle with parsley and serve!