This easy recipe for Potatoes Anna calls for just three ingredients – potatoes, butter and parmesan cheese – and makes an elegant and delicious side dish! Kick your potatoes up a notch with this beautiful presentation.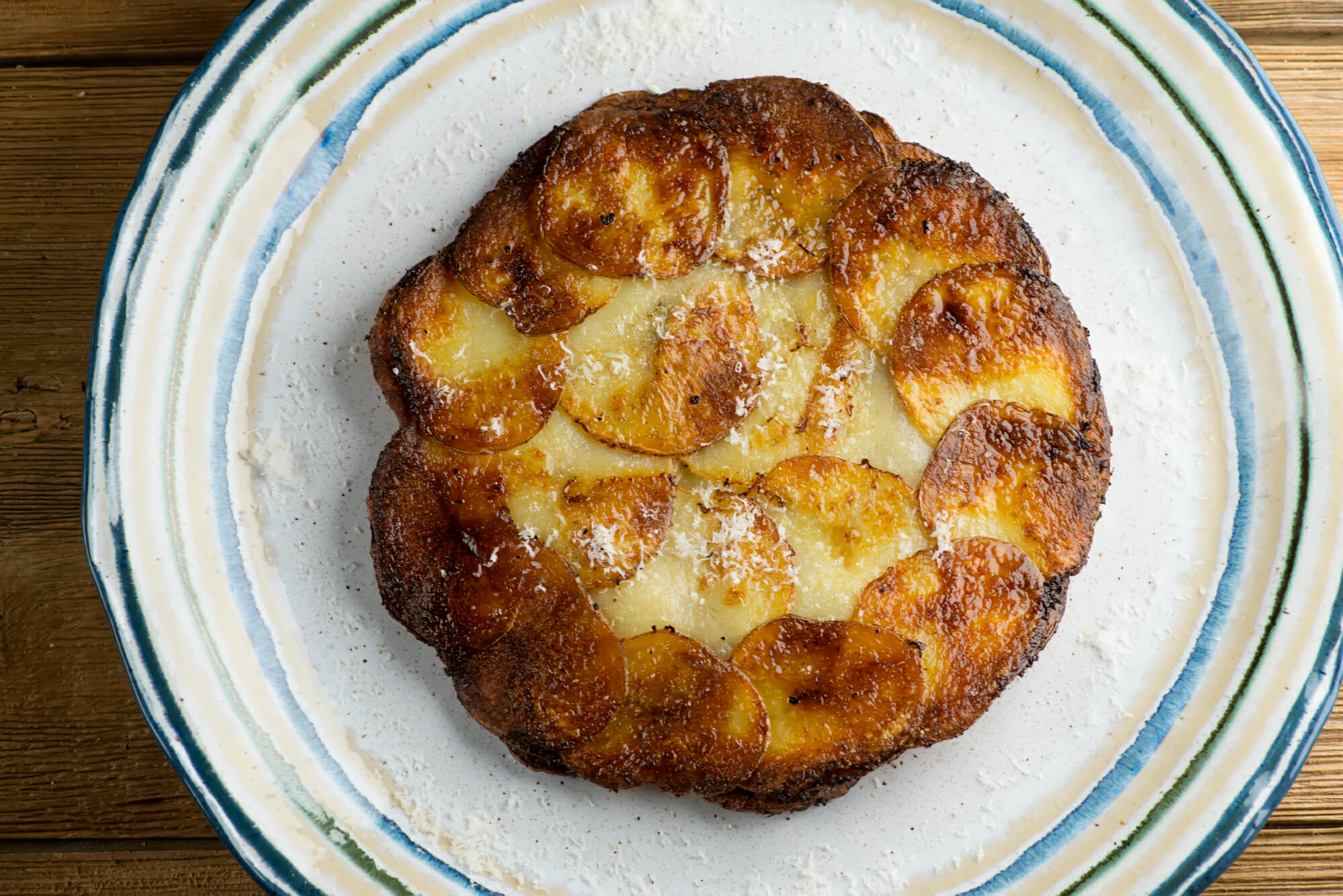 You know one of the many fun things about being a food blogger? You get to start getting ready for Thanksgiving waaaaaayyyyy early, so that our delectable Thanksgiving dishes are ready in time for the season.
Which is why I have a turkey breast slow cooking on my counter right now in early October, and why the Southern husband got this piping hot, buttery, cheesy potato dish in the heat of summer.
(It's okay, he's fine. He survived. Poor guy.)
What is Potatoes Anna and how do you make it?
Potatoes Anna is a magical French potato recipe that takes potatoes and butter and a little salt and pepper and transforms it into a gorgeous, dramatic dish that is almost too pretty to eat.
Me being me, I couldn't leave well enough alone, so I added some Parmesan cheese to the mix, so if you want to be completely authentic you should leave that out. (But I'm begging you not to, because it is glorious!)
At any rate, you are going to start by cranking your oven up to 450, and slicing up a bunch of peeled potatoes until they are super thin. A mandoline is the very best way to do this (and as usual, BE VERY CAREFUL with that thing!) but if you are okay with your potatoes not being totally perfectly shaped you can also use the slicing blade on your food processor.
Once you have a pile of sliced potatoes, find your very best 10 inch oven proof skillet. In my house, that means my beloved cast iron guy. Drizzle a little melted butter into the skillet, and then arrange some of the potatoes in overlapping circles until you have covered the bottom of the pan.
Brush with melted butter, scatter on some salt and pepper and parmesan. Repeat, and repeat again, and then place the skillet on your stovetop until things start to sizzle – you are giving the golden crispiness a head start.
Now pop the whole thing into the oven. It will come out looking like this…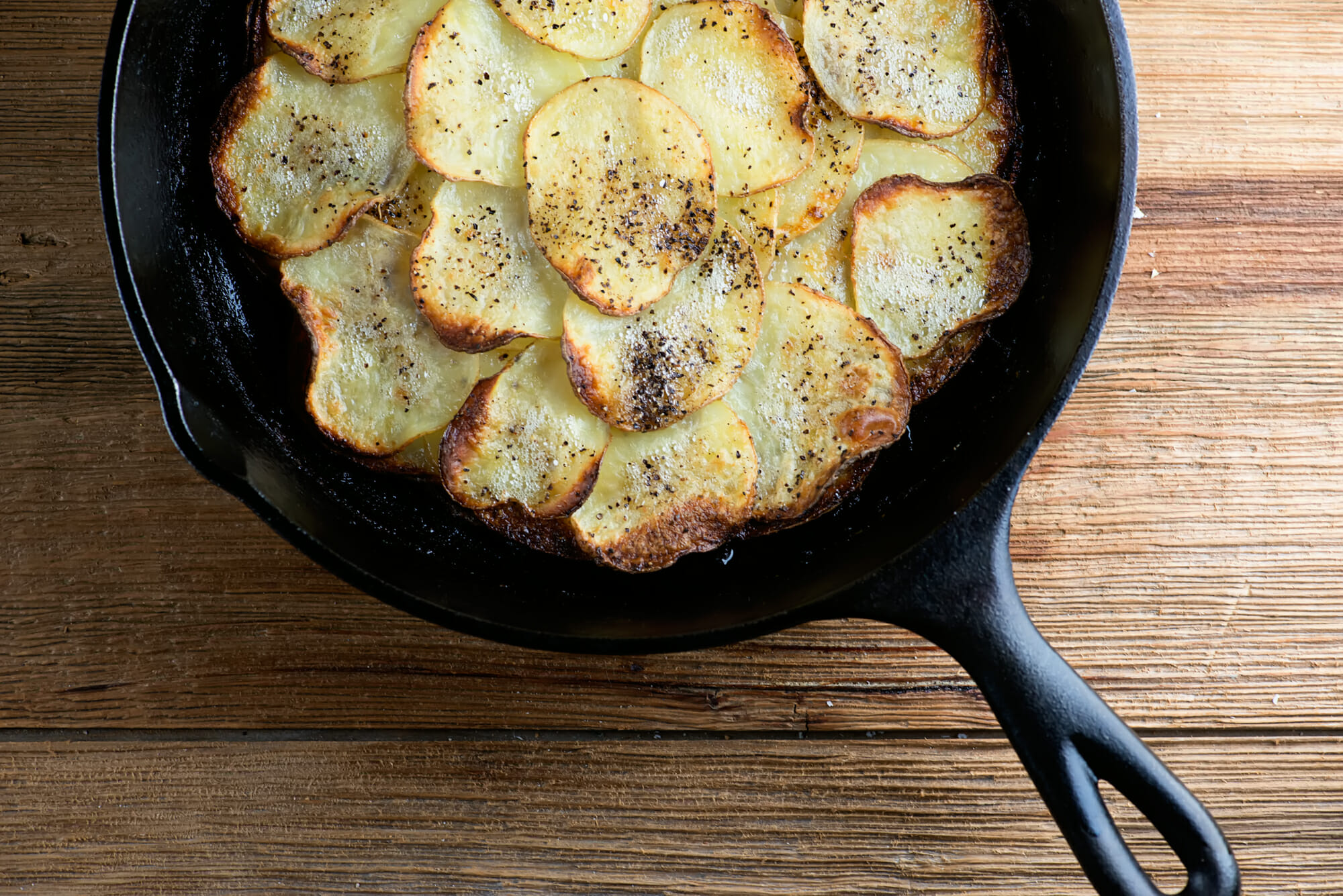 And here comes the magic part! Loosen the potatoes from the sides and bottom of the pan by running a knife around the edge and a spatula carefully under the bottom of the potatoes.
Now carefully put a serving plate over the top of the skillet and flip the whole thing over. When you lift of the skillet the bottom of the potatoes will now be the top, and since they spent a fair amount of time in touch with that skillet they will be all kinds of beautifully brown and crispy.
Now cut it into wedges…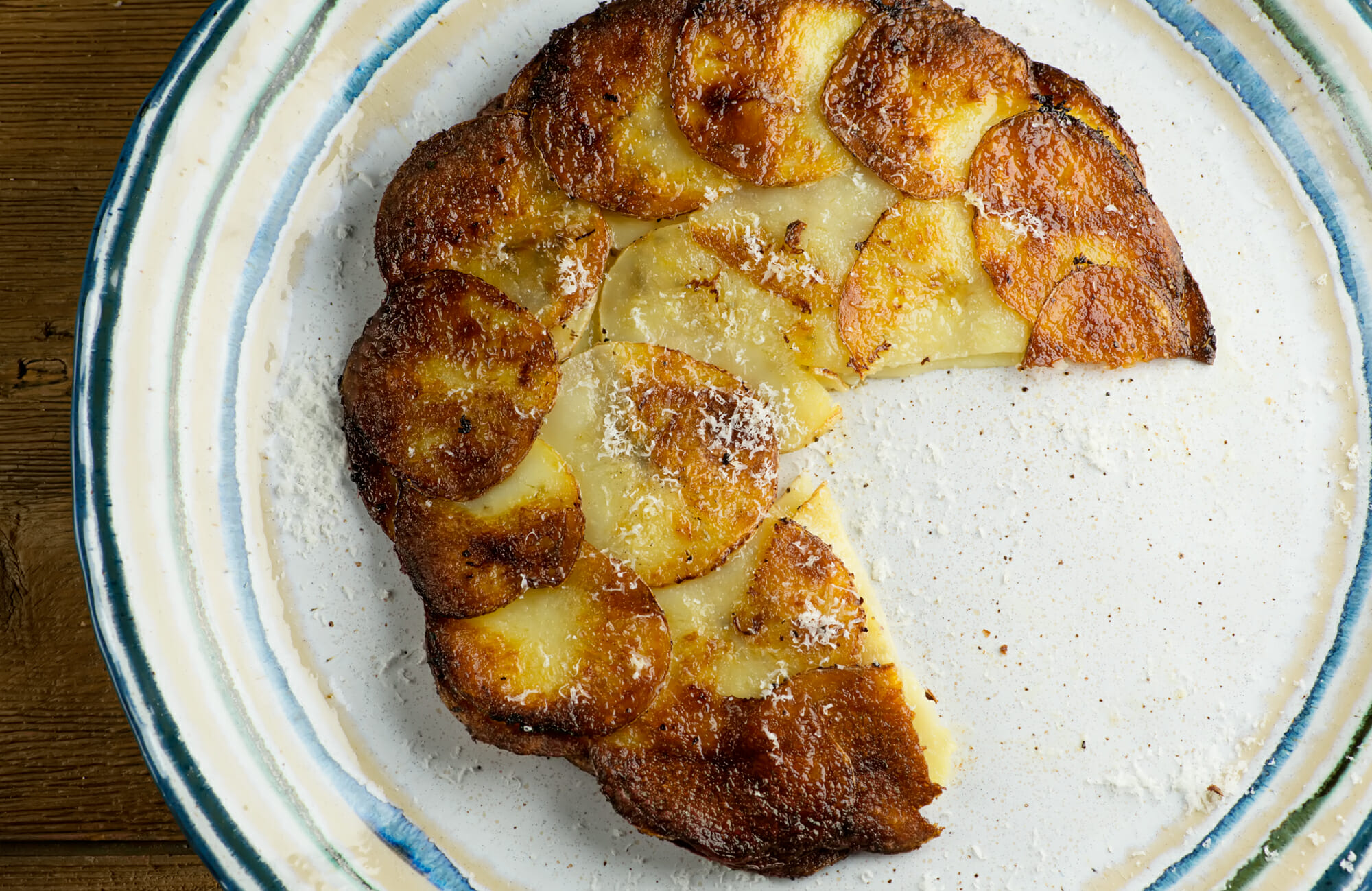 And serve it to your lucky diners, who will forget just for a moment that mashed potatoes exist in the world. There are only Potatoes Anna!
I'm off to eat turkey now!
Want to round out your meal? This recipe pairs well with...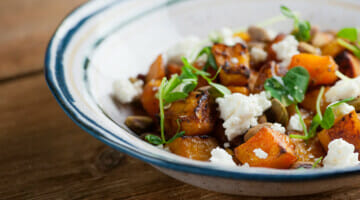 Roasted Butternut Squash with Feta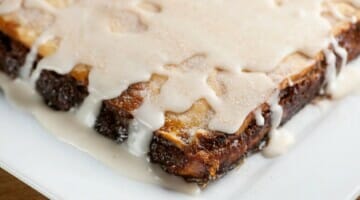 Pecan Slab Pie
Print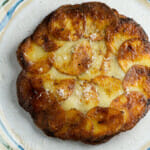 Potatoes Anna
---
Author:

Prep Time:

20 minutes

Cook Time:

45 minutes

Total Time:

1 hour 5 minutes

Yield:

8

1

x
Category:

Vegetable

Method:

Stovetop, Oven

Cuisine:

French
Description
This easy recipe for Potatoes Anna calls for just three ingredients – potatoes, butter and parmesan cheese – and makes an elegant and delicious side dish!
---
Ingredients
6

medium russet potatoes, peeled

6 tablespoons

butter, melted

1/2 cup

grated parmesan cheese

1 teaspoon

salt

1/2 teaspoon

pepper
---
Instructions
Preheat oven to 450.
Using a mandoline (super carefully!) or the slicing blade on your food processor, cut the potatoes into thin slices. You want them thin enough to bend, no more than 1/4 inch thick. Don't rinse them – you want them nice and starchy.
Drizzle a little of the butter into a 10 inch cast iron skillet (or any 10 inch oven safe round skillet) and brush it to the edges. Now arrange your potato slices in one layer of overlapping circles. Brush with butter, sprinkle on some salt and pepper and then some parmesan cheese.
Repeat for two more layers (see note).
Put the skillet on the stove over high heat until you hear things start to sizzle, about 2-3 minutes, and then pop the skillet into the oven.
Bake until the potatoes are tender, about 45 minutes, then remove from oven.
Let the potatoes cool for about 5 minutes, then run a knife around the edge of the potatoes to loosen them up, then slide a spatula all the way underneath to fully loosen them from the pan.
Place a serving plate over the skillet and flip it over so the potatoes are bottom side up on the plate.
Cut into wedges and serve!
Notes
You can do as many as five layers of potatoes if you like, just leave it in the oven for an hour to make sure they are fully tender.