The next step on our Carolina Dream house is complete – we have an amazing set of plans for our new home, right down to the last beautiful window!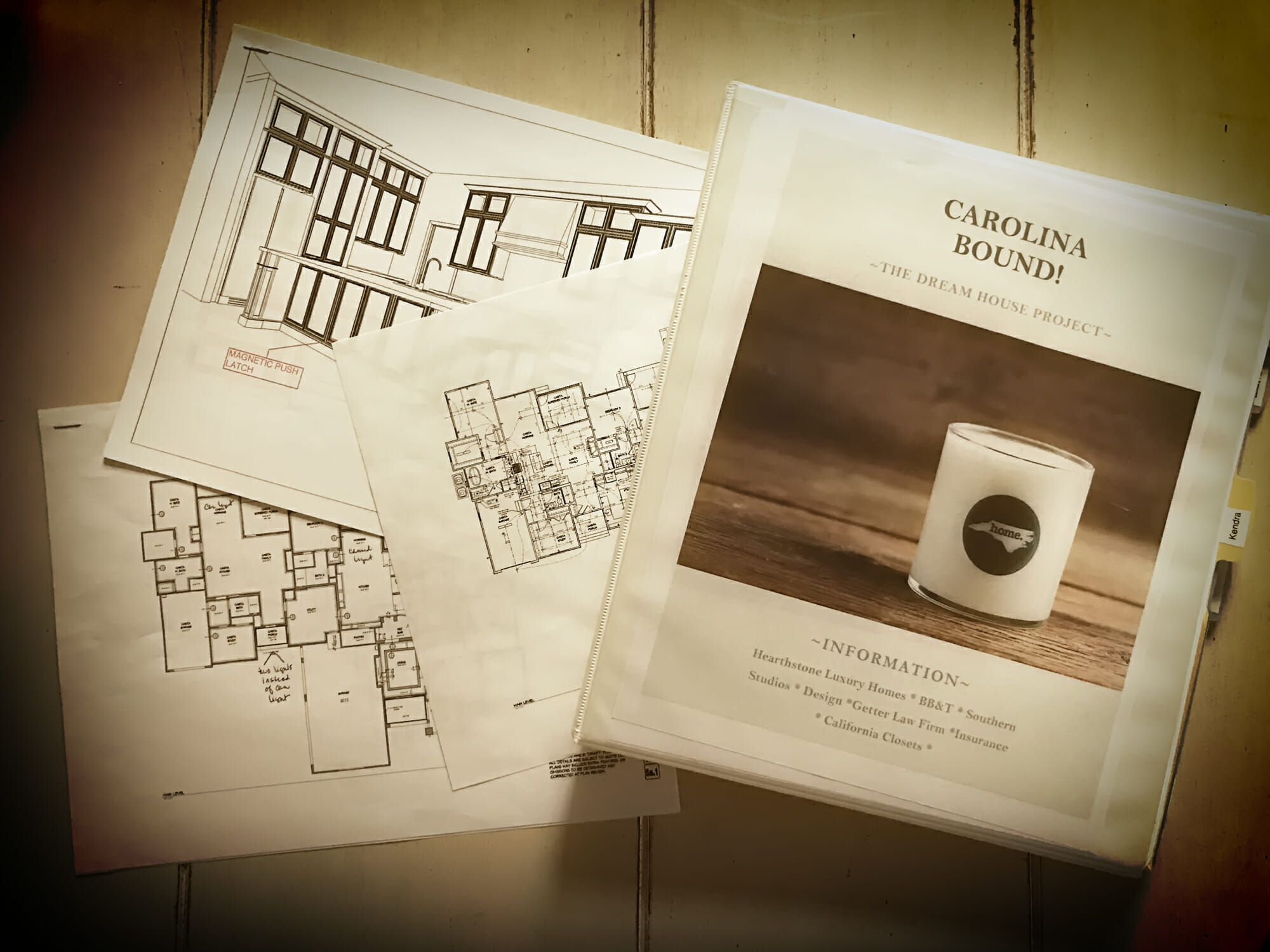 Boy, have I learned a lot over the past few months about building a house!  As it turns out, there are 8,384,294 different decisions you have to make, but it all starts with…THE PLANS.
And yes, me being me I have A Notebook.  Notebooks make me calmer.
Anyway, the plans start before you even buy the land, so that once you buy the land you have, well, a plan for what you are going to do with all that gorgeous North Carolina pine forest you now own.
So let me back up a few months and introduce you to our amazing builder and his team.  Jeff Logston is the head of Hearthstone Luxury Homes, and one of the nicest, most patient guys. Here we are on that gorgeous piece of pine forest.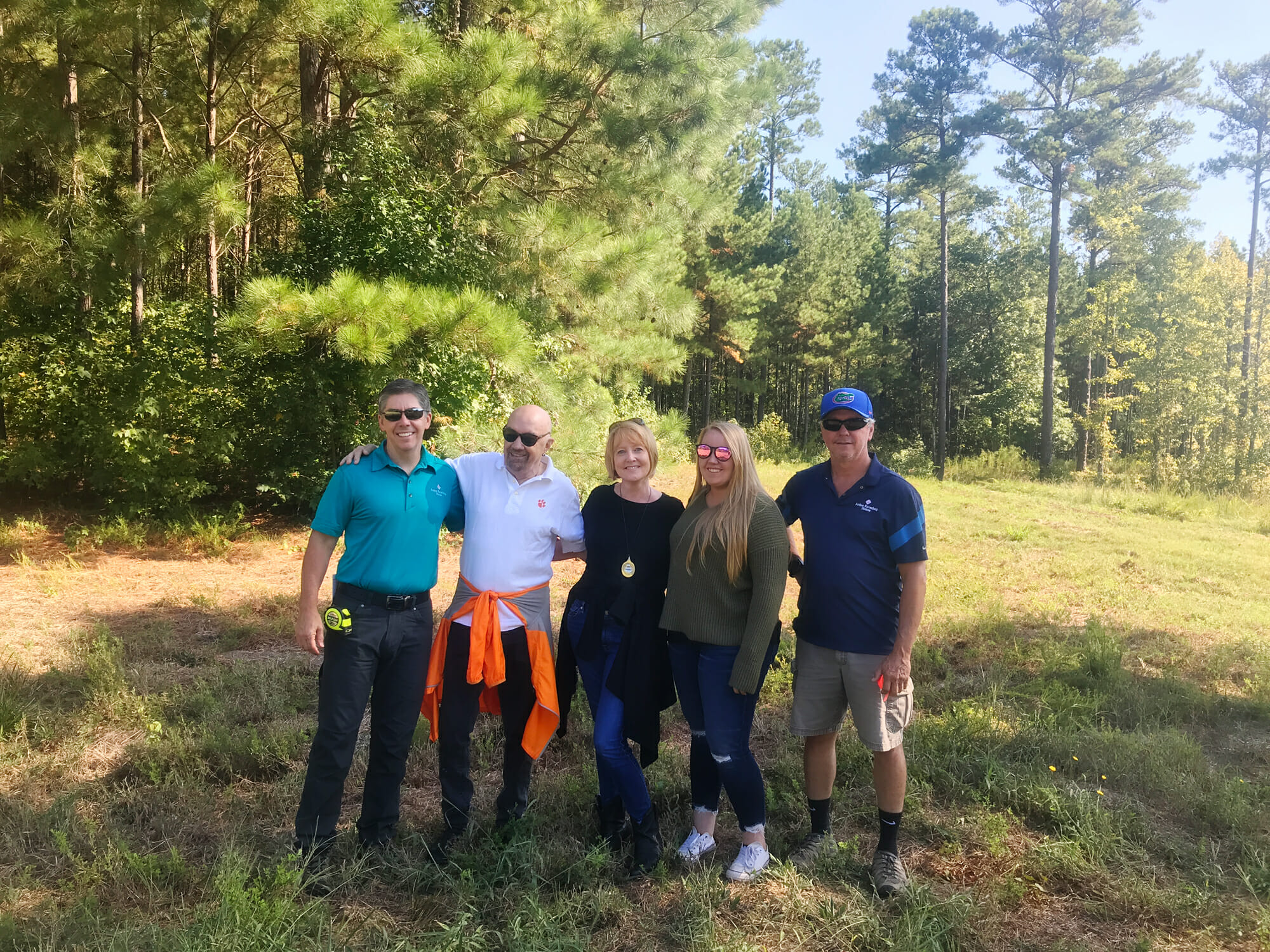 That's Jeff on the left, and Bruce, the guy in charge of our building, on the right.  You probably recognize the characters in the middle.  One of them clearly needs to get some sunglasses.
Anyway, once we settled on our piece of land, we got to talk to him about the kind of house we had in mind.  Me being me, I couldn't just take the easy road and pick out one of his drop dead gorgeous, already done house plans.  Nope.
We had other, way more complicated ideas in mind.  We wanted a lovely open floor plan house with a seriously great kitchen, a handful of nice bedrooms, a verandah with an outside kitchen, and a place for my photo studio.
We also wanted to build on a second living space where the Southern husband and I could move into when our daughter and sweet son-in-law moved in.  Yep.  A little house within a house.  We wanted a multigenerational dream house.
Jeff and his team listened to all our hopes and dreams and soon drawings started winging their way between North Carolina and New Jersey.  We kept asking "but what about this?" and "could we maybe try that?" and Jeff got on the phone with us and came up with so many smart options.
And at the end of all of it, we ended up with THIS…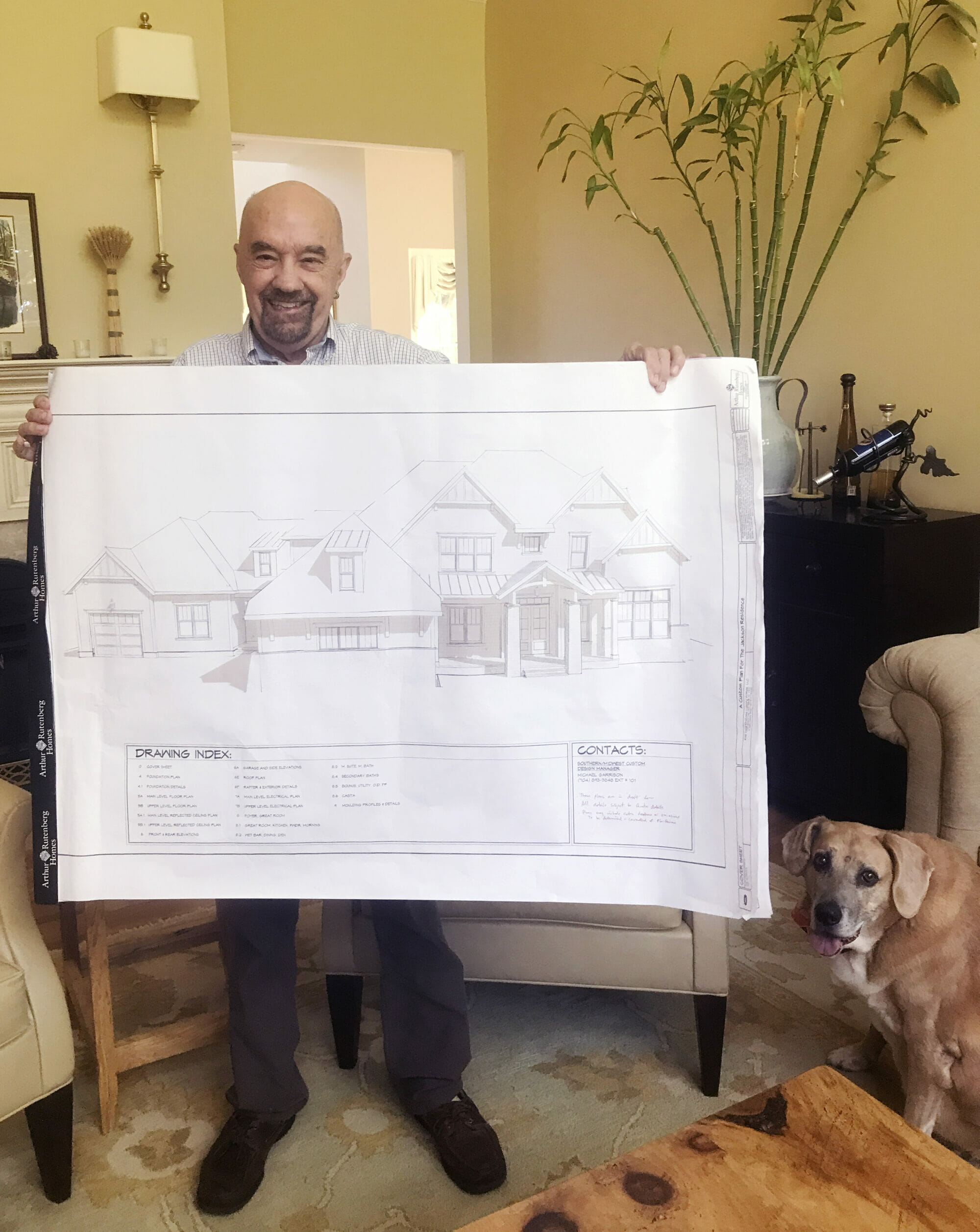 Yep.  Our multigenerational dream house plan, pages and pages and pages of it, right down to the ironing board cabinet I needed in the joint laundry room if anything was ever going to have a prayer of being ironed in the future.
(Side note: I don't like ironing but I do truly LOVE doing laundry, and I have volunteered as tribute to do all the laundry for the entire multigenerational family.  This is not why the kids are moving in with us, but I think it might have sealed the deal.)
So once we had our plans and bought the land, you would think that was it for the planning stage, right?
Oh no.  Then comes the planning meeting.  Otherwise known as a 6 hour meeting involving pizza wherein we met with Jeff and his team to go over every single inch of every single plan for every single room.
Including measuring our cars to make sure the garage was exactly the right size.
Including having a long intense discussion about laundry chutes.
Including moving this window a little to the right and that window a little to the left.
And throughout this day, Jeff and his team made sure we got answers to every question, and answered all those questions carefully and thoroughly.  I gotta tell you, deciding to build a house is all kinds of exciting and all kinds of terrifying at the same time, and it makes all the difference in the world to feel like you are in expert and kind hands.
So now what happens?  Well, now we pick out everything from the bathtubs to the doorknobs to (literally) the kitchen sink, while Jeff and Bruce start getting the land ready for the house.
More to come on that in my next post, and until then here is the first of what I'm sure will be a million times that I say, thank you, Jeff and Bruce.  We are So Dang Excited!