This recipe for easy apple crumble bars has all the flavor of apple pie, but easier to make and even easier to serve. Welcome to your favorite fall dessert!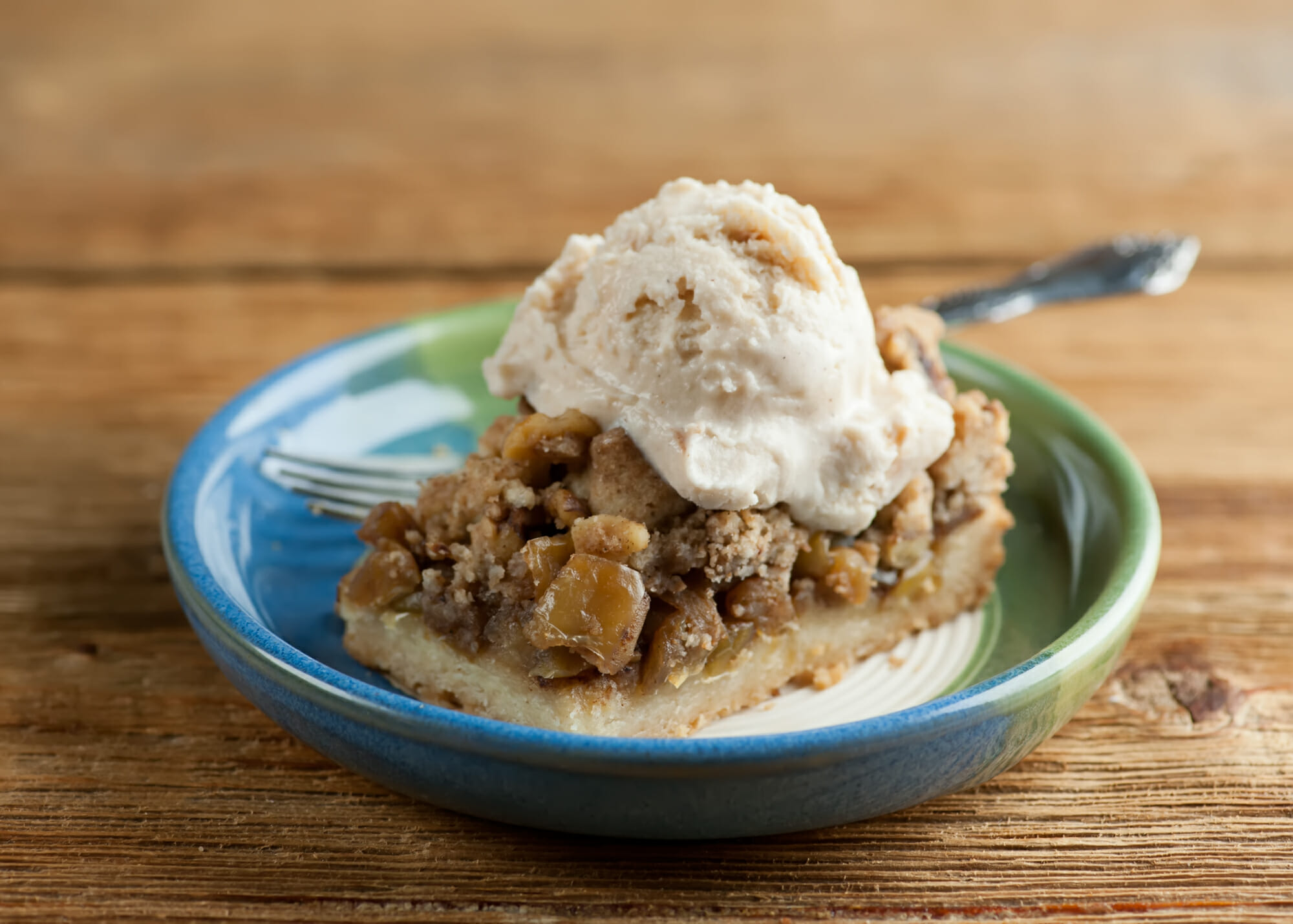 There is so much to love about this recipe for easy apple crumble bars that I almost don't even know where to start, but here goes. I love and adore the taste of homemade apple pie, but here's my pet peeve about it: have you ever tried to cut that perfect wedge of pie, only to have it collapse on you?
Yep. Same. It's one of the reasons I wrote this recipe for apple slab pie a while ago…to solve the Collapsing Apple Pie Wedge Issue once and for all.
But if you know me, you also know that I can't leave well alone, and one of the other reasons I love this new apple recipe is because I am STILL working my way through all the Vermont apples the Southern husband and I picked a while back.
I've made applesauce, short ribs with apples, veal stew with apples, apple pie oatmeal, and the pile of apples has not gotten any smaller. I think they are pro-creating while we sleep. So…
Here's how you make easy apple crumble bars!
This recipe has three super easy parts. The cinnamon walnut crust, the sweet apple filling, and the brown sugar topping. And (bonus points!) the crust and the topping are made together for extra easiness! I am all about the easiness due to the fact that I want to be eating these babies as soon as possible.
So first you are going to mix up some flour, sugar, butter in your handy food processor until it is all combined, and then you are going to smoosh it into a baking dish. While that heavenly crust is baking up, you'll cook up the apples.
The most time-consuming part of this whole shebang is cutting up the apples, but because they aren't peeled for this recipe it actually goes pretty quickly. Cook those apples up in some butter and spices until the apples are soft and tender, and by that time your crust will be ready.
Pour the apple mixture onto the crust, and then top it with a brown sugar topping that you have made by cleverly holding back some of the crust mixture, which you are going to mix with some walnuts and cinnamon and nutmeg. Bake in the oven it goes, and at this point your kitchen smells like apple pie heaven.
Now, the hardest part…you need to let this baby cool completely before you cut it into as many squares as you want. I aim for sixteen squares, but have been know to cut them into bigger squares by popular demand of other personages who live in my house.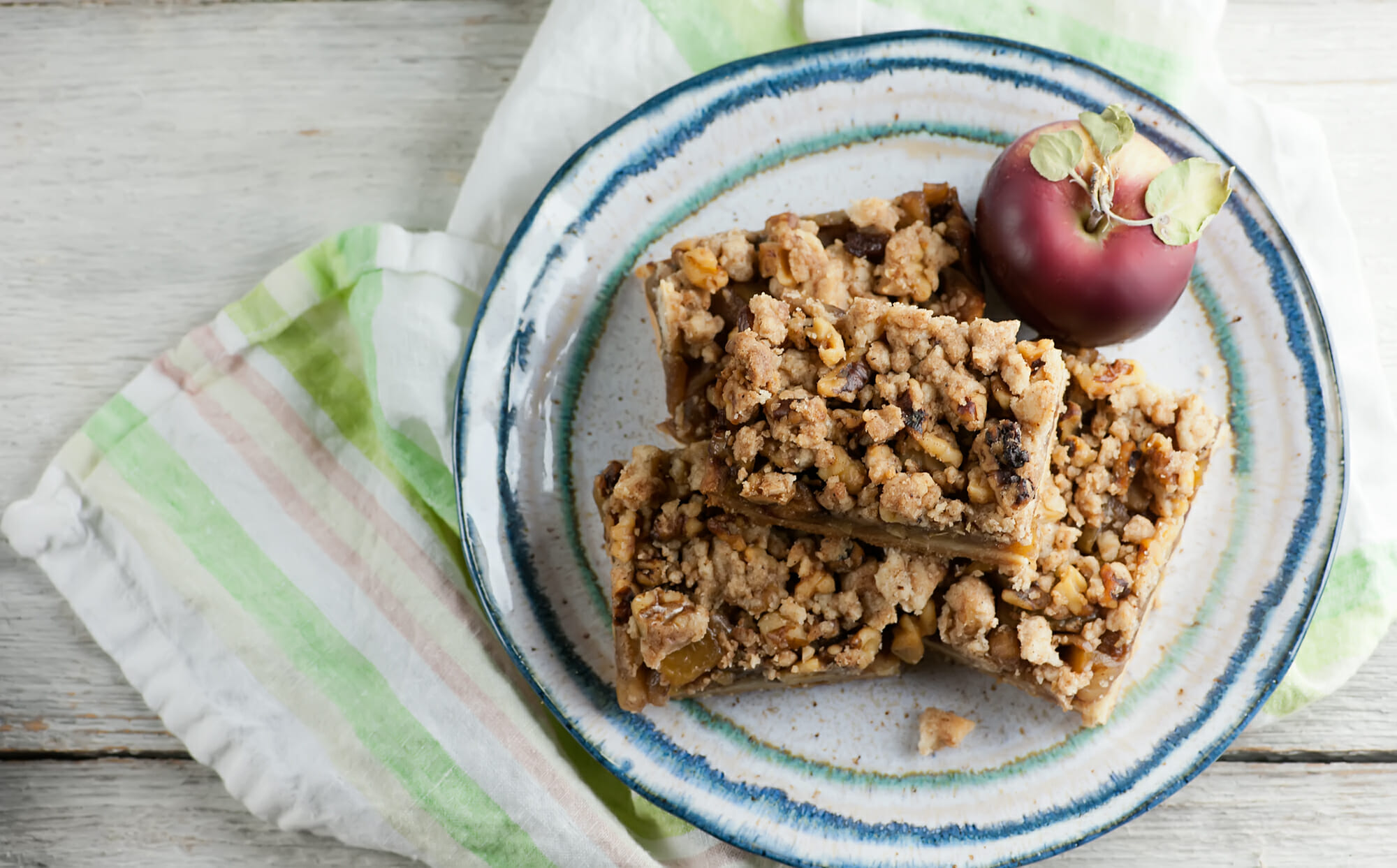 Oh, and if you top it with some whipped cream or ice cream, that wouldn't be bad.
Happy pick-your-own apple season!
Want to round out your meal? This recipe pairs well with...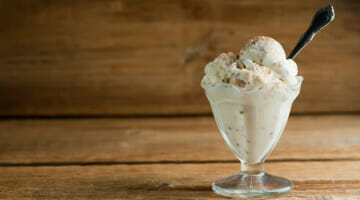 Shortcut Cannoli Ice Cream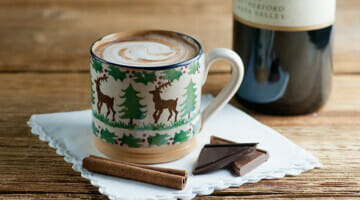 Red Wine Hot Chocolate
Print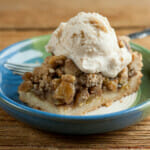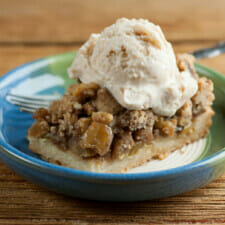 Easy Apple Crumble Bars
---
Author:

Prep Time:

20 minutes

Cook Time:

65 minutes

Total Time:

1 hour 25 minutes

Yield:

1

6

1

x
Category:

Dessert

Method:

Stovetop, Oven

Cuisine:

American
Description
This recipe for easy apple crumble bars has all the flavor of apple pie, but easier to make and even easier to serve! Welcome to your favorite fall dessert!
---
Ingredients
For the bars
3 cups

flour

1 cup

sugar

1 ½ cup

cold butter

1 cup

chopped walnuts

1 teaspoon

cinnamon

1 teaspoon

nutmeg
For the topping
¼ cup

(

1/2

stick) butter

3

pounds apples, cored and chopped into

½

inch pieces

1 teaspoon

cinnamon

½ teaspoon

allspice

¾ cup

brown sugar
---
Instructions
Preheat oven to 375 degrees and line a 13/9 inch pan with foil, letting some of the foil hang over the sides. Spray with cooking spray.
Put flour and sugar in your food processor and pulse a few times. Cut butter into 8 pieces per stick and add to food processor.Pulse until well combined and the flour mixture looks sandy.
Scoop out 1 ½ cups of the flour mixture into a mixing bowl and stir in walnuts, 1 teaspoon cinnamon and 1 teaspoon nutmeg. Smoosh the mixture together into a ball, cover with plastic wrap and pop it in the fridge.
Put the rest of the mixture into the prepared pan and press it until it is even and comes up just a little along the sides. Bake for 20 minutes or until golden brown. Remove from the oven and set aside.
While the crust is baking, make the apple filling: Melt ¼ cup of butter over medium high heat in a large skillet and add the apples, cinnamon and allspice and stir for a few minutes.Add the sugar and stir for another 15 minutes or so, until the apples are tender and any liquid from the apples has cooked off. (If you need to, strain the apples in a colander to get any remaining liquid out – you just want apples going into your gorgeous crust.)
Spoon the apple mixture into the pan with the crust, making sure you spread it all the way to the sides. Take the walnut mixture out of the fridge and crumble it all over the top.
Bake for 45 minutes or until the topping is nice and browned. Put the pan on a rack and let it cool completely before cutting it (I KNOW! SO HARD!). Carefully use the edges of the foil to lift the whole thing out and on to a cutting board and cut into squares.
How many squares? I like 2 inches by 2 inches, but you cut them as big or small as you like. And hey, if you want to serve them up with some whipped cream or ice cream on top, I won't tell!