This fun recipe for bacon chicken pot pie adds sweet onion, sherry and of course bacon to this favorite comfort food supper. It's a delicious way to shake up the classic pot pie dinner!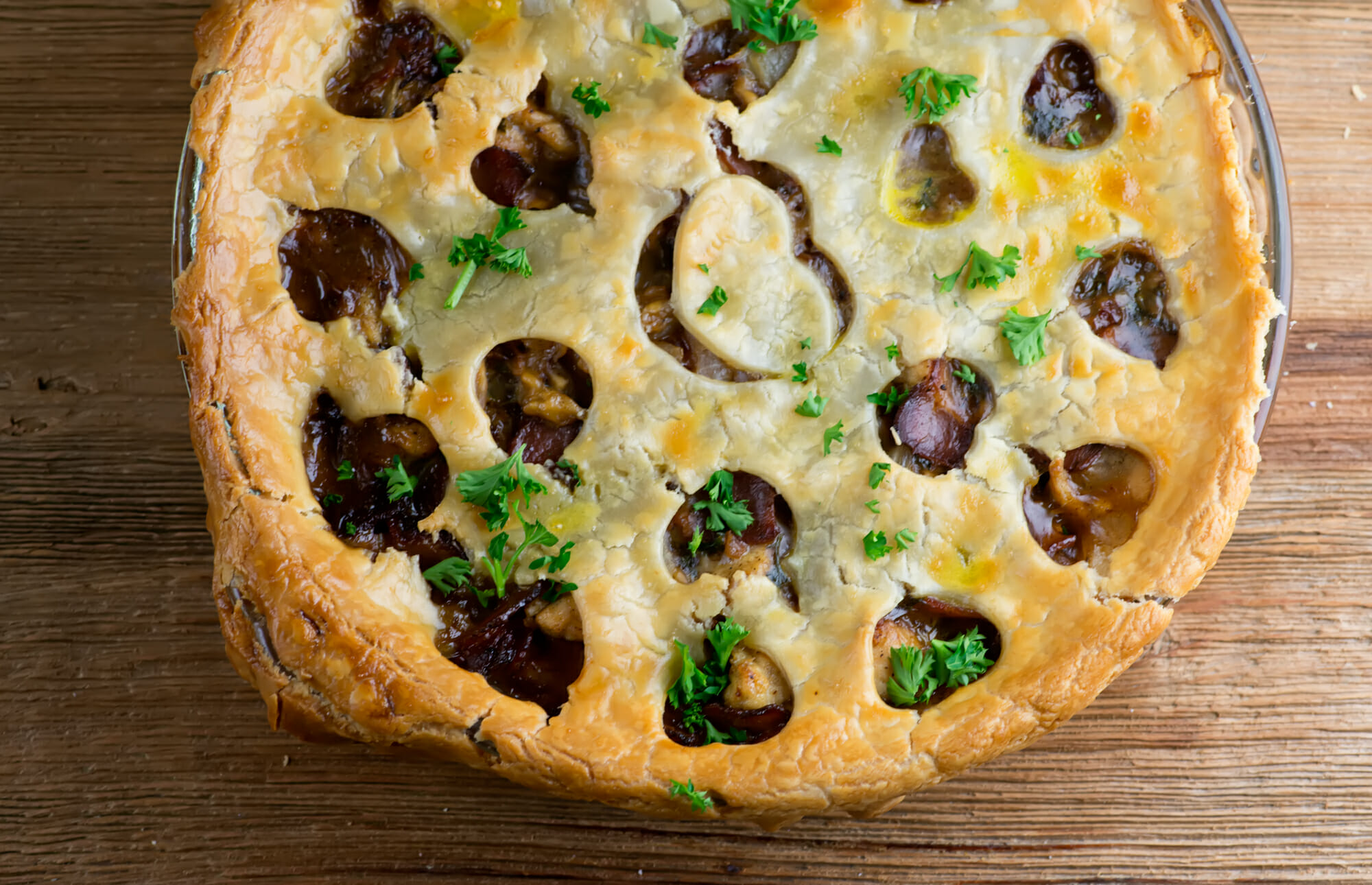 My friends, we have had a WEEK!  We spent much of the past week down in the beautiful state of North Carolina making all kinds of progress on our dream house, and I'm working away on an update that I will share pretty soon, but it was a whirlwind.
And when I've been through a whirlwind (even a good whirlwind) I want some nice cozy comfort food, and pot pie is way up there on my comfort food list.  And of course, you KNOW bacon is on that list, so it just seemed like high time to put the two of them together.
Say hello to bacon chicken pot pie, which is cooked up with some sweet onions and a little sherry and topped with a pie crust and happy sigh.  It's everything you love all in one bowl, and everyone is happy.
And speaking of everyone being happy, one of the things we are doing in advance of our move down south is going through our attic and cleaning out stuff.
It's amazing what you find in boxes you haven't looked in for years, and one of the things I found was a book that the Southern daughter wrote when we moved into our current house.  She was six, and we were moving from a teeny cozy antique house to a newer, roomier house that had a variety of things that our little house didn't have.
Which clearly inspired this page of her book…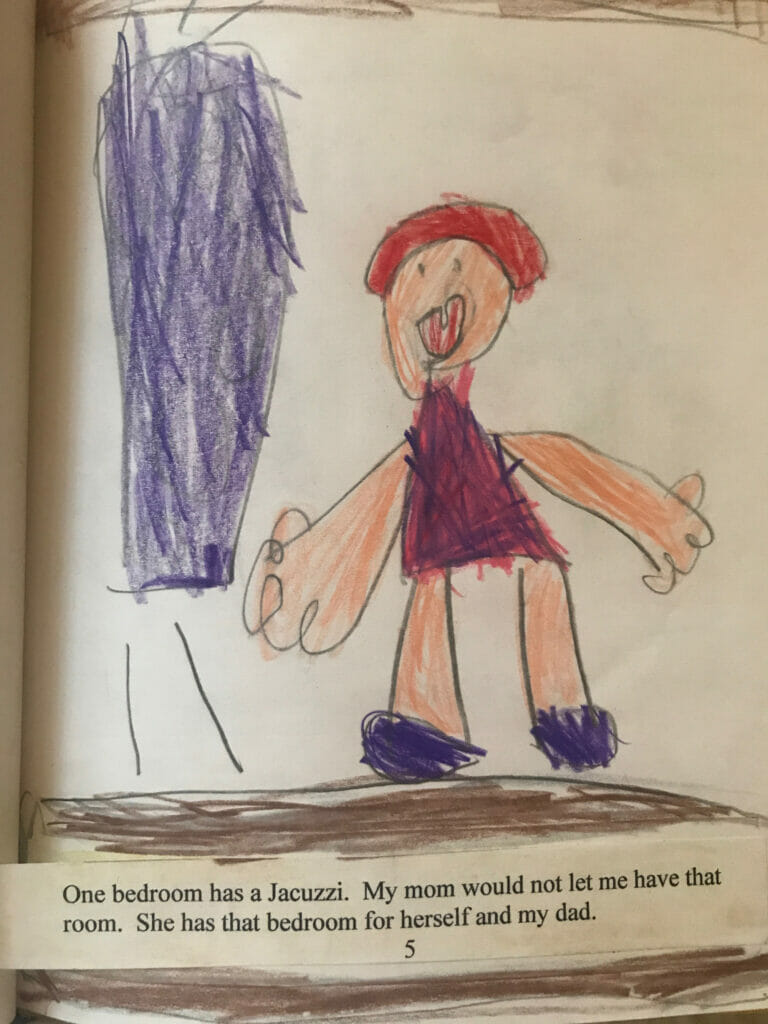 I assume that is me, hogging the purple Jacuzzi to my left.  Which just to be clear, is in the master bathroom, not the bedroom, and she enjoyed many a bubble bath in that tub over the years, and I also have pictures of that but since I am a wonderful mama I am not sharing them.
At any rate, the Carolina house will have two lovely soaking tubs that are EXACTLY THE SAME so that everyone gets their fair share of bathtub joy and everyone is happy.  Just the way everyone will be with this pot pie supper!
Here's how you make bacon chicken pot pie!
You start, as so many of my recipes do, by cooking up some chopped bacon until it is just the way you like it.  Scoop it out and then cook up the chopped sweet onions in those glorious drippings.
Now toss some cubed chicken with a little flour and poultry seasoning, add some butter to the pan and cook the chicken until it is just golden – you don't have to cook it through because it is going to finish in the oven. Scoop it out and set it aside while you make a sauce out of the pan drippings along with some chicken broth, sherry and chopped parsley.
Now stir everything together, pour it into a pie plate and top it with a pie crust (I use the pre-made kind you get in the supermarket and it works wonderfully).  You want to poke a few holes in it to let the steam out, or if you want to be extra fancy, you can use a pie top cutter with hearts on it the way I did.
Brush the pie crust with some beaten egg, put it on a rimmed baking dish to catch any drips and pop it in the oven until it is bubbly and golden brown and people are congregating in your kitchen wondering what smells so dang delicious.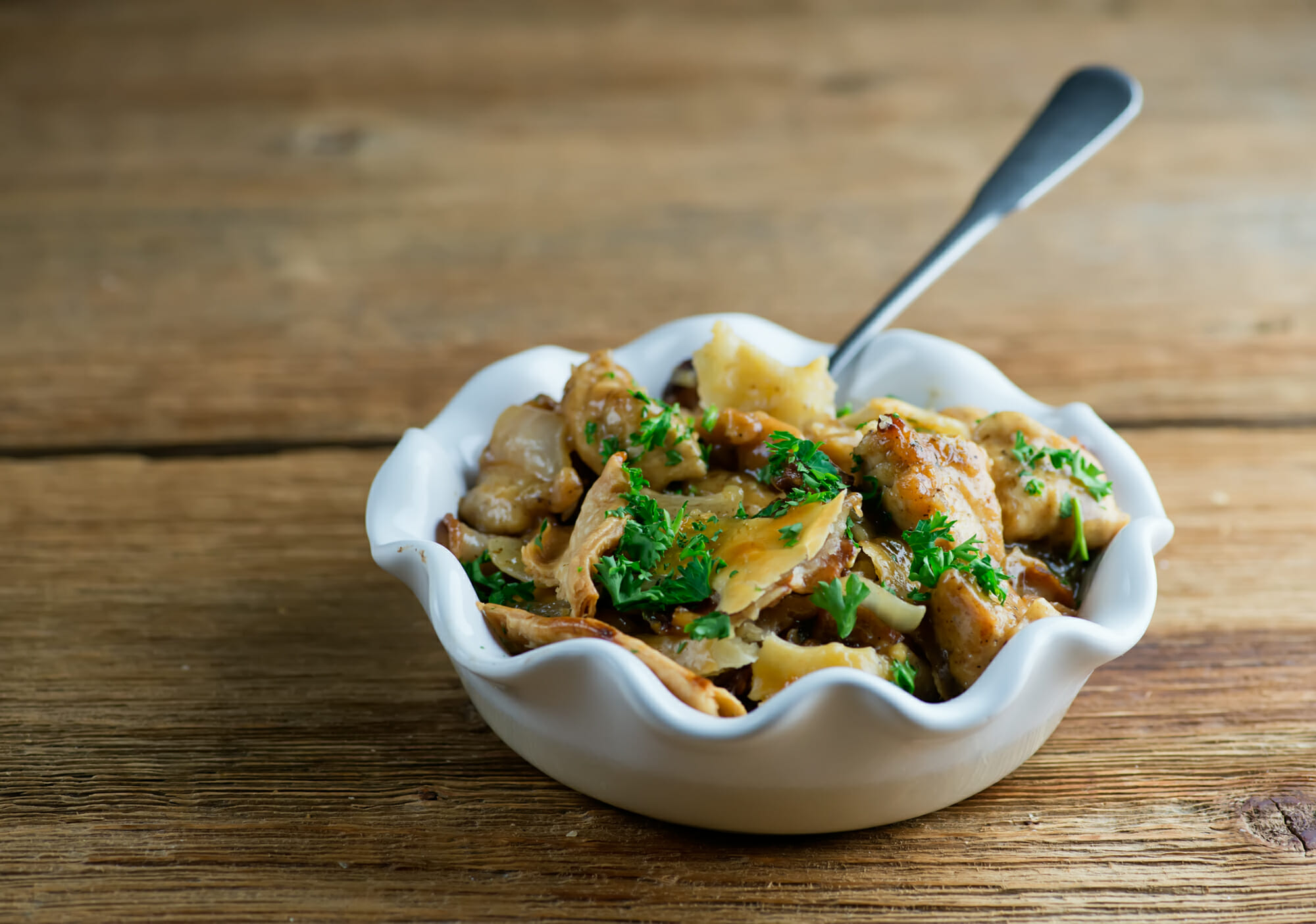 Cool it for a few minutes and then scoop it into bowls, making sure everyone gets their fair share of both the chicken and bacon insides and the tender flaky crust.
Now THAT'S what I call comfort food.  Winner, winner, bacon chicken pot pie dinner!
Want to round out your meal? This recipe pairs well with...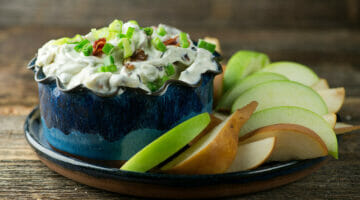 Bacon Blue Cheese Dip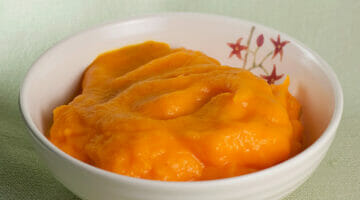 Carrot Puree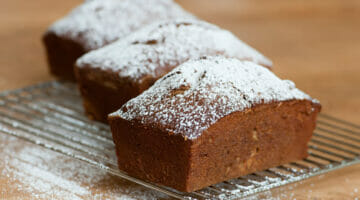 Baby Banana Gingerbreads
Print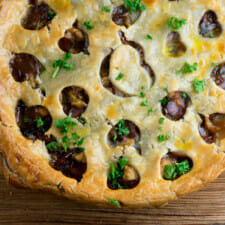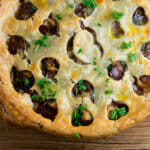 Bacon Chicken Pot Pie
---
Author:

Prep Time:

15 minutes

Cook Time:

50 minutes

Total Time:

1 hour 5 minutes

Yield:

6

1

x
Category:

Dinner

Method:

Stovetop, Oven

Cuisine:

American
Description
This fun recipe for bacon chicken pot pie adds sweet onion, sherry and of course bacon to this favorite comfort food supper.
---
Ingredients
8 ounces

bacon, chopped into

1

inch pieces

1

sweet onion, peeled and chopped

¼ cup

flour

1 teaspoon

poultry seasoning

1

pound boneless chicken breast, cut into

1

inch cubes

2 tablespoons

butter

2 ½ cups

chicken broth

¼ cup

sherry

2 tablespoons

parsley, chopped, plus extra for garnish

1

9 inch unbaked piecrust (yes, you can use the one you buy at the supermarket

1

egg, beaten
---
Instructions
Preheat oven to 400 and spray a deep dish pie pan with cooking spray and set aside.
Cook bacon in a large deep skillet over medium high heat until crispy. Remove and drain on paper towels, leaving drippings in pan.
Add onions to pan and cook until tender, about 5 minutes. Scoop out and set aside. Remove pan from heat.
Put flour and poultry seasoning in a bowl with a pinch each of salt and pepper. Add chicken cubes and stir until well coated.
Return the pan to medium high heat and add butter. When butter is melted, add chicken and cook until golden brown – it doesn't have to be cooked through.  Remove and set aside.
Add chicken broth, sherry, parsley and any leftover flour mixture. Bring to a simmer and cook until thickened, about 5 minutes.  Stir in cooked bacon.
Pour the chicken mixture into the prepared pie pan. Cover with the pie crust, tucking the edges around the side, and brush the pie crust with the egg.  Make a few slices in the top of the crust with a knife. Place on a rimmed baking sheet (to catch any drips) and bake for 25 minutes or until crust is browned.
Cool for a few minutes and then scoop out servings into soup bowls, sprinkling with parsley and giving it a grinding of pepper.