This easy recipe for French onion soup casserole takes your favorite swiss cheese and sweet onion soup and turns it into a hearty casserole. A perfect, warm and wonderful lunch or supper, especially with a green salad on the side!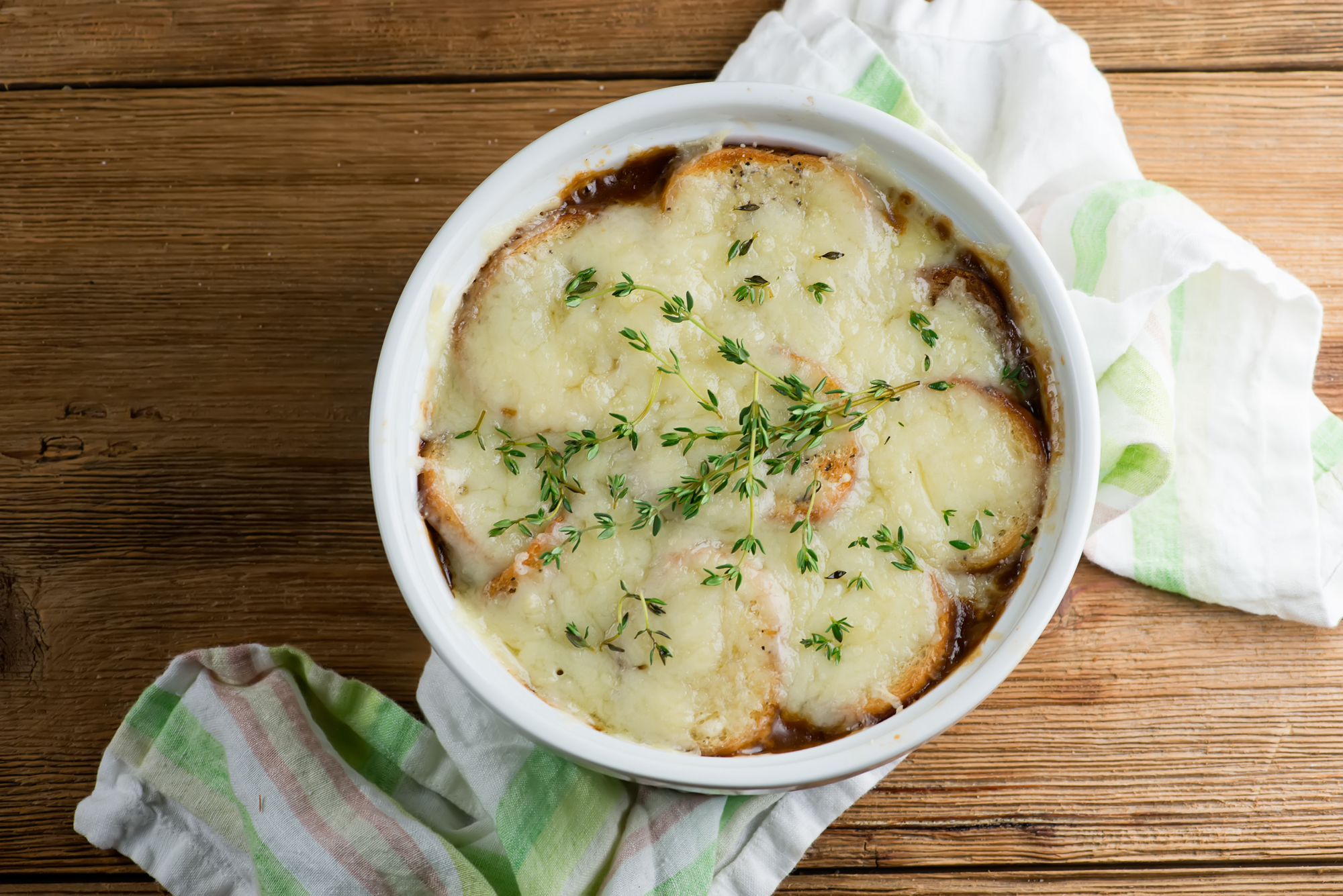 As anyone who has been out with me at a restaurant knows, if there is French onion soup on the menu, that's what I get.  Warm beef broth, caramelized onions, chunks of French bread and mounds of cheese…how can you NOT order it?
The only issue is that it can be kind of messy to eat, and pondering that very seriously is how this recipe for French onion soup casserole was born.  All of the ingredients in French onion soup, but in easy to eat casserole form.  I am so excited about this recipe I can't even tell you.
Actually of course I can tell you, but since a certain WEDDING is less than 2 weeks away, I can't resist first telling you about the various wedding things currently happening.  (Feel free to skip down to the recipe if you want – I will understand!)
OK!  First up, I got my mother of the bride hair and make-up trial.  My hair looks the way my hair generally looks, which is how I want it, but I am definitely way more glam than I usually am on a weekday morning.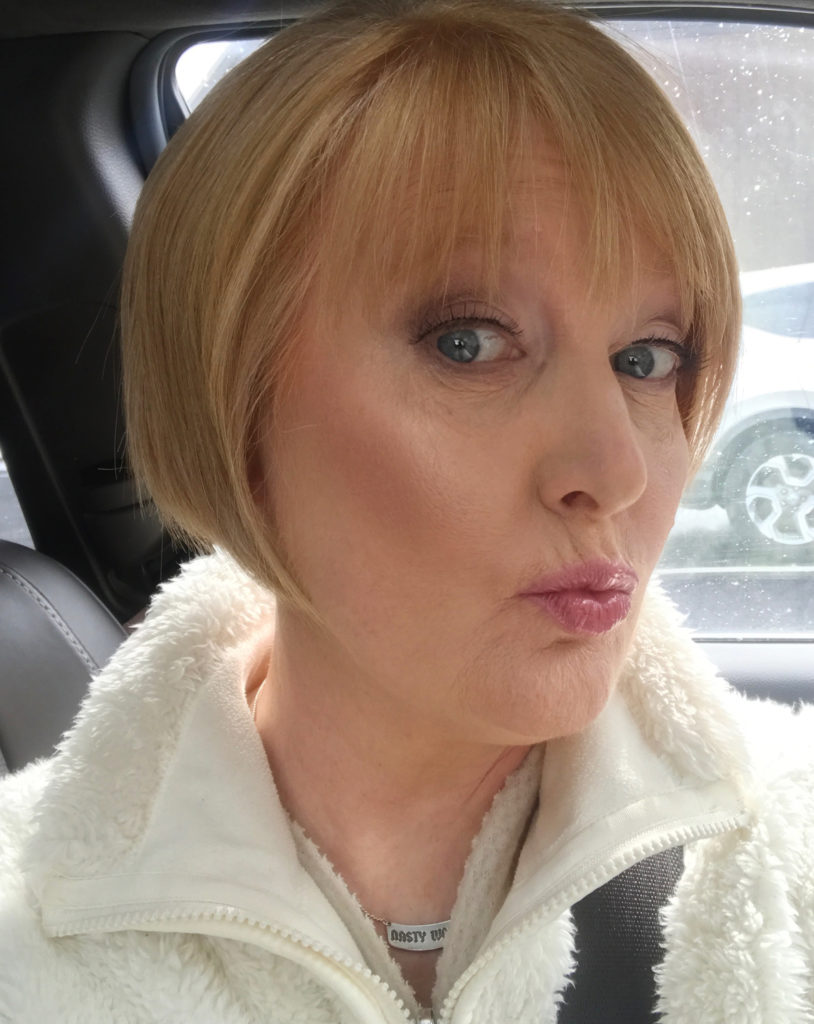 I learned this pose from my daughter the bride, and I plan to drive the wedding photographers a little crazy doing on the Day Of.  Also, I was kind of obsessed with my new eyelashes.  I literally pasted them into my journal at the end of the day, despite being told by everyone else in the house that it was a gross thing to do.  I don't care.  I loved them.
Next up, THIS happened last night.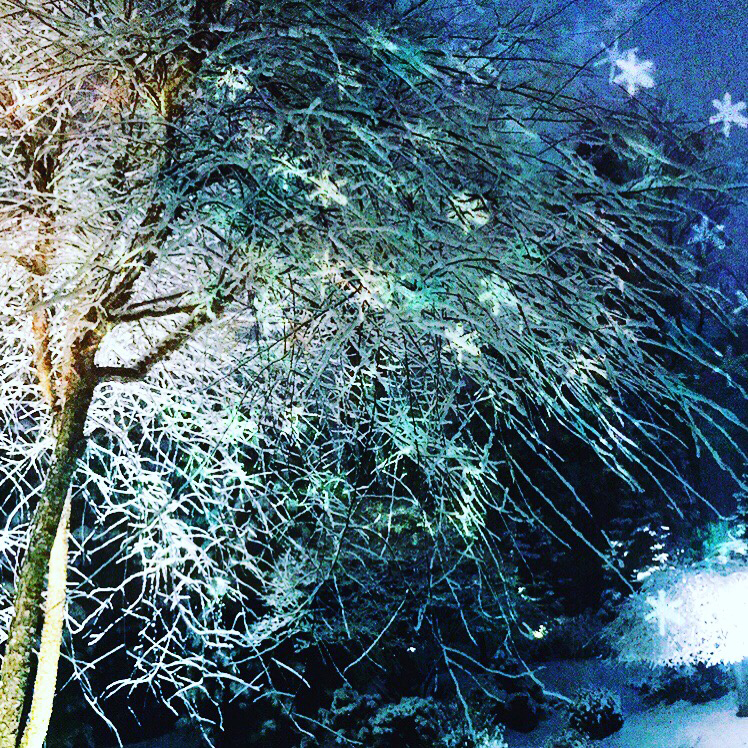 That is my back yard, otherwise known as Narnia.  Yep, 6 inches of snow.  I would like to hereby proclaim that no more snow is allowed to fall anywhere near this wedding until after the kids leave on their honeymoon.  I AM NOT KIDDING.  I am currently checking the long-term forecast approximately 293,375 times a day.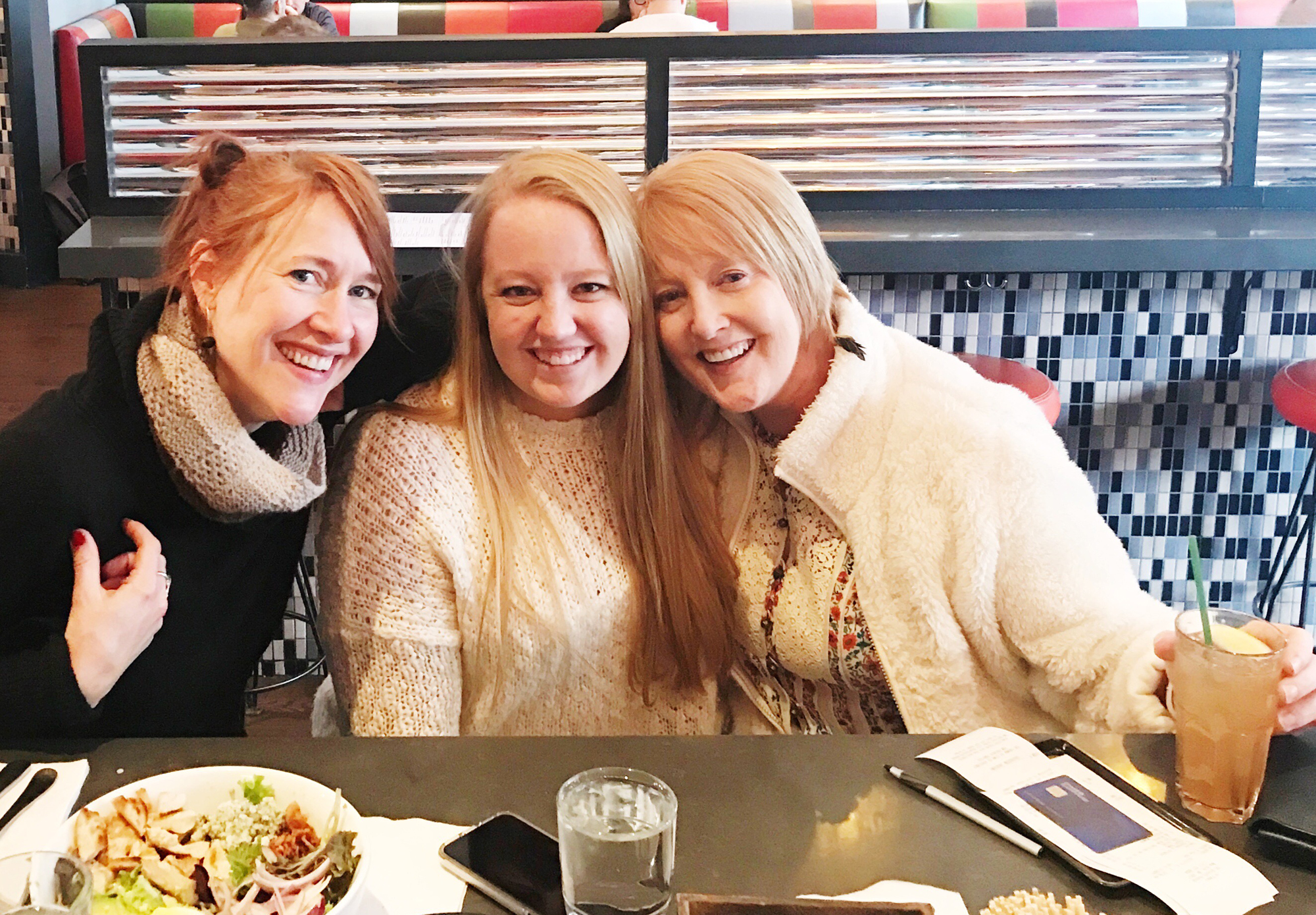 Last but not least, we had the final wedding dress fitting!  That beauty on the left is my sweet little sis, who came with us to Kleinfelds to video exactly how to get the bride into her dress and how to bustle up the back.  Let's just say crochet hooks are involved.  Pray for me, and the maid of honor.
Afterwards we went to Elmo's to celebrate, and that innocent-looking glass in my hand is an Arnold Palmer, made with lemonade and sweet tea vodka.  Who knew????
If you have hung in here with me this long, bless you, and here comes the overview of this scrumptious French onion soup casserole.  Obviously you need a few of these…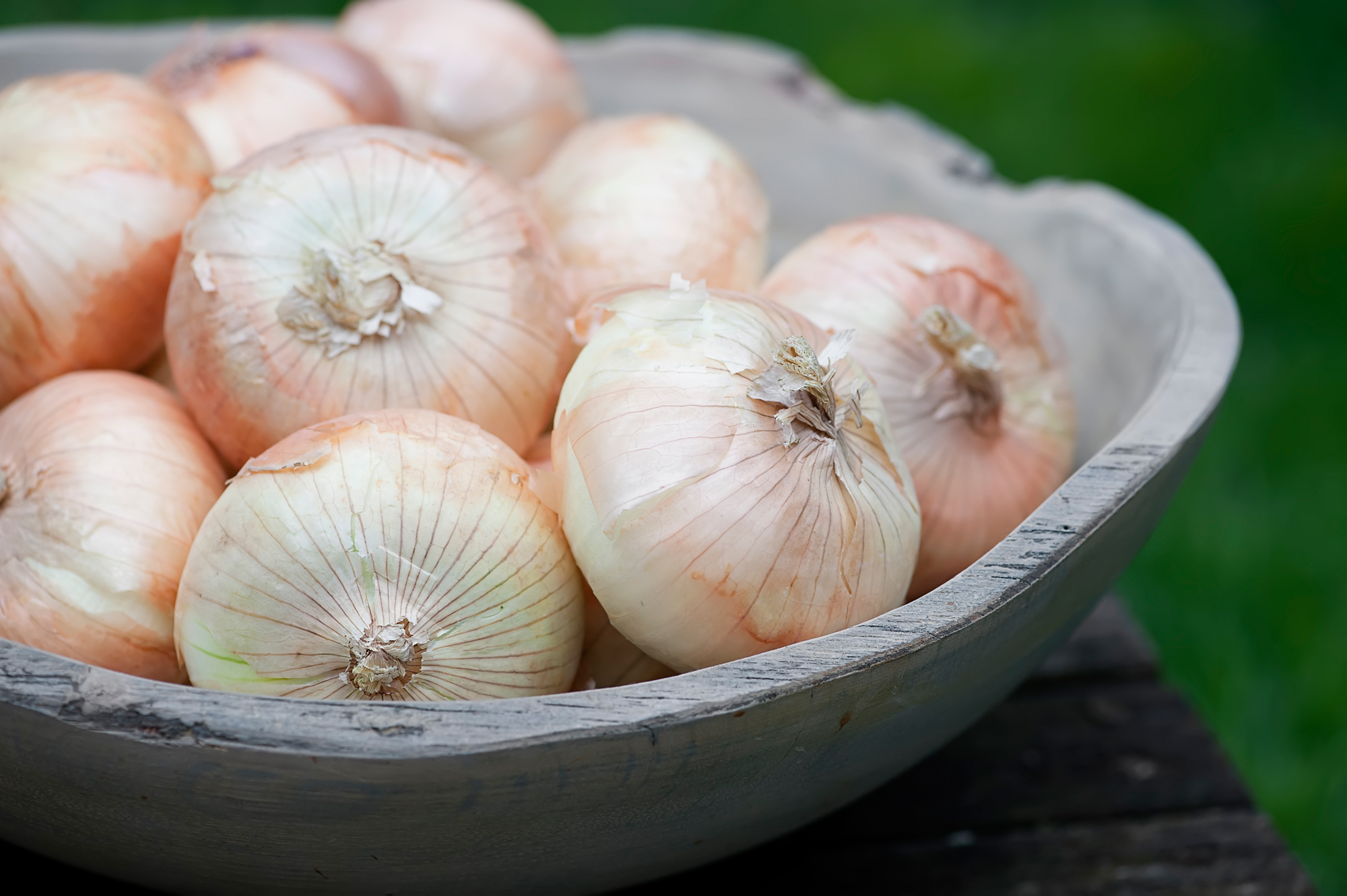 Gorgeous sweet onions, which you are going to peel, slice and saute with a little sugar until they are gloriously deep golden brown.  Them you are going to mix them with beef broth and a little sherry, and then make a casserole by layering the onions with slices of French bread and more than a little Swiss cheese.
Pop it into the oven, and before you know it the cheese will be melted, the bread will have absorbed the glorious sauce, and you can eat it up without worrying about dribbling it down your front (raises hand).
Now please excuse me while I check the long term forecast again.
Love, the Bride's Extremely Calm and Relaxed Mama xo
Print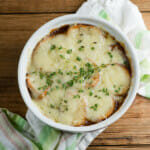 French Onion Soup Casserole
---
Author:

Prep Time:

15 minutes

Cook Time:

90 minutes

Total Time:

1 hour 45 minutes

Yield:

5

servings

1

x
Category:

Dinner

Method:

Oven

Cuisine:

French
Ingredients
¼ cup

butter

3

sweet onions (Vidalia if you can get them!), peeled and sliced thin

1 teaspoon

salt

½ teaspoon

pepper

1 tablespoon

sugar

1

medium sized loaf of French bread, cut into thin slices
Olive oil

¼ cup

flour

2 cups

beef broth

1/3 cup

sherry wine

2 cups

(about

8 ounces

) shredded Swiss cheese
Fresh chopped parsley or thyme leaves for garnish
---
Instructions
Put in butter in a heavy deep saucepan over medium heat until melted. Stir in the onions, salt and pepper and reduce heat to medium low. Cook, stirring often, until the onions are tender and browned, adding in the sugar when they have cooked for 30 minutes, and then continuing to cook under they are nice and brown, about 45 minutes (this can be done ahead if you like!).
While the onions are browning, preheat the over to 350 and arrange the bread slices on a cookie sheet. Brush with olive oil and then toast in the oven until lightly browned, about 15 minutes. Remove but leave the oven on.
Sprinkle the flour over the onion mixture and stir until mixed in. Add the beef broth and the sherry, turn up the heat to medium high and simmer for a few minutes until the liquid starts to thicken up a little.
Place a third of the bread slices in a 9×9 (or similar capacity) casserole. Ladle half the onion mixture over the bread and then top with another third of bread slices. Sprinkle with half the remaining cheese. Pour the remaining onion mixture over the bread slices and top with the rest of the bread slices. Cover the casserole tightly with foil and bake for 30 minutes.
Remove the casserole, take off the foil and sprinkle the remaining Swiss cheese over the top. Return to the oven, turn the heat up to broil and toast until it is melted.
Remove and sprinkle with chopped thyme or parsley and serve!
Want to round out your meal? This recipe pairs well with...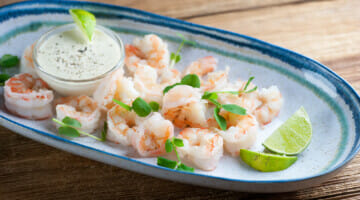 Shrimp with Lime Dipping Sauce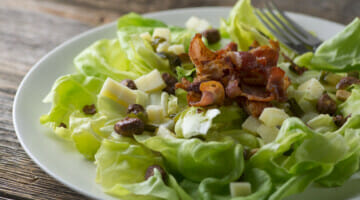 Warm Bacon And Cheese Salad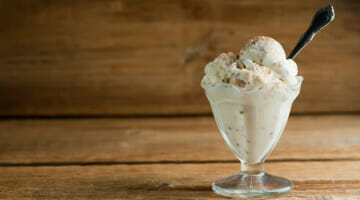 Shortcut Cannoli Ice Cream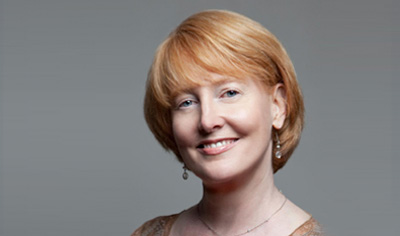 Hi there!  I'm Kate, and I'm a recipe writer, food photographer and devoted bacon lover.  I started Framed Cooks in 2009, and my mission is to create and share family-friendly recipes that make cooking both easy and fun…yes, I said FUN!  My kitchen is my happy place, and I want yours to be that place too.  And if you make this recipe, I would love you to tag @FramedCooks on Instagram so I can see the deliciousness!