Hey, we've given Framed Cooks a makeover that includes some very fun new features to help you answer that eternal question, "what's for dinner?" – come on and take a look!
I'm interrupting my regular parade of recipes to give you a tour of the newest (and for me, the most exciting!) design of this little website of mine.  It's coming up on ten years (ten years!) since I started this site, and it has been one of the most joyful, difficult, exciting, humbling and satisfying parts of my life.
I've made friends I would never have known.  I've become a better writer and photographer.  I've been so grateful for the many generous helping hands along the way.   And so to get ready for the tenth year of Framed Cooks, here's a look around some of the new things going on here.
Most of this happens on my home page, which you can always get to by clicking on HOME on the very top of any page.  For those of you visiting Framed Cooks on mobile devices, you can find the Home page (and all the other fun areas of the site) by tapping the Menu up in the top right corner.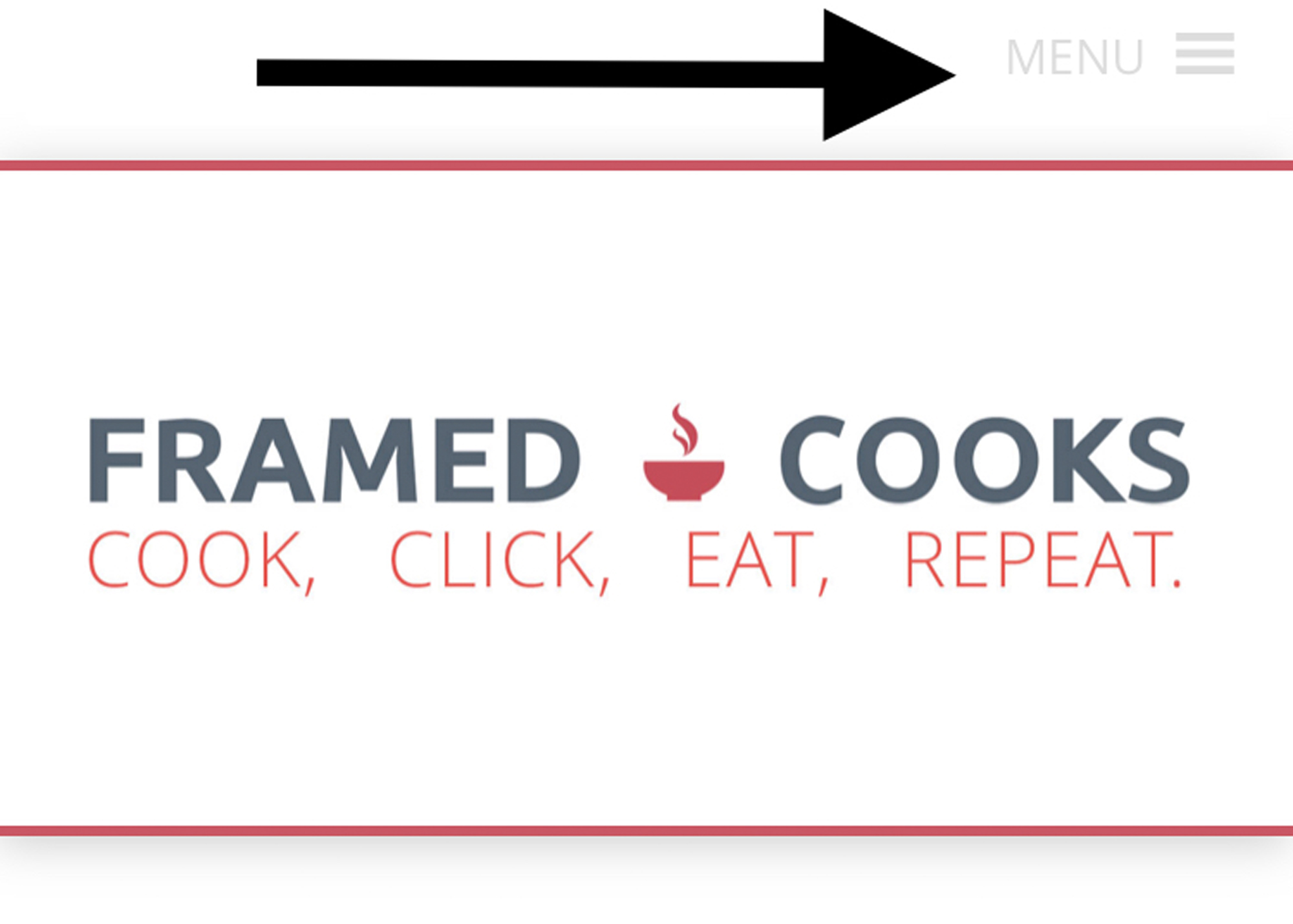 So starting there, my navigation bar – that row along the top – is now a little different.  For one thing, the Recipe Search has a lot more options – not only can you search by meal, but you can also search by event.  For example, St Patrick's Day is coming up, so if you need some ideas, click on that!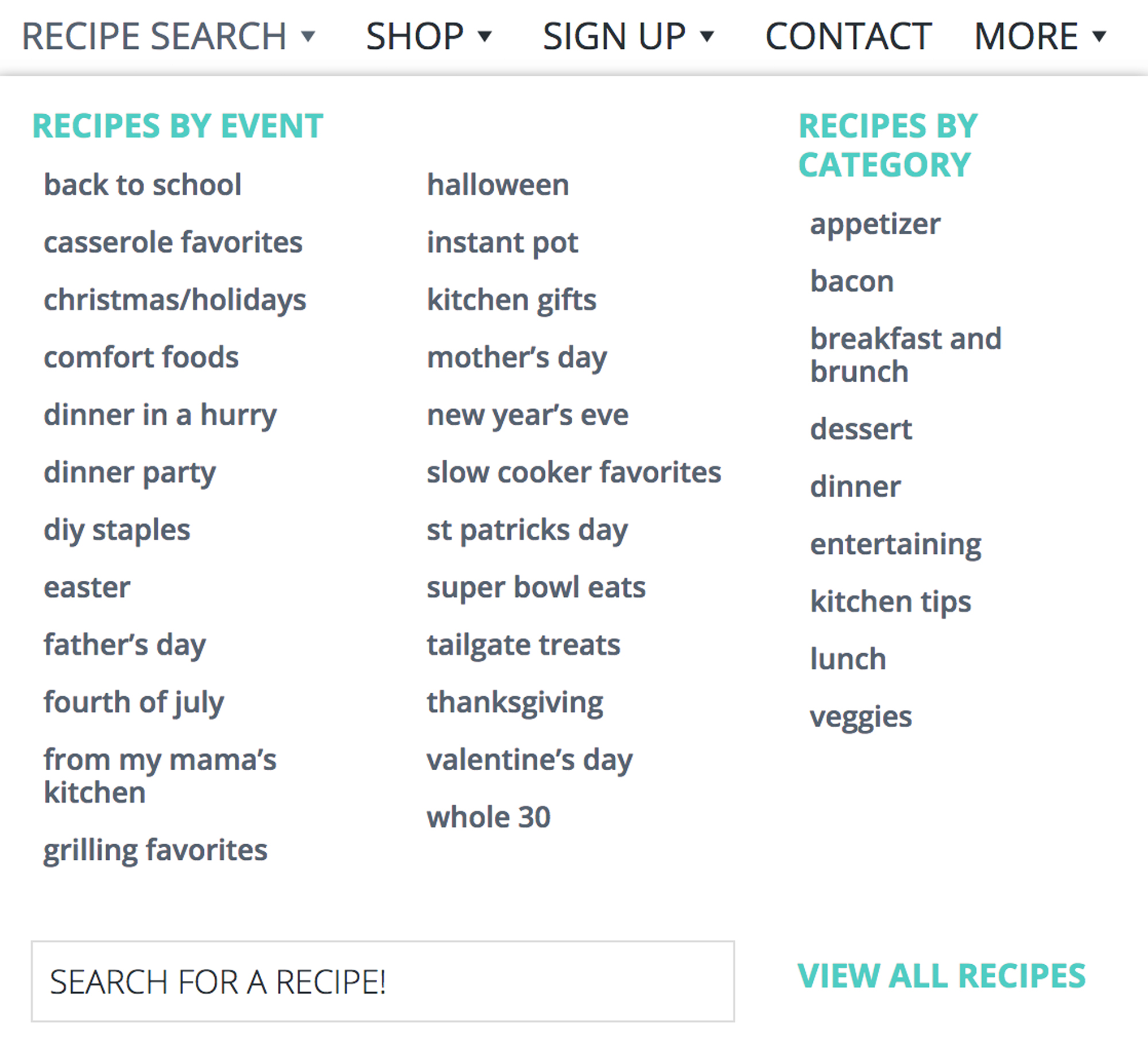 And if you need even more ideas, click on View All Recipes and you will get a new screen that lets you search by category, ingredient, event – you name it and I have a recipe for it!

The first item on the Home page will always be my newest recipe – but this time, with suggestions for other dishes that go with it that can round out your menu.  Because I don't know about you, but side dishes and desserts always stump me.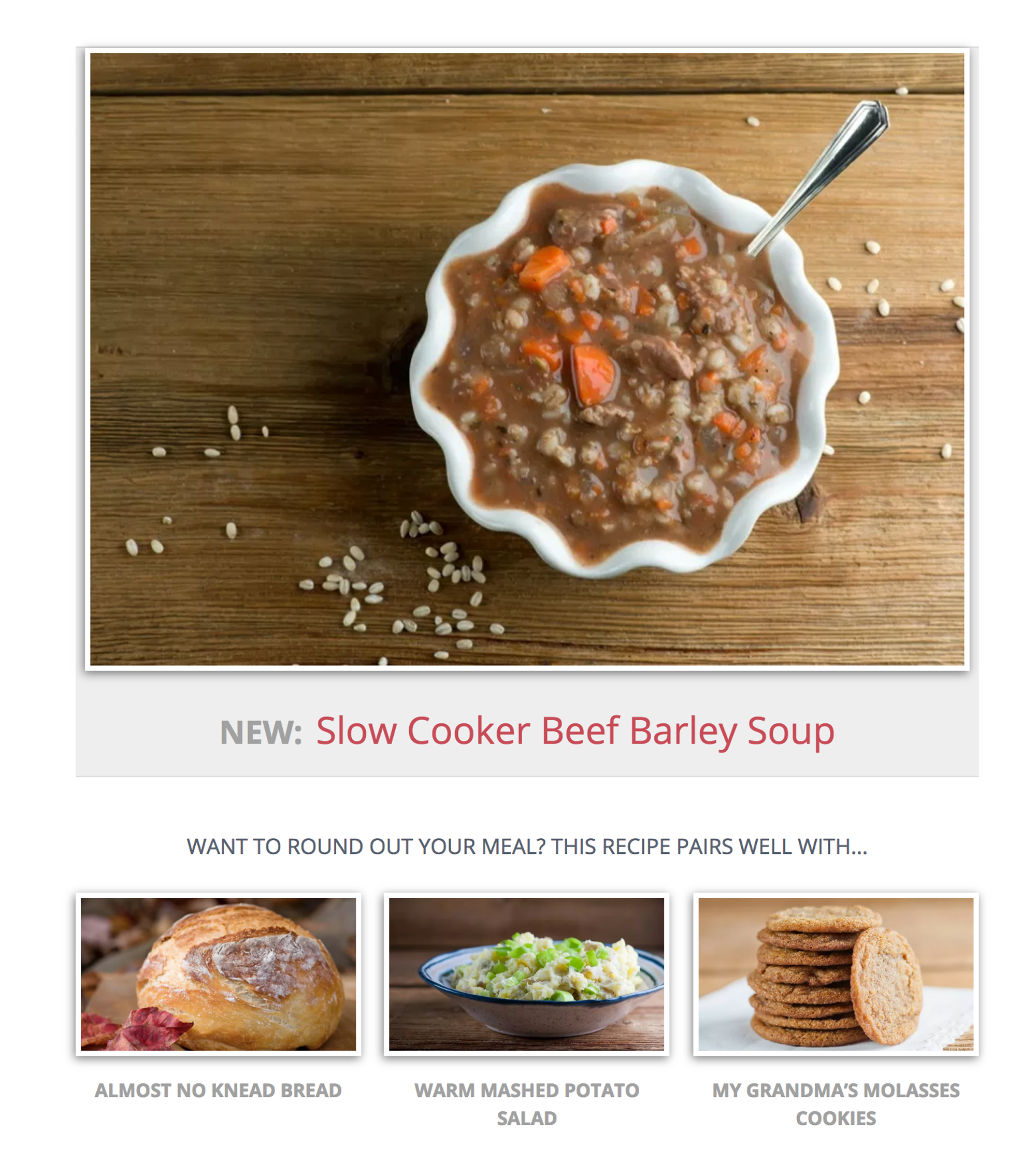 Now, back at the last version of Framed Cooks, the newest recipe would be followed by the second newest, the third newest and so on.  But not any more!  Nope, we decided that it would be a lot more fun and useful to come up with special themes for this month.
So we've created This Month's Specials.  I'm going to put up three of them a month that correspond to what might be going on this month…in this case, one of the February specials is Valentine's Day!   (The Southern husband's favorite holiday!).  Check out the other two on the Home page!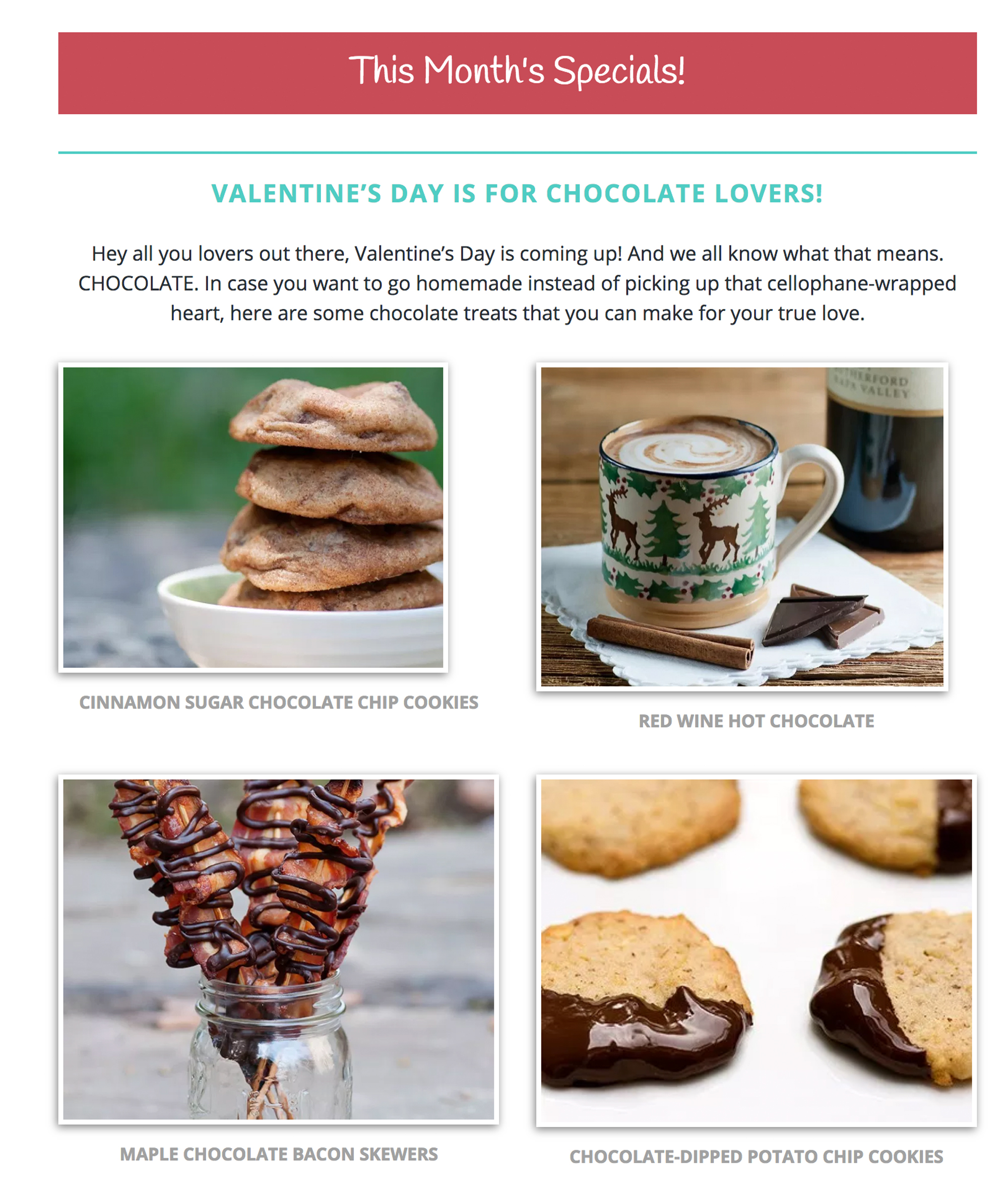 Scroll down on the Home page under the specials and here's one of my favorite parts of our new design, which is my Shop of favorite kitchen items.  I get so many requests for recommendations for everything from frying pans to cutting boards, and while I answer all of them, this seemed like the perfect solution.  (This is also the part where I need to tell you that I'm sending you to Amazon for these items, and as an Amazon affiliate I may earn something from qualifying purchases. Which is part of what keeps this website going, so thank you.)
But most importantly, everything in this little shop is something that I have in my own kitchen, and that I love.  The Shop has categories for everything from cookware to kitchen gadgets, and if you have any ideas for items you'd like me to try out and add, let me know!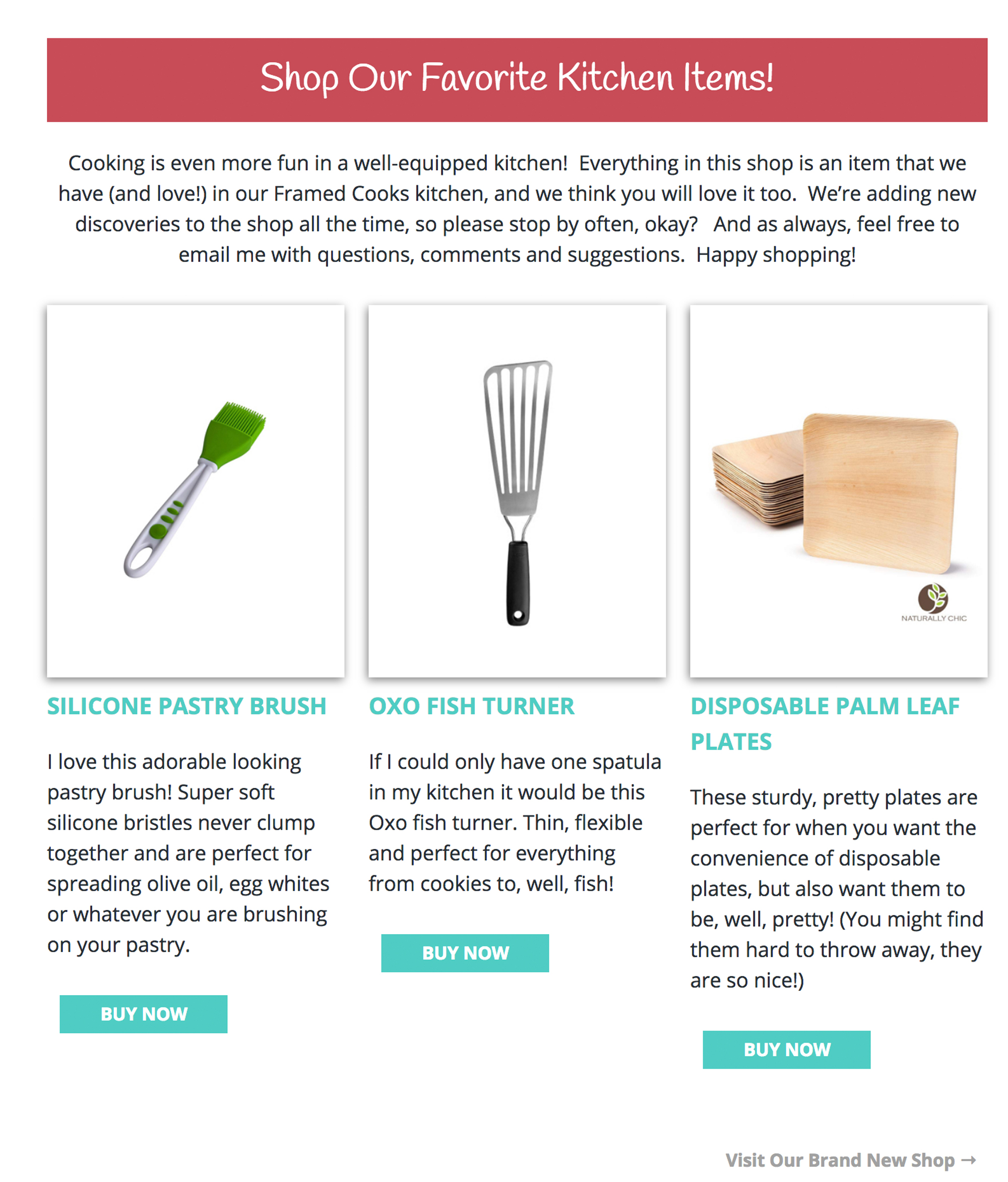 On to the next section, which I am calling Watch, Cook, Eat!  You may have noticed that I've started to add quick videos to some recipes, so this is a little showcase of some of them.  If you go back to the Home page and click on any video, it will take you right to the video on that recipe post, so you can watch the video and then have the recipe right there.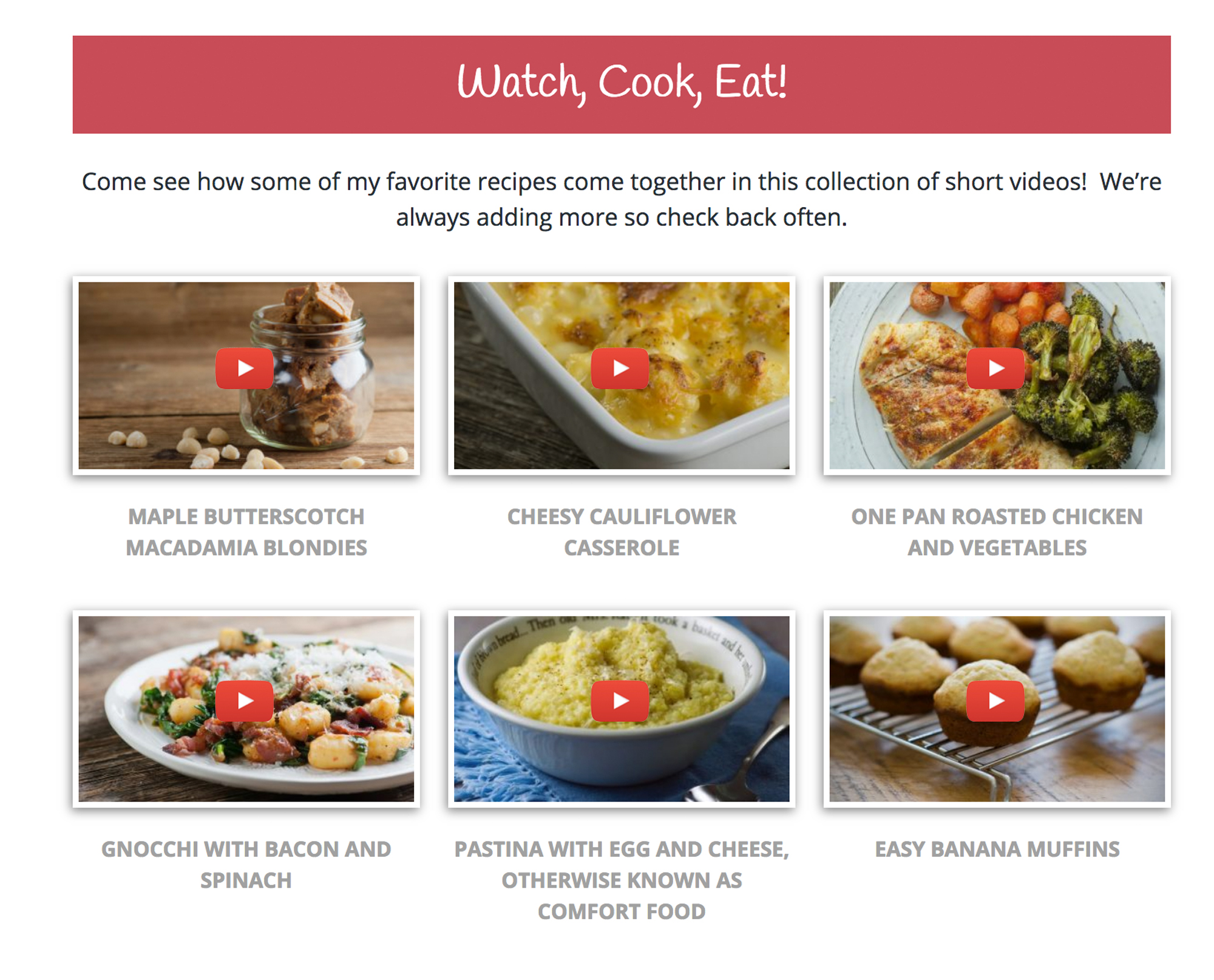 And then comes one of the most fun parts of the new site.  It's called I Have No Idea What To Make For Dinner, and it has a Surprise Me button.  If you go back to the Home page and click on it, it will bring up a menu of appetizer, main course, side dish and dessert.  Even I have no idea what will come up, so I have been obsessively clicking it over and over.  It's also a constant reminder of the older recipes that need me to add pictures to them, so bear with me on that.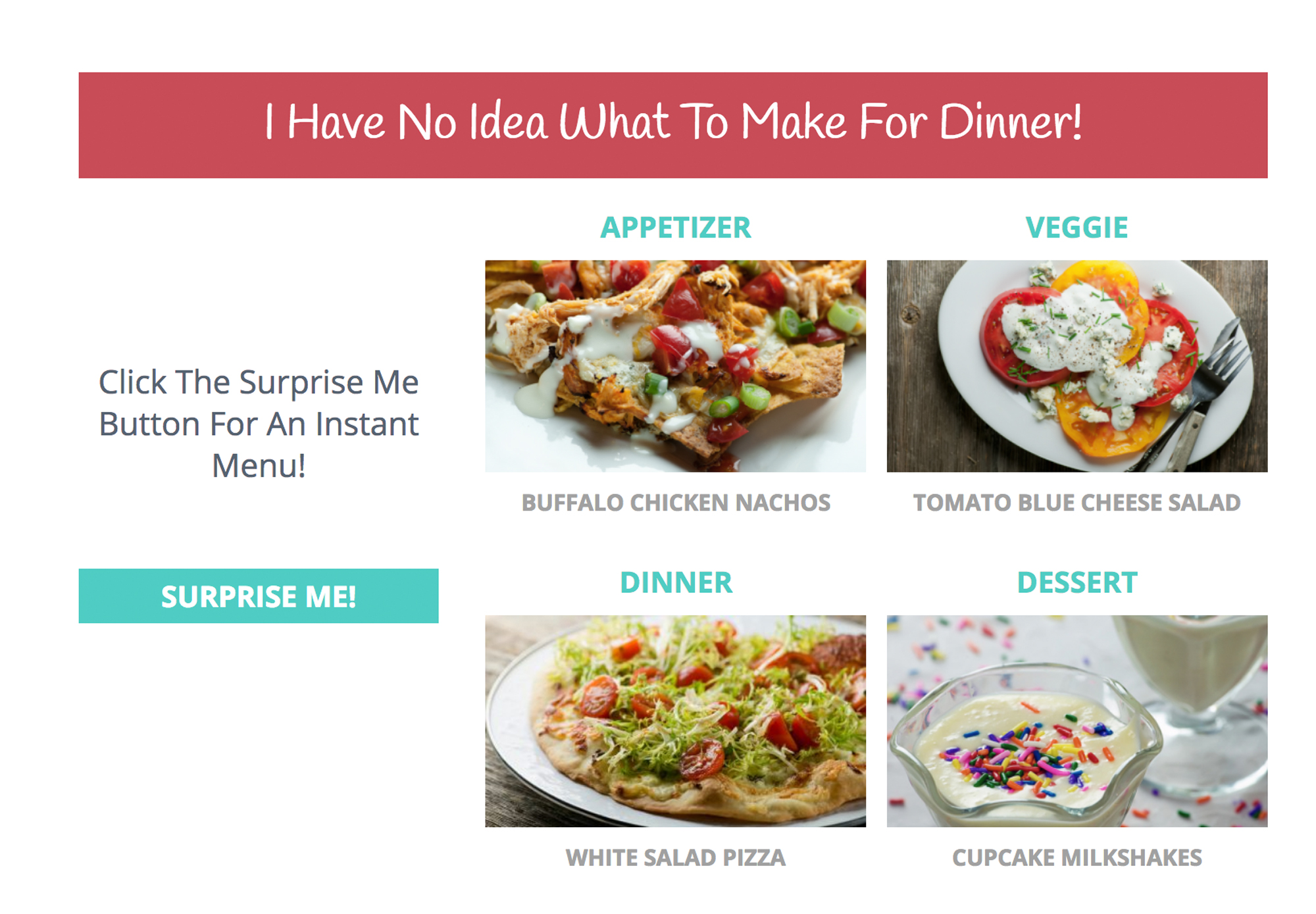 And last but not least, for those of you who are visiting the site on a desktop computer, at the very bottom of the Home page are the recipes that are trending up.  In case you want to get in on the action on what's currently popular on Framed Cooks.  The cheesy cauliflower casserole is usually out in front for right now.  Go back to the Home page and click on any of these pictures and it will take you right to the recipe.

That's it, and I would love to hear what you think.  This has been a long, exciting, terrifying process and I owe 99.9% of it to my website designer and manager of so many years, Cathy Tibbles of WordPress Barista.  She came up with so many of the ideas, patiently and cheerfully made all 283,492 of the changes I decided I wanted during the process, and gave me the courage to finally push the button (or actually, let HER push the button) to send this new design out into the world.  I am in awe of her skills and her generosity, and I love her to bits.  Cathy, you ROCK, girl.
The amazing writer Mary Oliver wrote…
"Instructions for living a life. 
Pay attention. 
Be astonished. 
Tell about it." 
This website is so much of me trying to live my life that way, not only through the recipes I write and cook and photograph, but in throwing some out and starting over, writing every day, taking leaps I never thought I would take,  and connecting with so many amazing people through all of it.  Including you, wonderful reader.  Thank you, and love,
~Kate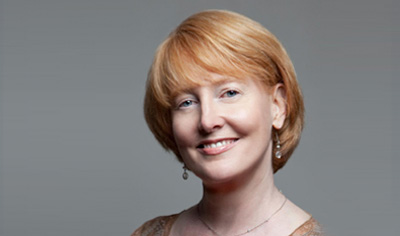 Hi there!  I'm Kate, and I'm a recipe writer, food photographer and devoted bacon lover.  I started Framed Cooks in 2009, and my mission is to create and share family-friendly recipes that make cooking both easy and fun…yes, I said FUN!  My kitchen is my happy place, and I want yours to be that place too.  And if you make this recipe, I would love you to tag @FramedCooks on Instagram so I can see the deliciousness!