This easy recipe for sheet pan bacon and eggs is a great way to cook up a whole mess of bacon and eggs along with some healthy and handsome sweet potatoes, and with exactly one plan to clean up at the end, it's also good for those days when you just can't deal with cleaning up the kitchen.
I am a huge fan of sheet pan dinners and I know lots of you are too, because my sheet pan recipe for One Pan Chicken and Vegetables is so popular on this blog that we turned it into a video (check out my video player on the right sidebar).
So I figured, what's good for dinner should be good for breakfast and brunch too, right?  Right?  And what better place to start my breakfast sheet pan adventures than with our old friends bacon and eggs.
I had one of those days myself last week.  I was running in to work, trying to juggle my briefcase and my lunchbox and my id card, and I should tell you at this point that our building has a beautiful lobby.
It's a landmark building, it was where the first transatlantic telephone call was made, and it includes 3 marble steps in between the door and the main lobby.
So in the midst of trying to do 3 things at once that morning, the main thing I achieved was to trip and fall on those steps, scaring the poor security guard out of her wits and apparently landing with my full weight completely on my left ring finger.
This easy recipe for sheet pan bacon and eggs is a great way to fix breakfast or brunch for a crowd. The sweet potatoes and onions round out this healthy meal. Click to TweetThe first thing I felt was completely embarrassed, and I did that "I'm okay!" thing you do when you fall in front of an audience.
The second thing I felt was OW.
By the time I got upstairs, I had regained my senses enough to take off my wedding and engagement rings just in case my finger, which was at Defcon One (that's the bad one, right?) in terms of ouch.
However, I had not regained enough sense to actually go have someone look at it until I woke up the following morning and it was a lovely shade of purple.
At which point I decided to become a responsible adult and go to the Urgent Care near my building.
At this point I need to give a shout-out to the folks at CityMD on Fulton Street in NYC.  They were so incredibly nice, and whisked me away to get x-rayed, told me I was sprained but not broken, splinted my finger, and gave me a choice of red, green or orange tape.
ORANGE OF COURSE.  Because, go Clemson Tigers!  And it happened to match my dress.
It's days like this where not only do you want breakfast for dinner, but you want it to include lots of bacon and very little cleanup, so enter this sheet pan bacon and eggs.
Here's how you make sheet pan bacon and eggs!
You cook up a pan-full of diced sweet potato and sweet onion and all the bacon you can handle, and during the last 5 minutes or so of cooking you crack in some eggs, and you eat the whole thing while keeping your left hand elevated because that's what the wonderful Dr. Katz at CityMD told me to do.
(The elevating the hand thing, not the cooking sheet pan bacon and eggs thing.)
From now on I will slow down and watch where I am going.  (I heard all of you who know Type A me starting chortling, by the way.)
Oh and PS, taking off my wedding ring temporarily did give me the chance to sing "All The Single Ladies" to the Southern husband, who has been the soul of patience through this whole saga.
Whew!
Print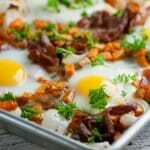 Sheet Pan Bacon and Eggs
---
Author:

Prep Time:

15 minutes

Cook Time:

45 minutes

Total Time:

1 hour

Yield:

4

1

x
Category:

Dinner

Method:

Oven

Cuisine:

American
Description
This easy recipe for sheet pan bacon and eggs is a great way to fix breakfast or brunch for a crowd. The sweet potatoes and onions round out this healthy meal.
---
Ingredients
1

eight ounce package bacon (see note)

2

sweet potatoes, peeled and diced

1

sweet onion, peeled and cut into thin wedges

4

eggs
Chopped parsley
Salt and pepper
---
Instructions
Line a rimmed baking sheet with nonstick foil and preheat oven to 400 degrees.
Separate the bacon and arrange it in any design you like on the baking sheet.  Sprinkle on the diced sweet potato and the onion.  Push aside the ingredients so that you have a little space for each egg.
Roast for about 40 minutes, or until the bacon is crispy and the sweet potato is tender.  Remove the baking sheet from the oven.
Carefully crack an egg into each of those little spaces you made and return the baking sheet to the oven to cook the eggs.  I like my eggs soft set so I cook them for about 5 minutes – leave them in for a little more if you like them firmer.
Divide the bacon, eggs and veggies among plates, sprinkle with salt and pepper and parsley and serve.
Notes
For you Whole 30 folks out there, use sugar-free bacon for this one.  Applegate Farms makes a great one – I've found it at Fresh Market.
SaveSave
SaveSave
SaveSave
SaveSave
SaveSave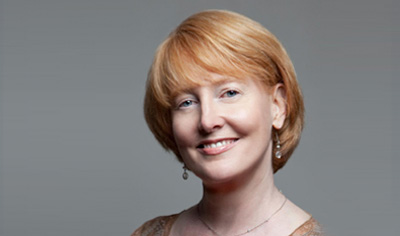 Hi there!  I'm Kate, and I'm a recipe writer, food photographer and devoted bacon lover.  I started Framed Cooks in 2009, and my mission is to create and share family-friendly recipes that make cooking both easy and fun…yes, I said FUN!  My kitchen is my happy place, and I want yours to be that place too.  And if you make this recipe, I would love you to tag @FramedCooks on Instagram so I can see the deliciousness!