Wow them for breakfast with this easy and decadent recipe for a Brie artichoke souffle omelet! Full of cheese and simple to make on your stovetop, it makes the perfect light lunch and supper too!
Oh my friends, I have had a WEEK.  A week that absolutely demanded the decadence of a Brie artichoke souffle omelet, and if you have never had a souffle omelet, you are in for a treat – all the puffy delight of a souffle, but cooked on the stovetop omelet-style with none of the souffle fear.  Stuffed with artichoke hearts and Brie cheese and oh my my.  Jump down to the recipe if you want to just hear about souffle omelets instead of my saga.  Or read through my saga.  One way or the other – let's make it!
My saga started off in a delightful way…we had our annual conference for my wonderful non-blogging day job down in sunny Miami.  For a New Jersey girl who is used to bundling up in her hat and mittens in February and March, let's just say that a week in Miami was not too much of a hardship.  Take a look at one of my fellow sunbathers who joined me poolside during one of the breaks.
He's about a foot long, and very chill.  I personally am the opposite of very chill, so I was all kinds of delighted when one of my friends gave me this giftie that she found at our lovely Miami hotel…
I was thrilled, and as it turned out, I really could have used this therapy dough, because the day I was scheduled to fly home was the day the first of two Nor'Easters trundled up the Northeast Coast.  Everyone's flights started being cancelled, and I resigned myself to staying another day in Miami, until it became apparent that the one and only flight that was still planning to fly into the crazy weather was, yup, MINE.
So (gulp) off I went to the airport, where they promptly CONFISCATED my Pinch Me Therapy Dough at security.  Apparently it counts as a liquid (which by the way it is so not) and it was over 4 ounces and I didn't have a checked bag that it could go into and so they tossed it into the trash right in front of me.  SOB.
Then I got to the gate, after passing by the Departures board and seeing that every flight was cancelled except mine, and I said to the gate agent "Are we really leaving?" and she said "We hope so," which made me miss my therapy dough even more ardently.
Sure enough, we got on the plane, where the pilot said our first two hours were going to be nice and smooth, but that the last hour was going to be so rocky that the flight attendants were going to need to strap themselves in ahead of time.  I will confess right now that before they did that, when they were coming down the aisles with the beverage cart, I requested not one but two of those cute little bottles of bad airplane pinot noir.  Oh yes.
The flight was everything it was promised to be.  Nice and smooth until we hit Delaware or so and then…let's just say I've been on roller coasters that felt soothing in comparison and had less shrieking.  Right down to the bouncebouncebounce landing.  I high-fived both pilots on the way out, and then went promptly to Wegman's and bought myself daisies to celebrate my survival.
I do love daisies in my Jeep's cupholder.
BUT IT DOESN'T STOP THERE.  Nope, a few days after I got home, the second Nor'Easter came calling, dropping tons of snow on New Jersey in particular, and bringing down trees and power lines in a way that we haven't seen since Hurricane Sandy.
The dog kept asking to go out, and kept coming in looking like this…
..with that look that says, "Why is it snowing on me, Mama?  Why?"
And while we were lucky with our power, my mama down the road lost hers, along with about 50,000 other people in New Jersey.  And here is where I have to give a shout-out to the fearless, tireless, mayor of our small town, Mayor Joanne Minichetti, who has barely slept for days as she has driven around with our DPW and called everyone from the governor on down to get the power company to pay attention to our little village, where there are still hundreds without power.  Here's just a teeny slice of the 1400 homes in our particular area who are still waiting for the heat and water and lights to go on at the time I am writing this.
In all seriousness, our mayor has been incredible, and I hope all my Upper Saddle River readers will tell her how lucky we are to have her watching out for us.
Meantime, my mama just got her power back, and after all that I think we all need a Brie artichoke souffle omelet, don't you?  Yes, I'm finally done with the saga and here comes the recipe for my new favorite way to make decadent, fluffy, cheese-filled omelets.  Since I've been going on for ages, I'll just say now that the directions for this concoction are all down there in the recipe, and you owe it to yourself and your loved ones to give this a try.
Whew!  And phew!  And COME ON, SPRING!!
Print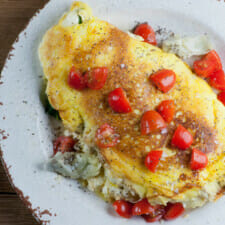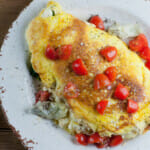 Brie Artichoke Souffle Omelet
---
Author:

Prep Time:

15 minutes

Cook Time:

5 minutes

Total Time:

20 minutes

Yield:

1

-

2

servings

1

x
Category:

Breakfast

Method:

Stovetop

Cuisine:

French
Ingredients
3

eggs

1/4 cup

milk

2 tablespoons

butter

1 cup

artichoke hearts, thawed and at room temperature

3 ounces

Brie cheese, sliced (up to you about taking of the rind – I leave it on!)

10

cherry tomatoes, cut in half
Salt and pepper
---
Instructions
Separate the eggs, putting the whites in a large mixing bowl and the yolks in a small one.  Whip the whites with a mixer until they are stiff, about a minute.
Stir the milk and a pinch of salt and pepper into the yolks.
Gently stir the yolk mixture into the whites (a spatula works well for this) until they are just combined.
Put the butter into a 12 inch skillet over medium heat until the butter melted.  Pour the egg mixture into the skillet, smooth the top of it with a spatula, cover and cook for 3-4 minutes until the omelet is just set.  It's going to get all kinds of puffy – this is great!
Uncover the skillet and run a thin spatula underneath the omelet to loosen it.  A fish spatula (one of my favorite favorite kitchen tools) is perfect for this.
Scatter the artichokes and Brie cheese over one side of the omelet, cover again and let the cheese soften for a minute or so.
Now comes the tricky part, and if you mess this up I PROMISE that it is still going to taste heavenly.  Using your spatula, slide the omelet with the artichoke and cheese section onto a plate.  Now turn the skillet over so the other half of the omelet covers the part already on the plate.
If you are a stickler for pretty looking omelets and this looks a bit messy, here's a trick: place another dinner plate on top of the one with the omelet and flip the whole thing over.  Now the omelet is on the new plate, and I bet it looks much neater.  :)
Scatter the cherry tomatoes on top, grind on a little pepper and serve!
Notes
Technically this is a recipe for one, but I usually cut the omelet in half and serve it up with a nice big salad on the side, and it's a perfect light lunch or supper.