Still haven't gotten Thanksgiving out of your system? Here's a recipe for turkey cheeseburgers with cranberry sauce to the rescue!
I don't know about you, but for me there is no such thing as too much Thanksgiving dinner deliciousness. The turkey, the cranberry sauce, the mashed potatoes, the stuffing…happy sigh. And for a while, you can make those delicious leftovers last with things like Thanksgiving casserole and the classic Thanksgiving leftovers sandwich, and one of my new faves, Thanksgiving fried rice. But sooner or later the actual leftover turkey is going to run out (sob!), which is when I break out this recipe for turkey cheeseburgers with cranberry sauce. Because Thanksgiving isn't over until I say it's over! So there! Let's make it!
I'm hoping you still have some cranberry sauce left over – that stuff lasts, so if you've gotten to a few days past Thanksgiving and it's still hanging out in the fridge, it's perfect. You also need ground turkey (right there in the poultry section of your supermarket, I promise), some swiss cheese and some nice soft rolls.
I mix up the turkey with some poultry seasoning to give it that roasted turkey flavor, then I make the turkey into patties and fry them up just the way you would a regular cheeseburger. They need to cook for 4 minutes a side, and during that last minute is when you want to pop a piece of swiss cheese on top of each patty. Cover the skillet so the cheese has a chance to melt into every nook and cranny.
Now, I like to lightly toast the rolls, but that part is up to you. One way or the other, slather the bottom half with cranberry sauce and lay the turkey cheeseburger on top of that bed of sauce. Pop the top roll on, and dig into that glorious Thanksgiving taste one more time. Thankful happiness!
Print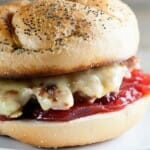 Turkey Cheeseburgers with Cranberry Sauce
---
Author:

Yield:

4
Ingredients
1 pound ground turkey
4 slices Swiss cheese
1 teaspoon poultry seasoning
2 tablespoons olive oil
1 cup cranberry sauce
4 rolls
---
Instructions
Mix ground turkey with poultry seasoning and shape into 4 patties
Heat olive oil in large skillet over high heat.  Add patties and cook for 4 minutes.  Flip over and cook for another 4 minutes.  When you get to the last minute of cooking time, top each patty with a piece of cheese, cover the skillet and let the cheese melt for that last minute.
While the burgers are cooking, cut the rolls in half and toast them (this part is optional!) and then spread the bottom half with cranberry sauce.
Place each patty on a roll, top with the other half of the roll and enjoy that Thanksgiving taste all over again!
SaveSave