This delectable stack of sour cream pancakes (yes sour cream, and more on that later) are not only meltingly scrumptious, but they also represent the perfect intersection of my day job as a children's book editor and my other passion for cooking, shooting pictures, eating, writing about it, and doing the whole thing over again.  Because as much as I wish I had come up with this recipe for the best pancakes EVER, that recipe comes from my wonderful friend Ree Drummond.  I know her both as a blogging friend AND because I have been lucky enough to be the editor for her adorable picture books.
And those pancakes are where those two worlds delightfully collide, because Ree's latest picture book, the cuter than cute LITTLE REE, tells not only the story of a little girl who learns to bloom where she is planted…but it also features one of the best pancake recipes ever, and so I felt like I simply had to make them, take their picture and write about them.  Oh, and EAT them.  And to celebrate all of that, I'm going to give away three copies of both LITTLE REE and Ree's first cookbook, THE PIONEER WOMAN COOKS, which also includes these pancakes.  It's a perfect storm of deliciousness!  Let's make them!But first, please meet Little Ree!
She's an accidental country little girl, just like grown-up Ree.  Ree moved to the country as an adult, but she always thought about what it would have been like to go from the country to the city as a little kid, and so Little Ree was born.  This is the not the first picture book I've worked on with Ree (you should check out our books about her lovable dog Charlie!) but as much as I loved Charlie, this is my favorite one yet.  There are horses.  There are cows.  There is Ree's little brother, and her grandma, and there are PANCAKES.   Its a funny, sweet, fish out of water, bloom where you are planted story, and we had so much fun working on it together.
And then when it came out a few weeks ago, Ree came to town with her beautiful daughter Paige, and we spent the day telling the world about Little Ree, because the world needs to know!  There were also pancakes involved.  Here is Ree being her usual fun self at 7am on the Fox and Friends set getting ready to talk books and pancakes.  I was standing there trying hard not to bump into the camera guy as the segment was going to start in about 30 seconds.
Later that day Ree spent three hours doing a satellite television tour, which involves telling the story over and over to about 20 different morning shows from a studio in New York.  I think this was Good Morning Tulsa!  Or maybe Virginia this morning?  I couldn't keep up.  Ree could though!
After that we all had a big old lunch, and then Ree and Paige were off to other cities to tell the Little Ree story to folks at bookstores all over the land.   It's a lot of hard work being an author – even after the work of writing the book is over – but Ree is a whirlwind of energy.  She truly loves creating her beautiful picture books (with help from the fantastically talented artist Jacqueline Rogers!) and for me, it's a great way to keep in touch with one of the most inspirational people I know on both sides of my life!
So to celebrate Little Ree, I'm going to give away three sets of the LITTLE REE picture book along with Ree's first cookbook.
Both books contain the recipe for sour cream pancakes, which is a family favorite from Ree's grandmother-in-law Edna Mae, and is a family favorite in my house too!  To enter, leave me a comment below telling me what your favorite breakfast meal is, and in a week I'll randomly pick the three lucky winners.
Welcome to the world, Little Ree!
This giveaway is now closed – but you should definitely still make these pancakes!
Print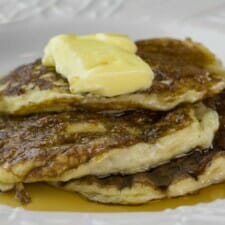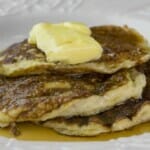 Sour Cream Pancakes…and a Giveaway!
---
Author:

Prep Time:

10 minutes

Cook Time:

10 minutes

Total Time:

20 minutes

Yield:

12

pancakes

1

x
Category:

Breakfast

Method:

Stovetop

Cuisine:

American
Ingredients
1 cup

sour cream

7 tablespoons

flour

1 tablespoon

sugar

1 teaspoon

baking soda

½ teaspoon

salt

2

large eggs

½ teaspoon

vanilla
Butter
Maple syrup
---
Instructions
Place griddle or frying pan over medium low heat to get hot.
Put sour cream, flour, sugar, baking soda and salt in medium bowl. Stir very gently until just combined.
Whisk eggs in separate bowl and add vanilla.
Pour egg mixture into sour cream mixture and stir gently.
Melt a tablespoon of butter on skillet.
Pour the batter onto skillet 1/4 cup at a time.
Cook for 1 to 1 1/2 minutes, then carefully flip and cook for another 45 seconds. Remove to plate and serve with butter and maple syrup.