This recipe for mussels with shallot cream sauce and pasta will have you coming back for seconds. A dreamy creamy sauce poured over angel hair pasta and tender mussels is a seafood sensation!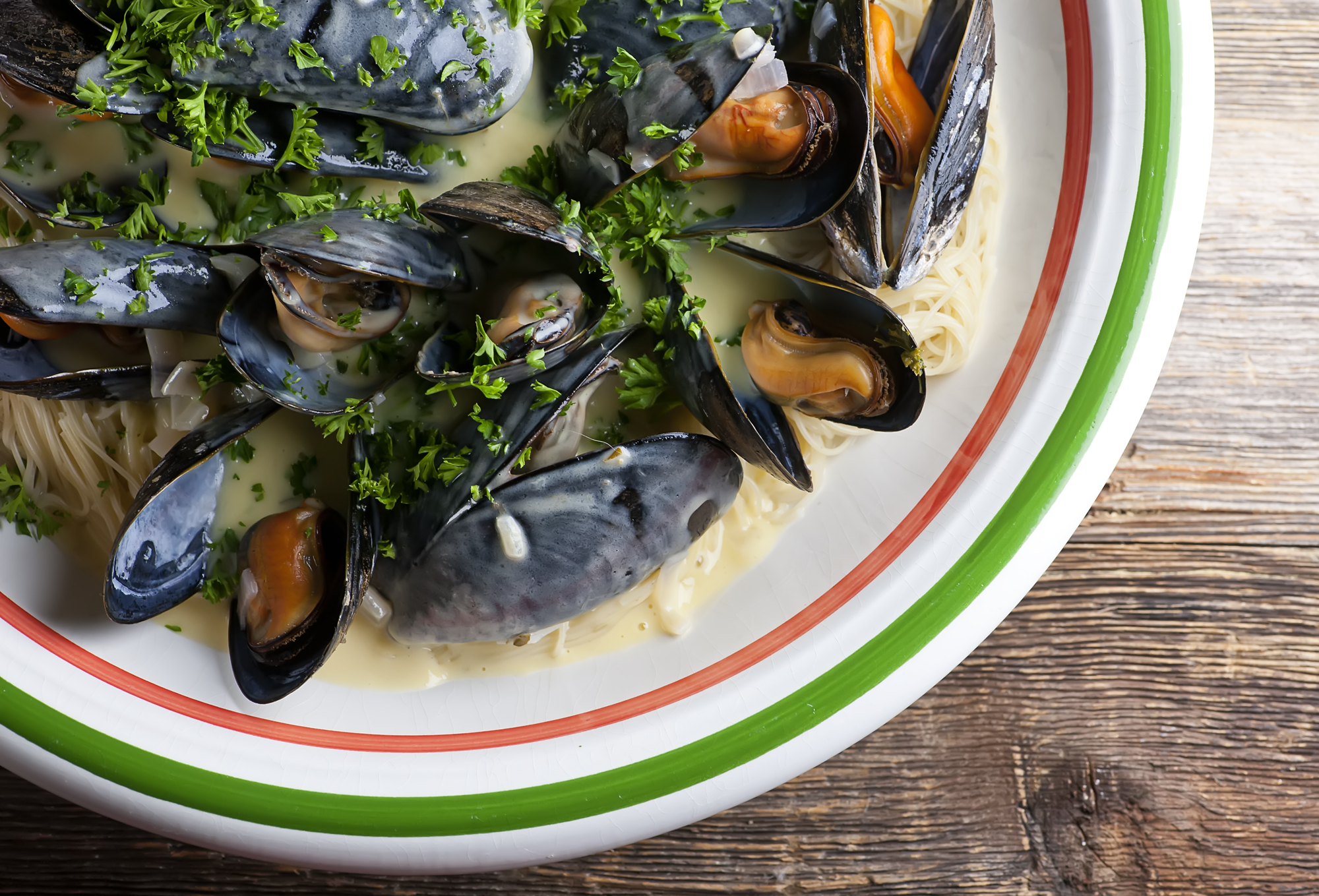 Mussels are up there among my very favorite kinds of shellfish, and this recipe for mussels with shallot cream sauce is one of the reasons why. They are delicious, they are inexpensive, they are reliably easy to cook, and they are all kinds of dramatic with their pretty blue shells. Combine all THAT with some delicate angel hair pasta and a creamy, dreamy shallot wine sauce and I am head over heels in seafood love.
This also gives me the chance to tell you about one of the Southern husband's preferred way to eat certain dishes like this one, but in the meantime, let's make it! First you need to get yourself a bag or two of mussels. You want to figure on about a half pound of mussels per person, which is going to work out to a lot less than it seems, because a lot of that is those pretty pretty shells. You'll also need some white wine (any kind is fine), some butter and flour and a little cream (not that much, don't worry) and eggs for the sauce, and one of these babies.
That is a shallot, and it is a close but fancy cousin to an onion. I love shallots. They make everything, well, fancier.
One of the things I love about this recipe is that nothing goes to waste. You are going to cook up the super simple base for the cream sauce at the same time that you are simmering up your mussels in a mixture of white wine and shallots and clam juice (and as always, rinse those mussels well and toss any that have cracked or open shells).
Once the mussels are wide open and cooked, you are going to scoop them out and pour all that cooking liquid deliciousness into the sauce. Which you are going to finish with some cream and egg yolks until it is silky deliciousness, laced with little pieces of shallot.
YUM.
Now you are going assemble this extravaganza of scrumptiousness by putting the mussels on a bed of angel hair pasta (the super skinny pasta) and then pouring the shallot sauce over everything. Now, if you are having more than a couple of people at your table, you will want to divide this among individual soup bowls.
However, if it is just you and another special someone, you can do what the Southern husband loves more than anything when it comes to eating dinner, and that is to serve it up in one big dish with two forks. I have had this pasta bowl forever and a day, and I love it so much.
Isn't it so cheery and self-explanatory? You can't tell from the picture, but it also is a nice deep bowl, just right for holding the pasta and the sauce and the mussels. We both tuck a napkin under our chins, dunk our forks in and start twirling.
No matter how you serve it, remember to put out a bowl for the mussel shells, and make sure you get at least one bite that has pasta AND sauce AND mussel in it. And we all lived happily ever after!
Print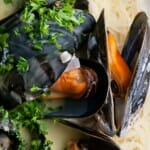 Mussels in Shallot Cream Sauce
---
Author:

Prep Time:

15 minutes

Cook Time:

30 minutes

Total Time:

45 minutes

Yield:

4

servings

1

x
Category:

Dinner

Method:

Stovetop

Cuisine:

American
Description
This recipe for mussels with shallot cream sauce and pasta will have you coming back for seconds!
---
Ingredients
2 tablespoons

butter

2 tablespoons

flour

2 cups

white wine

1 cup

bottled clam juce

2

pounds mussels, rinsed (discard any with broken or open shells)

1

shallot, chopped

2 tablespoons

chopped parsley, plus extra for garnish

2

egg yolks

1/4 cup

heavy cream

8 ounces

angel hair pasta, cooked and drained
---
Instructions
Melt butter in a medium saucepan over medium heat and whisk in flour until well combined. Stir in one cup of the wine and all the clam juice and simmer for 15 minutes.
Meanwhile, put the mussels, shallot, parsley and the rest of the wine into a large deep skillet. Cover the skillet and simmer over medium heat until all the mussels have opened (discard any that don't), about 5 minutes or so.
Scoop out the mussels and set aside. Pour the broth from the skillet into the butter and flour sauce and simmer for another 10 minutes.
Move the sauce to a cool burner. Mix the egg yolks and cream together, and then pour that mixture into the sauce as slowly as you can, whisking the whole time.
Put the pasta in a big serving bowl, or divide among 4 soup bowls. Put the mussels on top of the pasta, and then pour the sauce over the mussels. Garnish with parsley and a grinding of fresh pepper and serve!