Kick your bacon and eggs up a notch by adding sweet sautéed leeks! Bacon and eggs with leeks may be your new favorite breakfast (or lunch, or dinner!)
My friends, I have had a WEEK.  It has been the best of times and the worst of times.  It has been a rollercoaster.  It has been a week that needed…NEEDED…to end with the comfort food that is a skillet full of eggs cooked in sweet sliced leeks that have been sautéed in bacon drippings, with thick cut bacon scattered on top.   Sure, I could have made plain old bacon and eggs, but there is something about having the eggs cook up to dreamy perfection in a bed of those tender leeks that takes plain old bacon and eggs from regular to comfort food extraordinaire, all inside of about 15 minutes.  It's warm.  It's wonderful.  Let's make it!But first, MY WEEK.  It started off in beautiful, warm and wonderful Miami, where I went for my day job to talk about books.  Talking about books in Miami = The Best Of Times.
But all good things must come to an end, and so there I was on a plane back to New Jersey.  I'm a pretty good flier except when it come to turbulence.  A few bumps don't bother me, but Kate does not like a super bumpy airplane ride.
See the green patches with bits of yellow?  That's the kind of turbulence where they make the flight attendants sit down.  I was watching Fixer-Upper on my seat-back teeny screen, and even Chip and Joanna Gaines couldn't distract me.  And that's saying a LOT.  Turbulence = The Worst Of Times.
But finally we landed, and just in time for the Southern husband and I to put on our cowboy boots…
…and head on over to Madison Square Garden to spend the evening with my buddy Luke Bryan.
Luke, you are most definitely The Best Of Times.  You can crash my party anytime.
Then it was back to New Jersey, where I went to sleep with visions of Luke Bryan doing his country man thing floating in my head.  AND THEN I WOKE UP TO THIS.
The return of Coldmageddon.  For those of you who patiently suffered through my last bout of this in January, you may remember that I went through about four weeks of relentless sniffling sneezing coughing sore throat achy head blah blah blah, so under normal circumstances I would say THIS IS NOT FAIR since I have been Coldmageddon-less for about two weeks, but in a perfect storm of bad timing I gave up complaining for Lent, so I am just letting you know about Coldmageddon II as a point of reference.  Not a complaint.
Anyway.
This rollercoaster of a week definitely called for an out of the ordinary comfort food that could be ready lickety-split, and that is where this easy, scrumptious spin on bacon and eggs comes in.  Cook up some thick cut bacon in a heavy deep skillet, and leave the drippings.  Saute some sliced leeks in those drippings, and then crack a few eggs into the leeks.  Cover the skillet and let the eggs cook up just until they are set – think of it as poaching eggs in sautéed leeks instead of water.
Now uncover the skillet, scatter the bacon on top, give things a grinding of fresh pepper and scoop it out into bowls.
Do you feel better?  I am planning to feel better.  Amen.
Print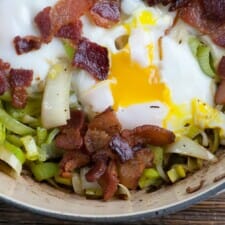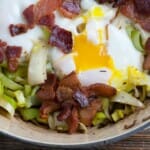 Bacon and Eggs with Leeks
---
Author:

Prep Time:

10 minutes

Cook Time:

20 minutes

Total Time:

30 minutes

Yield:

2

servings

1

x
Category:

Dinner

Method:

Stovetop

Cuisine:

American
Ingredients
4

slices thick cut bacon, cut into small pieces

2

leeks

4

eggs
---
Instructions
Cut off the root end of the leek and the top dark green part so you are just left with the white and light green section. Cut in half longways and rinse under cool running water. Slice into small pieces.
Cook the bacon in a heavy deep saucepan until crisp and then scoop out with a slotted spoon to drain on paper towels, leaving the drippings in the pan.
Saute the leeks in the bacon drippings over medium heat until they are tender.
Crack the eggs into the leeks, cover the pan and cook for about 5 minutes until the eggs are just cooked – you want them a little creamy.
Scatter the bacon over the eggs and leeks, grind some black pepper on top and serve.
SaveSave