Shepherd's pie, your favorite comfort food, comes to your slow cooker with this easy recipe. Start your slow cooker shepherd's pie this morning and enjoy it tonight!
Oh, this recipe for slow cooker shepherd's pie!  If I had to name my top ten favorite word combinations, "slow cooker" and "shepherd's pie" would definitely be in that top ten.  Shepherd's pie is one of my all time favorite things to make – I have various and sundry variations of it on this here blog – but a shepherd's pie that cooks itself up in the slow cooker?  Hello, heaven!
So are you ready to make one of the best comfort foods in the universe?  Grab your trusty slow cooker and let's make it!And believe me, I am in gigantic need of comfort food at the moment, because right after the holidays were over, THIS HAPPENED.
I am not so fondly calling it "Coldmageddon."  There is the garden variety cold, and then there is the cold that knocks you flat into next week.  This cold let me have it with both barrels.  The Southern husband ran out and got me cold meds and a vaporizer and a neti pot.  It was my first time neti-potting.  It was….different.  But I was miserable enough to try anything.
(Giant digression….that moon-looking-like object on my bedside table is a clock that slowly starts lighting up from very very low to bright a half hour before your alarm sounds, and the alarm is birds chirping.  When you get up in the pitch dark wee hours of the morning like I do, it's the gentlest way to wake up, and I love it.)
Anyway, I had constant company while I was lying in bed coughing and sneezing and blowing my nose  7 million times and generally looking pitiful.
I have to say she is a remorseless blanket thief though.  And don't you see just a hint of a smile on her face while she is doing it?
And my mama braved my germ-infested house to bring me primroses, because nothing makes things feel better than your mama trying to make you feel better when you are sick.
Which leads me to comfort food.  You've probably guessed that generally I am the one making supper around here, but since I could barely drag myself out of bed, the Southern husband jumped into the breach with scrambled eggs galore…pretty much the only thing I could face.  Besides gallons of Nyquil.  But when I am feeling better I will be ready to graduate to more solid comfort food, and this slow cooker shepherd's pie is one of the best comfort foods I know.
Before I go any further, let me state for the record that yes, I know technically you are supposed to make shepherd's pie with lamb, and mine is made with beef.  But technically you don't make it in the slow cooker either, so I am throwing all caution to the wind and still calling it shepherd's pie.  It's actually kind of a cross between a tender, melt in your mouth beef stew and a shepherd's pie.  The sauce is not as thick as regular shepherd's pie, which I like…all the better to soak into the glorious mound of mashed potatoes that you are going to dollop on top.
So here's how it goes: In the morning, drop some beef chuck pieces into your slow cooker along with some carrots, onion, some beer, a few potatoes and some seasonings.  Turn it on low and go about your day.
When you get home, scoop out the potatoes with a slotted spoon and add some peas.  Give everything a stir and put the lid on.  Now mash up those potatoes, which will be super tender, with some butter and cream or milk. (You see where all this is going, right?)
Now ladle out some of the meat and veggies into bowls, and put a nice big generous spoonful of mashed potatoes on top.  Hand out forks and spoons.  Feel much better!
Print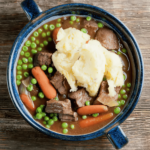 Slow Cooker Shepherd's Pie
---
Author:

Prep Time:

10 minutes

Cook Time:

8 hours

Total Time:

8 hours 10 minutes

Yield:

4

-

6

servings

1

x
Category:

Dinner

Method:

Slow Cooker

Cuisine:

American
Ingredients
1 1/2

–

2

pounds beef chuck, cut into bite sized cubes

2 cups

baby carrots

1

sweet onion, chopped

2 cups

beer

1/4 cup

Worcestershire sauce

1/4 cup

flour

3 tablespoons

tomato paste

3

large Yukon Gold potatoes, peeled

1 cup

frozen peas

1/2 cup

milk or cream

3 tablespoons

butter, room temperature
Salt and pepper
---
Instructions
Add beef, carrots and onion to slow cooker.
Mix together beer, Worcestershire sauce, flour and tomato paste and pour over beef mixture. Tuck the potatoes into the mixture, making sure they don't touch the side of the slow cooker.
Cover and cook on low for 8 hours.
Scoop out the potatoes with a slotted spoon and put them in a bowl, and add the peas. Cover the slow cooker to let the peas get warm while you mash the potatoes.
Mash the potatoes, then add the milk or cream and the butter. Season to taste with salt and pepper.
Scoop out servings of the beef mixture into bowls and top with a generous – and I mean GENEROUS – spoonful of mashed potatoes. Serve at once.
SaveSave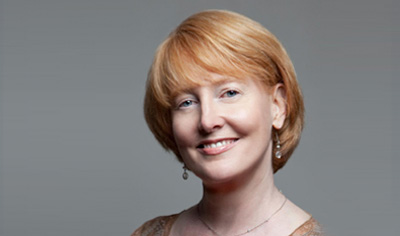 Hi there!  I'm Kate, and I'm a recipe writer, food photographer and devoted bacon lover.  I started Framed Cooks in 2009, and my mission is to create and share family-friendly recipes that make cooking both easy and fun…yes, I said FUN!  My kitchen is my happy place, and I want yours to be that place too.  And if you make this recipe, I would love you to tag @FramedCooks on Instagram so I can see the deliciousness!