Spice up an old favorite with this easy recipe for chili macaroni and cheese! It's destined to become everyone's favorite supper.
So, pretend with me for a moment that your favorite mac and cheese recipe and your favorite taco recipe had a baby made out of creamy cheddar cheese and macaroni goodness mixed with spicy ground beef and topped with crumbled up crunchy tortilla chips.  Got that in your mind?  Welcome to my chili macaroni and cheese, which is all of that deliciousness baked up in your favorite casserole dish and just in time for those chilly winter nights when the ravenous kids are around.  Let's make it!I am revving up my go-to pile of favorite supper recipes, because in a few short weeks this one is going to be home for the holidays!
A few notes on that picture: First, it was taken at the end of the Clemson/South Carolina football game.  In case you can't tell, she went to Clemson.  Second, I had to Google #tfw because as much as I try to keep up with the acronyms-of-the-moment, I wasn't sure about that one.  I have #yolo down pat, but #tfw was new to me.  (It means "that feeling when" and there is No Way I would have guessed that on my own, so thank you Google.  Again.
And third, I love that face SO much that I am already planning my menus for three weeks from now, and I'm guessing this one will be high on the hit parade with herself and her friends.  They are all charter members of the Macaroni and Cheese Super Fan Club (and yes, I have been known to make them grilled mac and cheese sandwiches.  And mac and cheese cupcakes.  Etc.)
So if you are in the market for a mash-up of two of everyone's favorites, give this recipe a spin.  And hopefully you'll get someone telling you, #tfw you have the best mac and cheese for supper!
Print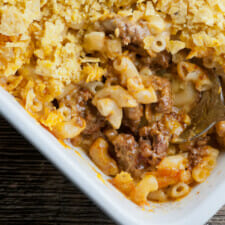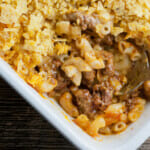 Chili Macaroni and Cheese
---
Author:

Prep Time:

10 minutes

Cook Time:

45 minutes

Total Time:

55 minutes

Yield:

4

servings

1

x
Category:

Dinner

Method:

Stovetop and Oven

Cuisine:

American
Ingredients
1 tablespoon

chili powder

2 teaspoons

cumin

1/8 cup

flour

2 cups

milk

2 cups

shredded cheddar cheese

8 ounces

elbow macaroni

12 ounces

ground beef

1 tablespoon

tomato paste

1 cup

crumbled tortilla chips
---
Instructions
Preheat oven to 375 and spray an 8 inch square (or similar sized) casserole with cooking spray.
Cook macaroni according to package directions until done. Drain and set aside.
Whisk together chili powder, flour and milk and pour into a saucepan. Heat over medium high heat until simmering. Simmer for 10 minutes or until it starts to thicken. Turn of the heat and stir in the cheese until the cheese is melted.
Meanwhile, brown the ground beef in a large deep skillet over medium high heat until cooked through. Stir in tomato paste and cumin.
Pour the cheese mixture into the beef mixture and stir. Pour the macaroni into the skillet and stir again until everything is well mixed.
Pour the macaroni mixture into the casserole and sprinkle the top with tortilla chips. Bake until slightly golden, about 30 minutes.