This super easy recipe for buffalo style hot dogs is SO super easy that I am stretching things a little by actually calling it a recipe.  It's more of a suggestion that you swap out the usual mustard and ketchup for a few different ingredients that will give your plain old frankfurter a zingy, cheesy flair.  You know the blue cheese and hot sauce taste you get from buffalo style chicken wings?  Yep, we are going to do the hot dog version of that.  Yes we are.  Let's make it!
Jazz up your frankfurters with this easy recipe for buffalo style hot dogs!
Click To Tweet
And because there is so little to tell you about this recipe that is almost too easy to be called a recipe, I'm going to supplement this post with pictures of my own hot dog.  So if you really don't want to see a bunch of pictures of
one particular rescue dog
that is almost certainly illegally sleeping on my bed as you read this, scroll on down to the end.  But if you do…
The Southern husband calls her "the girl with the faraway eyes," which is not what I think Mick Jagger had in mind when he was singing that song, but it seems to fit.
Even when wearing ridiculous but festive holiday collars.
Aside from eating, her other favorite hobby is sleeping.  Preferably snuggled up with her people.
Sleeping…
…and eating…
….and sleeping (that can't actually be comfortable, can it?)…
…and eating (she is my Chief Bowl Licker.  She can hear the KitchenAid mixer go on from the other side of the house).
You get my drift….so on to the hot dogs!  Pick out your favorite kind…I am partial to Nathan's hot dogs with the skin on, but whatever you like best will do, even turkey or veggie dogs. I like to cook mine until they are nice and brown on the grill or the stovetop, but again, if you prefer yours boiled that is fine too.  Once you have your hot dog nice and hot, nestle it in a bun and top it with a few spoonfuls of coleslaw, a generous dollop or two of blue cheese salad dressing, and a drizzle of hot sauce.  If you are feeling extra energetic you can make your own coleslaw, but honestly, I usually pick mine up at the deli counter at the supermarket.
As for the hot sauce,  we use Sriracha sauce for ours, and since that is what's going to add the spicy punch, it's a good idea to let everyone customize their own amount of sauce.
See?  Not really a recipe…but so, SO good!  And I think that gives me room to sneak in just one more of these…
Happy hot dogs!
Print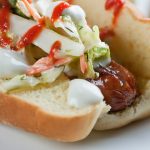 Buffalo Style Hot Dogs
---
Author:

Yield:

4
Ingredients
4 hot dogs
4 hot dog rolls
1 cup coleslaw (you can make your own, or pick it up at the deli counter)
1/2 cup prepared blue cheese dressing
Sriracha or other hot sauce
---
Instructions
Cook hot dogs according to your liking – on the grill, in a skillet or in boiling water – until hot.
Place hot dogs in rolls.
Top each with 1/4 cup coleslaw, a generous spoonful of blue cheese dressing, and a drizzle of hot sauce.