This recipe for tomato basil cheese towers is just as easy as it is dramatic. It's the perfect summer appetizer or small dinner, and a fun way to use some of that fabulous summertime fresh basil and local tomatoes!
I know, these tomato basil cheese towers LOOK very dramatic, but just between you and me, they are one of the things in my recipe arsenal that is so easy that it doesn't seem fair.  If you can slice, stir and work the on/off button on your food processor, you are so very, very close to a plate of tomato and cheese and basil deliciousness.
And since we are rapidly coming to the end of tomato and basil season (Nooooooooooooooooo!), I am pretty much making this once a week.  Grab some tomatoes and basil and let's make it!In addition to having all the fabulous flavors of summer in it, this is one of my go-to recipes when I am just too beat from whatever happened during the day to spend more than the absolute minimum amount of time on making supper.  And I recently had one of those days, but for such a great reason.
Every year my company participates in Operation Backpack.  This is a yearly program organized by the Volunteers of America, and this year they are putting together around 18,000 backpacks filled with school supplies for homeless kids in New York City.  Not only are the backpacks and all the supplies that go into them donated, but hundred of folks gather together to put all those supplies into the backpacks.  And some of those folks were my intrepid friends!
The backpacks are organized by grades, so the Operation Backpack volunteers have to make sure each backpack has everything that a kindergartener might need.  Or a 12th grader.  Or every student in between.
The day is hot and inspiring and exhausting and humbling and by the time you have filled the last Finding Dory backpack of your day, your feet hurt and you are overwhelmed by the sheer need of these thousands of kids.  And by the goodness of so many people coming together to try and give them this one small measure of kindness and support – a full, new backpack for their first day of school.
I spent a lot of my Operation Backpack day with the Pre-K and Kindergarten backpacks, amid the crayons and paint sets and pink erasers and pencil boxes.  Picturing the little hands and faces as they each got their backpack.
After 6 or 7 hours of filling and checking and carrying backpacks, some of us needed to sit down.  While still filling backpacks of course!
By the time I got home, I was awash in so many feelings…of gratitude for having a home and the resources for my own child, and helplessness at the magnitude of the need of those who don't have so much of what I take for granted.
Operation Backpack is coming down the home stretch as we get close to back to school here in the NYC area, but they still need help if you can, especially with the high school backpacks…either with your time or with donations, and click here for more info.
Meantime, even though I was sweaty and tired and my feet hurt, people in my house were still hungry for dinner, and while they would have been totally okay with ordering pizza, I had a couple of beautiful heirloom tomatoes and a hunk of cheese in the fridge, and some basil growing in my kitchen garden, and this ridiculously easy recipe.
Which basically involves slicing up the tomatoes and cheese and stacking them together and drizzling some pureed basil and olive oil on top.I went one step further and made a pot of polenta to stack them on top of, but you can also stack them on a puddle of the pureed basil and olive oil (EVEN EASIER!) or just have them on their own (easiest of all!).
If you do decide to make polenta, as always I recommend Anson Mills polenta…polenta perfection.
I like to toss a few teeny basil leaves over the whole thing, because we are in use-it-or-lose-it season with the basil and I am USING IT.
This makes a lovely and dramatic appetizer if you are having a fancy dinner, and a hearty side dish with grilled steak or seafood.  Or a quick, comforting supper all by itself at the end of a long day.  And one more time, here's the info for Operation Backpack!
Print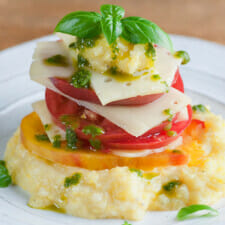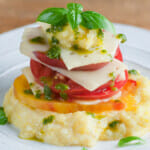 Tomato Basil Cheese Towers
---
Author:

Prep Time:

15 minutes

Total Time:

15 minutes

Yield:

4

servings

1

x
Category:

Appetizer

Method:

No Cook

Cuisine:

Italian
Description
This recipe for tomato basil cheese towers is just as easy as it is dramatic. The perfect summer appetizer or small dinner. 
---
Ingredients
2

heirloom or beefsteak tomatoes

1/4

pound fontina, mozzarella or other semi-soft cheese

1/2 cup

basil leaves

1/4 cup

olive oil
---
Instructions
Slice tomatoes and cheese into 1/4 inch slices.
Put basil and olive oil into a food processor and puree. Season with a pinch of sea salt.
Stack tomato and cheese slices in alternating layers. Drizzle with basil puree, garnish with basil leaves and a grinding of fresh pepper and serve.
Notes
These towers are delicious all on their own, but I like to serve this on a bed of warm polenta or grits. You could also make extra basil puree. pour a puddle of it on the plate and stack the towers on that for extra basil flavor!
SaveSave