Today not only am I going to tell you how to make this spicy, creamy, bet-you-can't-eat-just-one-bite cheese dip, but I'm also going to tell you about two of the most special people I know.  I'm going to tell you about an astonishing gesture of love that started out as a brave and beautiful gift between the the two of the them,  that has now turned into a project that supports hundreds of people.  I'm going to give away what is without a doubt the most precious and unique item I've ever given away on this site.  And yes, I'm going to tell you how all of this circles back to a mama named Lillian, and the love she put in to taking care of her family.  Including this cheese dip.  Let's make it.
These are my dear friends Linda and Bob Carey.
 
I met them about ten years ago when Bob, who has taught me pretty much everything I know about photography, took the pictures for a book that my daughter wrote.  Bob has been a a photographer all his life, and Linda (who is a pretty amazing photographer in her own right) is a photography producer.
This is also Bob.
Yep, a big guy in a pink tutu.  Bob has taken hundreds of pictures of himself in this tutu,  in places as far-flung as the crosswalk of Times Square in Manhattan to the edge of the Grand Canyon, from the Lincoln Memorial to the Brandenberg Gate.
Why?  It started as a gesture of support for Linda as she coped with breast cancer.  No small pink ribbon or wristband for Bob – nope, he was all in with the pink.  And then he took another picture, and another, and another.  Today, Bob's arresting photographs, poignant and funny and gripping all at the same time, are the centerpiece of The Tutu Project, which has at its center a non-profit organization that he and Linda created in 2012 to collect for and allocate funds to the breast cancer community for everything from wigs and lymphedema sleeves to transportation, childcare, and counseling.  Their story is flat-out inspiring and so are they – click here, and have tissues ready for your happy tears.
And this is Lillian.
She is Bob's mom, and if I've heard him talk about her once, I've heard him talk about her a thousand times.  Here's what Bob has to say about her:
My mom was the best. She loved to cook, host parties and if someone had no home to visit on the holidays, Lil would add one more chair to her table. She was love. When my sisters and I had moved out to the house, my parents built the pool I so desperately wanted as a child. I secretly think that my mom had the pool built to make sure her children kept coming home–as if she needed to persuade us!
We spent Sunday afternoons eating my mom's tasty food and playing water basketball. The ball frequently was sent flying out of the pool, landing on an enormous bed of rosemary and the scent filled the air. At the time I had no idea that rosemary was a spice, I thought it was just another Arizona desert plant. Who knew? To this day whenever I smell rosemary, I think of her. She was an incredible cook, hardly ever using a recipe, preferring the add and taste method. Although this recipe has no rosemary, it was a family favorite, and I hope that you enjoy it as much as my family has!
So when he and Linda recently brought Lillian's cheese dip to a party we were having, I realized that I needed to tell this whole story – of how one mother's love was being carried on through her son and her daughter-in-law, and how that love is translating into strength and support for so very many people during the most challenging parts of their lives.   There are so many ways to nurture and hold people up.  Some people wear pink tutus.  Some people cook.  In a world where so much is going wrong, it's the people who are doing so much right and good that keeps hope alive.
Which brings me to the last part of what I want to say today, which is that I hope you will help me to share the word about Linda and Bob's amazing foundation.  If you can, please share their website in any way you can – on your Facebook page, on Twitter, or simply by emailing it to other folks who might be able to help spread the word.  Leave me a note in the comments telling me how you shared it.
Next week I will pick one one commenter at random who will be able to choose a limited edition signed print from the gallery of Bob's tutu pictures…this print has a value of $400, but as someone who has one proudly hanging on my wall, I can tell you that it is priceless.  And then I will pick two more commenters who will receive a triad set of three of Bob's New York images, which have a value of $135 (but again….priceless!)
And in the meantime, here is Bob's mama's delectable cheese dip.  From what I have heard about her, Lillian would be beyond proud of Bob and Linda for their amazing work, and so delighted at the prospect of her dip being shared among friends and family at your table.  Love is love is love is love.
This giveaway is now closed…but you can still spread the word on The Tutu Project by clicking here!  Thank you for your support!
Print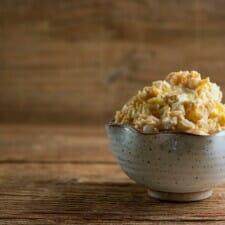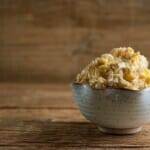 Lillian's Cheese Dip
---
Author:

Prep Time:

10 minutes

Total Time:

10 minutes

Yield:

4

servings

1

x
Category:

Appetizer

Method:

No Cook

Cuisine:

American
Ingredients
8 oz

. extra sharp cheddar cheese, shredded

¼ cup

mayonnaise

1

4 oz. can chopped green chiles

½ cup

finely chopped sweet onion

¼ teaspoon

garlic powder
Tabasco sauce to taste
---
Instructions
Mix all ingredients except Tabasco sauce together.
Shake Tabasco sauce into dip in small amounts, tasting as you go, until it reaches the right amount of spiciness for you.
Serve with veggies and crackers.
Photograph of Bob and Linda by Hillary Thompson
Rollercoaster by Bob Carey