I have so much to tell you about in regard to chicken slippery noodle soup!  The first thing is of course to explain what the heck a slippery noodle is, and I think you will be overjoyed to hear that it is like a regular noodle and a dumpling got married and had a baby.  It's a thick noodle that cooks up in the chicken soup, absorbing all that delectable chicken soup flavor until it is soft and pillowy and perfect.  And don't worry if you've never seen slippery noodles in your supermarket, because you make them yourself, and no fear…it's super easy!  The second thing I have to tell you about has nothing to do with soup and everything to do with gardens, although there is a vague soup connection, because you know me.  It always leads back to supper.  Ah, supper.  Let's make it!
So, this all started with going out with my mama on a Garden Conservancy tour.
The Garden Conservancy (I learned from my mama) is a non-profit organization dedicated to preserving exceptional private gardens.  It was founded by Francis Cabot, who created some amazing gardens of his own, and they have helped preserve everything from the gardens at Alcatraz to the gorgeous Long Vue House gardens that were ravaged by Hurricane Katrina.  They also have Open Days throughout the country where you can visit beautiful small gardens that are in your area.  My mama and I went to see two of them this weekend…both were at private homes where the owners had turned their back yards into garden paradises.
Little winding stone paths, natural branch arbors, and more rustic and beautiful plants than you could count.  My mama knew the names of all of them.
I particularly loved this one…in this garden, a dead tree was painted blue and turned into a spectacular bird feeder.  The amazing creativity and care that went into these gardens was just incredible.  If you are interested in visiting any of the Open Days gardens in your area, click here for more info.  It was a lovely, dreamy way to spend a couple of hours.
So where's the soup connection?  Well, even though we are smack in the middle of May, the weather here has been a little chilly.  We get teased with sunny and 75 for a day here and there, and then we go back to 62 and cloudy, and the garden tour day was one of those.  Which in my book is perfect weather for chicken slippery noodle soup!  For this soup, I rely on already cooked chicken (either leftovers or a rotisserie chicken) and already made really good chicken broth (I like the Pacific and Imagine brands in the box.  So good.)  This way I can spend all my time making the all-important slippery noodles, and by all my time I mean the 10 minutes is takes me to mix up some flour, vegetable oil, water and salt into an easy dough, roll it out and cut it into nice fat noodles.  You are going to bring your broth to a simmer, drop in some carrots and shallot and those noodles and simmer them up until both the veggies and the noodles are tender.  Stir in the chicken, season it to your liking and voila!
The only issue is that it may be very, very hard to go back to regular old chicken noodle soup.  #SorryNotSorry
Print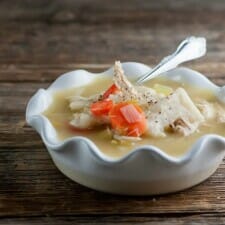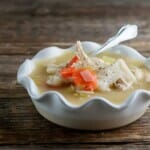 Chicken Slippery Noodle Soup
---
Author:

Prep Time:

25 minutes

Cook Time:

20 minutes

Total Time:

45 minutes

Yield:

4

-

6

servings

1

x
Category:

Dinner

Method:

Stovetop

Cuisine:

American
Ingredients
5 cups

chicken broth (I like the Pacific and Imagine varieties)

2 cups

cooked shredded chicken

2

carrots, peeled and sliced

2

stalks celery, chopped

1

shallot, peeled and chopped

1 teaspoon

poultry seasoning
Salt and pepper to taste
For the noodles
2 cups

flour

1/2 cup

water

2 tablespoons

canola oil

1/2 teaspoon

salt
---
Instructions
Make the noodles by mixing together the flour, water, oil and salt until it forms a stuff dough. Roll it out (I usually do this on a silicone mat) until it is about 1/8 inch thick. Using a paring knife, cut the dough into strips about 2 inches by 1 inch.
Put the broth and the poultry seasoning into a large saucepan and bring to a simmer. Add the veggies, and then the noodles. Simmer until the veggies and the noodles are tender, about 15 minutes.
Add the chicken and season the broth to taste with salt and pepper. Let the soup stand off the heat for about 5 minutes to heat the chicken through, then serve.