Hey, it's been a while since I took what is supposed to be a salad and sandwich-ized it! Maybe that's what led me down the road to these Lyonnaise sandwiches. Maybe it was the fact that I had a few pieces left of my favorite no-knead bread that were begging to be lunch. MAYBE IT WAS BACON. Whatever it was, it ended up taking one of my favorite, favorite salads – the classic Lyonnaise salad – and turning it into a warm and wonderful open-faced sandwich that is my new best sandwich friend. Let's make it!
But first an update on the Southern husband…and in related news, the dog. First the husband….
If you read my last post, you know that he took a tumble recently that left him with a smooshed finger, a torn rotator cuff, and most dramatically, 7 rib fractures. And now that we are both over the drama of it all, I can't resist a little, well, ribbing. Especially when we go past supermarket signs like this that are just BEGGING to be Instagrammed. Cut short ribs – I mean, come on. You couldn't resist either. And he, as always, is completely cheery about it.
Which brings me to the dog. Speaking of Instagram, in the midst of all the trauma last week, the Southern husband still managed to produce a Valentine's heart full of chocolate for me. Never let it be said that a few busted ribs stood in the way of true Valentine love.
And I don't know, maybe it was because it had dogs on it, but the dog managed to finagle the box off the table, tip it over, and gobble up ALL the chocolate. She missed one piece that rolled under the sofa, which she was trying to grab when we discovered her. As you may know, chocolate is Very Bad For Dogs, so for the second time in a week, I was in an emergency room with a loved one, this time getting some stomach pump action. An hour later we were back home but looking like this…
…but dogs are resilient, and she was soon perked right back up and looking like her old self.
As I was waiting for the procedure to be finished, it kept running through my head that bad things come in threes, and that surely there was something else in store for me. Then they brought the dog out to me, and as she was jumping into the car to go home, her head banged into my mouth and yep, fat lip for me. Which was actually kind of a relief, because there it was! The third thing! And I lived to tell about it! That and the fact that I HAVE NO MORE VALENTINE'S CANDY HEART.
All of which has nothing to do with a Lyonnaise sandwich, which is a lovely conglomeration of poached egg, chopped bacon and a salad dressed with bacon drippings mixed with mustard, all on a lovely warm piece of toasted bread.
I'd say this qualifies as comfort food, and at least two members of my family got to have this for supper. The other one got to have kibble, and probably never wants to SEE another piece of chocolate again. And we all lived happily ever after!
Print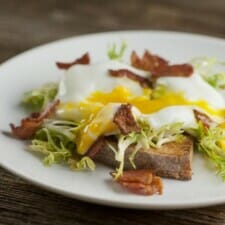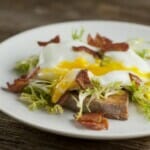 Lyonnaise Sandwiches
---
Author:

Prep Time:

5 minutes

Cook Time:

10 minutes

Total Time:

15 minutes

Yield:

2

servings

1

x
Category:

Dinner

Method:

Stovetop

Cuisine:

French
Ingredients
2

slices bread, preferably a hearty country style!

4

slices of bacon, chopped

1

small head of frisee or other curly lettuce, torn into pieces

1

generous teaspoon Dijon mustard

1 tablespoon

red wine vinegar

2 tablespoons

olive oil

2

eggs
---
Instructions
Toast bread slices until golden. Put on plates.
Cook bacon in a medium skillet until crispy. Remove and drain on paper towels, leaving the drippings in the pan.
Add vinegar and mustard to bacon drippings and stir until mixed. Add olive oil as needed to make a dressing – you may not need all of it. Pour over lettuce and toss until coated.
Poach or fry eggs until soft-set.
Assemble sandwiches as follows: bread, topped with dressed lettuce, topped with egg. Scatter bacon pieces on top and serve at once.