Before I made this recipe for cauliflower with brown butter pumpkin seed lime sauce, I was in kind of a cauliflower rut.  I was going back and forth between making whipped cauliflower (just as good as mashed potatoes, people!) and roasted cauliflower with rosemary (also delish), and I was perfectly happy with myself and my cauliflower ways.  And then I randomly bought a bag of pumpkin seeds, and before I knew it, whole new cauliflower vistas had opened up in front of me.  Vistas where the cauliflower is roasted until it is a deep golden brown, and then tossed with a brown butter lime sauce and sprinkled with parsley.  I cannot for the life of me remember what we had alongside this cauliflower when I first made it…all I remember was thinking my other cauliflower recipes were doomed.  At least until I had made and eaten this version another million times.  
You start by slicing the cauliflower not into florets, but into thin slices.  Stand the cauliflower upside down and hold onto the stem and just slice it into thin slices…about a quarter inch if you can manage it.  Place the slices on a cookie sheet lined with foil, drizzle on some olive oil and salt and pepper, and let it slow roast for about 45 minutes, turning the slices over about halfway through.  You want 'em nice and deep golden brown.
While the cauliflower is roasting away, simmer some butter and pumpkin seeds until the butter is is browned.  This will take about 5 minutes, and watch that butter carefully because the browning process goes quickly once it starts.  Add some red pepper and some fresh lime juice and let it sit until your gorgeous roasted cauliflower is ready.  Once the cauliflower comes out of the oven, slide the roasted slices onto a platter or right onto supper places and spoon that delectable butter mixture over it.  Use every last drop.  Sprinkle with chopped fresh parsley, and dig in.
And sorry for ruining all other cauliflower recipes for you for the next little while.  #sorrynotsorry
Print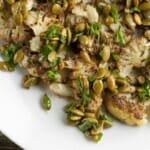 Cauliflower with Brown Butter Pumpkin Seed Lime Sauce
---
Author:

Yield:

4
Ingredients
1 head cauliflower
1/4 cup olive oil
Salt and pepper
1/4 cup (1/2 stick) butter
1/4 cup pumpkin seeds (I used salted ones, but raw and unsalted would also be fine)
Juice from one lime
Pinch of red pepper flakes
Fresh chopped parsley
---
Instructions
Preheat oven to 450 and line a rimmed baking sheet with foil.
Stand the cauliflower upside down on a cutting board and, holding onto the stem, slice it downwards into thin slices, rotating the cauliflower as you go.
Place the slices and little pieces on the baking sheet and drizzle with the olive oil. Sprinkle on some salt and pepper.
Roast for 45 minutes until deep golden, gently turning the slices halfway through.
While the cauliflower is roasted, put the butter and pumpkin seeds in a small saucepan over medium heat. Simmer and stir until the butter is browned. Remove from heat and stir in lime juice and and red pepper flakes.
When the cauliflower is done, slide it gently on to a platter or dinner plates. Pour the butter sauce on top, sprinkle with parsley and serve.
Lightly adapted from the fabulous recipe in Bon Appetit