Bourbon brownie bites are a deliciously naughty spin on your favorite chocolate treat! Keep this recipe on hand for when you are looking for an extra sassy version of everyone's favorite dessert.
Oh boy, do I have a saga to go along with this recipe for bourbon brownie bites!  But before I get to saga-ing, let me just say that these super-fudgy treats are packed with chocolate, walnuts, and just enough bourbon to give them a naughty little kick.
Yep, these brownies are definitely not for the kiddos…you get to keep them all for yourself, because BOURBON.  Ready to take everyone's favorite chocolate treat and give them a grown-up spin?  Let's make them!
But first…THE SAGA. If you have been reading this blog for even a little while, you know more than a little bit about my grits-loving, wise-cracking, ridiculously romantic Southern husband.
And because Valentine's Day is hands-down his favorite holiday, I had various great ideas for romantic dinner recipe posts that I was planning to put up this past weekend. I always try and do him proud with the Valentine's Day posts, because he loves it so much, and it's my way of giving it back, just a little.
I usually write up the Valentine's Day posts pretty close to the day, so I was planning to write this past one on Saturday the 13th. But then on Wednesday the 10th, THIS happened.
No, he didn't write an amazingly brilliant book of poetry.  Nope, he fell UP the basement stairs.  You have to admit, that takes more than a little talent.  And because he always does things with gusto, he managed to break his ribs in seven places, tear his rotator cuff, and had an open dislocation of his finger.
Nope, not going to explain that last one.  Google it at your own peril.
At this point I have to give a shout-out to the folks at the Valley Hospital Emergency Room, who did a fabulous and kind job of patching up that finger.  When you find yourself in the hospital on what you thought was going to be a random Wednesday night, kindness is just as soothing as Tylenol with codeine.
Anyway, our Valentine's Day weekend transformed itself from a weekend getaway to Philly (where the folks at the Rittenhouse 1715 also kindly didn't charge us even though we had to cancel waaaaaaaaay past the cut-off.  More kindness!) to a weekend full of this.
Once the word started to spread, we were enveloped in a tidal wave of people bringing us groceries, baking us cookies (thanks Mom!) and dropping off a Mexican food supper – complete with wine and a get well love note because they knew I was not up to my usual cooking self.
Above all, my brilliant and beautiful friend Lynne, doctor extraordinaire for Americares and other places, talked me through x-ray reports and prognosises (pretty sure that isn't a word) and generally held my very shaky hand.
There's nothing quite as helpless-feeling as watching your true love in pain, even if he DOES keep telling me he's really fine.
This Lent I am trying to do a random act of kindness every day, and I'm getting a master class in how it's done with all the folks around me showering me and the brave Southern husband with every kindness I can think of, from millions of Facebook notes to nurses who make phone call after phone call to get you an appointment with an ortho specialist RIGHT AWAY, and everyone in between.  I'm utterly, completely grateful for the very unrandom acts of  kindness flooding our way.
So as I pondered what to do for a recipe to go with this saga (because there always has to be a recipe)  various ideas for ribs, chicken fingers and pork shoulder went through my head, but in the end I decided that thing that would make us both feel the most amount of better was CHOCOLATE.
With BOURBON.
These brownies are like the most fudgy, rich, indulgent brownies you've ever had, but with a sneaky little thrill of bourbon laced throughout them.  If you didn't know there was bourbon in them you might not be able to put your finger on it (see what I did there?), but you'd know there was something naughty going on.
I tend to cut these into smaller pieces than usual brownies – into brownie bite sized squares about 1-2 inches wide – but you can make them any size you like.
As with all brownies, if you can stand to let them fully cool before you you slice them, they will behave a lot better.  In the meantime, watch where you are going on those stairs, and hopefully next Valentine's Day I will have my usual romantic, undramatic post for you.
(Oh, and what did I do this year on the actual day?  I took a quick break from my new nursing duties and re-posted a slow cooker version of broccoli cheddar soup.  It's not a bourbon brownie, but it's nice and comforting!)
Print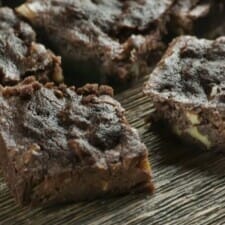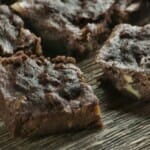 Bourbon Brownie Bites
---
Author:

Prep Time:

10 minutes

Cook Time:

25 minutes

Total Time:

35 minutes

Yield:

16

servings

1

x
Category:

Dessert

Method:

Stovetop and Oven

Cuisine:

American

Diet:

Vegetarian
Description
Bourbon brownie bites are a deliciously naughty spin on your favorite chocolate recipe! Keep this idea on hand when you are looking for a sassy snack.
---
Ingredients
1/2 cup

butter (

one

stick)

3 ounces

unsweetened chocolate, chopped

1 cup

sugar

2

eggs

1/2 cup

flour

1 cup

walnuts, roughly chopped
Pinch of salt

1/2 teaspoon

vanilla

2 tablespoons

bourbon
---
Instructions
Preheat oven to 350. Line an 8 inch square baking pan with parchment on the bottom and spray with cooking spray.
Melt butter and chocolate together in a saucepan over low heat, stirring once every 30 seconds or so until both are melted and smooth.
Remove from heat and scrape the chocolate mixture into a large mixing bowl. Add sugar and mix until fully incorporated. Add eggs, one at a time, and mix again.
Add all remaining ingredients and mix on low speed until everything is combined.
Scrape the batter into the baking pan and bake for 25 minutes – test with a toothpick. Cool completely and then cut into small squares.
Notes
Need to add something to your kitchen equipment to make this recipe? Below are some of the items we used in the Framed Cooks kitchen to help cook this up. These are affiliate links to things we use and love, which helps to pay for all that bacon I keep buying!
Equipment