This recipe for chicken farro salad with roasted vegetables comes from two things: the fact that I had leftover chicken in my fridge, and the second fact that I had gone way too long without brussels sprouts.  The Southern husband doesn't like brussels sprouts, and so I don't ever make them just by themselves.  I keep telling myself though that if I can just come up with a recipe that uses them as an ingredient, he will realize the error of his ways and starting adoring brussels sprouts the way I do.  And/or if I come with a recipe that has enough other ingredients, he won't notice the gorgeous little brussels sprouts.  And then he will accidentally eat one and love them forever.  Did this work?  Read on!
I should start by saying that I am forever telling my wonderful mama not to try and trick me into liking eggplant by doing things exactly like this, so this is NOT fair of me.  Especially since he does things like letting me stay inside the warm vestibule of the supermarket when it is pouring rain out while he loads the groceries into the car and then drives around and picks me up.  That's him the yellow slicker.  Chivalry in the rain!
But I do it anyway, because BRUSSELS SPROUTS.  So here's the drill: first trim those sprouts, cut them in half and toss them with some cut up carrots and a little olive oil.  Roast them up until they are nice and crispy on the outside and tender on the inside.  In the meantime, cook up a nice pot full of farro (and if you haven't yet discovered the wonder that is farro, you have a treat in store for you.  It's a nutty, slightly chewy grain – think of it as a sassier version of barley.  You can actually sub in barley if you want, or even brown rice or orzo, but if you can get your mitts on some farro – oh baby.
You also need some cooked chicken to tear into bite-sized pieces.  If you don't have any leftovers, a rotisserie chicken from the supermarket is perfect for this.  Toss the chicken, the farro and the roasted veggies together.  Now add a handful of chopped herbs (I used mint, but you can be as creative as you want with the herbs) and toss again.  A glug or two of olive oil and some sea salt and fresh ground pepper, and toss again.  Lastly, add a handful of crumbled feta cheese.  One more toss.
So how did the brussels sprouts ploy work?  The Southern husband carefully pushed all his sprouts over to the side of his plate that was closest to me.  And I ate them.  And we all lived happily ever after.
Print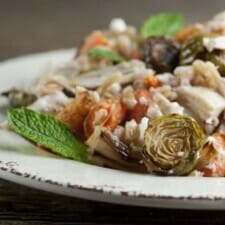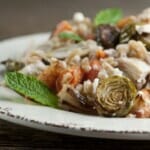 Chicken Farro Salad with Roasted Vegetables
---
Author:

Prep Time:

15 minutes

Cook Time:

30 minutes

Total Time:

45 minutes

Yield:

2

servings

1

x
Category:

Dinner

Method:

Oven

Cuisine:

American
Ingredients
1 cup

carrots (either baby carrots or regular carrots that have been peeled and cut into pieces)

1 cup

brussels sprouts, trimmed and cut in half
Olive oil
Salt and pepper

1 cup

cooked farro

1 cup

cooked chicken, torn into bite-sized pieces

1/4 cup

crumbled feta cheese

2 tablespoons

chopped fresh mint, plus extra for garnish
---
Instructions
Preheat oven to 400 and line a rimmed baking sheet with foil. Toss carrots and brussels sprouts with a tablespoon of olive oil and spread in a single layer on the baking sheet. Season with salt and pepper and roast until tender and the outside of the sprouts are crispy, about 30 minutes.
When the veggies are roasted, toss with the farro and the chicken. Add a few tablespoons of olive oil and a pinch or two of salt and pepper and toss again.
Add the herbs and toss, and then the cheese and toss one more time. Garnish with herb leaves and serve.
Notes
You can substitute barley, brown rice or orzo pasta for the farro if needed, and you can also substitute whatever herb you like best for the mint!