This easy recipe for scallops with lemon drizzle makes me happy in so many ways…let me count them!  First, scallops are the Southern husband's favorite.  And it's always a good thing when you plunk down a plate of someone's favorite in front of them…suppertime immediately becomes that much more festive.  Second, it is an easy but still elegant recipe that is perfect for when you want a special occasion dinner that won't stress you out.  It's got that special occasion look about it, but I promise that it is so quick and easy that it brings me to my third thing I love about this recipe: it takes less than 30 minutes from start to finish to make, which qualifies it as something I can also make on an ordinary Thursday night.  Are you convinced yet?  Let's make it!
First, you want a bunch of sea scallops – ask for dry scallops when you buy them.  All that means is that the scallops have not been treated with preservatives, and they have a nicer, fresher taste to them.  If you can't find dry scallops you can go ahead and use the regular ones, but it's always worth asking!
You are going to season those scallops up and sear them in a olive oil until they have that nice brown crust on them.  The trick to scallop searing is to heat the oil up well before you add the scallops, and once you put them into the hot oil (I use tongs for that), leave them there for a full three minutes before you turn them over.  That lets a nice brown sear form on the outside.  When it's time to turn them, I slide a small spatula underneath each scallop to loosen it from the surface of the pan, and then I use the tongs to turn them over.  The LAST thing anyone wants is for that brown crusty bit to stick to the pan.  We want to be eating that!
Before I start all this scallop-searing however, I make the quick lemon cheese sauce that we are going to drizzle on top, purely because the sauce takes all of 10 minutes and the scallops are going to take about 5 minutes.  The sauce is a simmered up concoction of wine, lemon zest and juice, shallots, butter and parmesan cheese with a teeny bit of cream added at the end.  Once it is simmered up it will hold nicely while you sear the scallops.
Last but not least, you want to saute a nice big bunch of baby spinach to make a bed for all of this wonderfulness.  I'm not saying you couldn't serve this over polenta or pasta or rice or mashed potatoes, because you COULD.  But I am still being Whole 30 enough that I went for the spinach, and I also like the festive color.
So once your scallops and sauce and spinach are done, divide the spinach among warm plates, place a few scallops on each plate (I usually do 3-4 per person) and drizzle that sauce over everything.
Be a generous drizzler.  That's my motto.  I put a few lemon slices on the side in case anyone wants an extra hit of lemon, and voila!  Easy, elegant scallop with lemon drizzle wonderfulness.  And in my house, I've now got the Southern husband smiling right back at me.  What could be better?
Print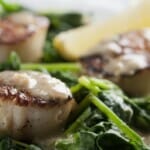 Scallops with Lemon Drizzle
---
Author:

Prep Time:

10 minutes

Cook Time:

15 minutes

Total Time:

25 minutes

Yield:

4

servings

1

x
Category:

Dinner

Method:

Stovetop

Cuisine:

American
Ingredients
16

sea scallops – try for dry scallops if available
Sea salt and fresh ground pepper

3 tablespoons

olive oil

1/2 cup

white wine
Zest and juice from one lemon

1

small shallot, minced

1/2 cup

cold butter, cut into chunks

1 cup

grated parmesan cheese

1 tablespoon

cream

1

pound baby spinach
Lemon wedges (optional)
---
Instructions
Make sauce: combine wine, lemon zest and juice and shallot in a small saucepan and bring to a boil. Simmer until most of the wine is evaporated, about 10 minutes or so. Whisk in butter and parmesan cheese until both are melted. Stir in cream, turn off heat and set aside.
Put olive oil in a large skillet over medium high heat. Season scallops with salt and pepper, place them in the oil and sear for 3 minutes without moving them. Loosen with a small spatula and then turn over with tongs and cook for another minute. You will probably have to do the scallops in several batches – simply cover the cooked ones loosely with foil while you cook the others.
While the scallops are cooking, saute the spinach in another large skillet until wilted.
Assemble as follows: make a nice bed of spinach on each plate, top with 3-4 scallops and generously drizzle with sauce. Serve with extra lemon wedges if you like!
Adapted from Southern Living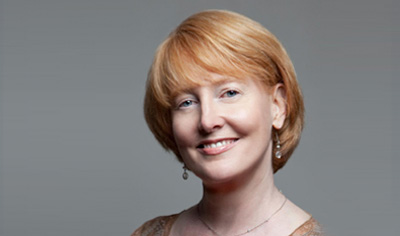 Hi there!  I'm Kate, and I'm a recipe writer, food photographer and devoted bacon lover.  I started Framed Cooks in 2009, and my mission is to create and share family-friendly recipes that make cooking both easy and fun…yes, I said FUN!  My kitchen is my happy place, and I want yours to be that place too.  And if you make this recipe, I would love you to tag @FramedCooks on Instagram so I can see the deliciousness!