This easy recipe for rosemary lemon grilled chicken gives you perfect, tender, flavorful chicken every time. The perfect healthy and delicious summertime supper!
This recipe for rosemary lemon grilled chicken came about during our recent stretch of the Whole 30 (and an update on that later in the post) but I am here to tell you that even if I had been able to add cheese and flour and all those other things I didn't eat for 30 days, I would still be head over heels for this chicken.
It marinates for hours in a bath of olive oil and rosemary and lots and lots of lemon and some garlic, and something about leaving it that marinade for that long transforms it in the tenderest chicken you would ever want to meet.
With loads of lemon and rosemary flavor.  I've now made it twice since we have been off the Whole 30, and I have a feeling I will be making it another 30 times after that.  It's THAT good!
The key to this one is letting it marinate for the full time – we are talking at least 8 hours.  Do not (I repeat, do NOT) be tempted to just let it sit for an hour or so.  I would be very tempted to do this myself, but having tried it both ways I know that I would be missing out on the ultimate flavor and tenderness, and so go ahead and marinate it…but save it for the next day and make one of my "oh my gosh, I need to change my dinner plans" dinners.
These include pasta with bread crumbs, scrambled eggs with ricotta, and a giant bowl of popcorn with a glass of red wine (yes, it happens).
Once you have reached the minimum marinating time (did I mention that was required?) it is time to fire up the grill.  Get it nice and hot, and pop those lemon and rosemary drenched chicken breasts on it.  They might look a little cloudy-ish in color after marinating for this long – that is the acid of the lemon doing its thing.  Grill for about 3-4 minutes on one side and then flip them over and grill for another 3-4 minutes.
I served mine with some chopped basil on top, and because we were Whole 30-ing I added some rainbow-beautiful sliced heirloom tomatoes with a drizzle of olive oil and salt.  And speaking of, here's where we are with our post Whole-30, the Southern husband and I.
We finished a week ago, and I had a nice little glass of red wine about 1 millisecond into Day 31.  And about 2 milliseconds later, I had my first headache since the early days of the Whole 30.
Since one of the major reasons I did the Whole 30 was to kick my constant headaches, the rest of my non-red-wine-drinking-life flashed in front of my eyes, and I took to the internet to see if I had any alternatives.  The internet told me to try low tannin wines like merlot and pinot, European wines that have less sugar, and organic wines.  And to make sure I was well-hydrated.  And to stay away from the cheap stuff.
So I tried a French pinot – no headache!  And an organic California merlot – no headache!  And a low tannin Washington merlot – no headache!  Not all in one day, before you start to worry.  No, the Southern husband and I are up in our favorite corner of Vermont, where I am sitting at this table right this minute typing away…
…otherwise known as blogging with a view, and I've been trying one glass with dinner each night.  Because, VACATION.
Once we had the all important red wine issue sorted, we slowly started letting a teeny bit of other stuff back in.  Some creamy Vermont goat cheese.  A shared chai tea latte with steamed milk.  Corn.  BACON. Just here and there, because we got very happily used to eating mainly fish and meat and poultry and lots of veggies and fruit, and we also both like being close to our fighting weight.
I don't know why he always needs to ham it up for the camera.
Anyway, our plan is to go back on the Whole 30 both pre and post holidays, and not to go crazy in the meantime.  Which won't be hard to do when there are things like lemon rosemary grilled chicken in the world.
So there you have it – the latest Whole 30 report, and my new chicken crush!
Print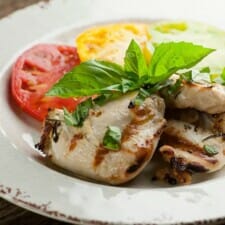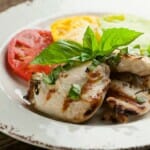 Rosemary Lemon Grilled Chicken
---
Author:

Prep Time:

10 minutes

Cook Time:

8 minutes

Total Time:

18 minutes

Yield:

4

servings

1

x
Category:

Dinner

Method:

Grill

Cuisine:

American
Description
This easy recipe for rosemary lemon grilled chicken gives you perfect, tender, flavorful chicken every time. The perfect healthy and delicious summertime supper!
---
Ingredients
4

boneless chicken breasts, pounded to be about

1/2

inch thick

3

lemons, halved

1/4 cup

olive oil

2

cloves garlic, peeled and smashed

2

–

3

large sprigs of fresh rosemary, rolled between your palms to crush the leaves
Pinch each of sea salt and black pepper
Basil for garnish if you like!
---
Instructions
Squeeze the juice out of each lemon half into a zippered plastic bag.  Drop the peels along with all the ingredients except for the basil into the bag, seal it up and marinate it all day and up to overnight in the refrigerator.
Heat up the grill to high and grill chicken for 3-4 minutes per side. Discard marinade.
Serve, garnished with some chopped basil if you like (I like!)