Before I get started on these warm and wonderful apple dumplings, I need to spend a minute talking about a few of my favorite things. One, of course, is food. I cook it, I photograph it, I eat it and then I start the whole thing over again, day in and day out, and I am one happy camper in my kitchen. And the other thing is books. And the authors who write them. And today I want to tell you about some of my very favorites in these categories. One is called apple dumplings, one is called DUMPLIN' and one is called Julie Murphy, and they are all delicious in their own scrumptious ways. So in happy celebration of one of my favorite authors, one of my favorite books and one of my favorite baked treats, I am giving away three copies of Julie's amazing new novel DUMPLIN' and along with them, three Silpat baking sheets to make your own delicious apple dumplings. Or dumplin's, as I think I might have to call them from now on. Read on!
First, Julie. The brilliant and wise Julie Murphy. I am lucky enough to know her, to get to hug her every once in a while when she comes to town, and to have read both her gorgeous novels.
First she wrote SIDE EFFECTS MAY VARY, and I knew I had found an author I was going to be reading for a long, long time. And then she wrote DUMPLIN'. And this whip-smart, sassy, heart-wrenching, uplifting knock-out of a book took my breath away.
In it we meet Willowdean, aka Dumplin'. She's a self-proclaimed fat girl who is completely comfortable with everything about herself, and in everything from blue jeans to a bikini…until the new hot guy at school falls for her. And then confident Willowdean starts feeling self-conscious. But Willowdean is Willowdean, so she decides that the way to get that confidence back is to enter the Miss Clover City beauty pageant. That's all I'm going to tell you, because you really, really, REALLY have to read this inspirational, heartfelt, smart and spectacular book. So I'm giving away three copies of it – more on that at the bottom of this post – and that's not all!
Remember that apple dumpling picture at the top of this post? It involves pie crust. And anything that involves piecrust in my kitchen involves a Silpat. You've never heard of a Silpat?

They are silicone mats that ensure that your piecrust, your cookies, your dumplings and anything else sticky you have going on Will Not Stick. Otherwise known as a kitchen miracle.

They are perfect for working with anything sticky or gooey on your countertop, and they are heat resistant so they let your dumplings and scones slide right off the cookie sheet when they are done. You need these babies, and so I am giving away a Silpat with each copy of DUMPLIN'. So this way you can have your DUMPLIN and make them, too. Want to know more about the indispensable Silpat? Click here and here and here and here!
And last but not least (and then I will get to the giveaway) I need to show you the back cover of this extraordinary book. I love every word of this story, but the back of this book is almost as amazing as the inside…
Those of you who have been reading Framed Cooks for a while know that it used to have this picture at the top…for the first three years of its bloggity life, as a matter of fact. I loved the way my daughter was exuberantly sailing through the air in her swimsuit.
And one of the best things about DUMPLIN'? It reminds us that even those of us with middle-aged wear and tear should feel totally great about putting a swimsuit on it. And making whatever kind of splash we want to make.
So here goes: leave me a comment below telling me one thing (or more!) that you are proud of about yourself. I know you've got 'em, because I know many of you, and you are AWESOME. And in a week I will randomly (because I could never pick on my own) select three winners to get a copy of DUMPLIN' and a Silpat.
In the meantime, here's the very easy, warm and wonderful dumpling recipe. I mean dumplin' recipe!
This giveaway is now closed – but do try the dumpling recipe, and do read the amazing DUMPLIN'!
Print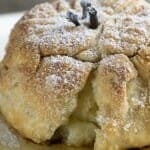 Apple Dumplings and a Double Giveaway!
---
Author:

Prep Time:

20 minutes

Cook Time:

30 minutes

Total Time:

50 minutes

Yield:

4

servings

1

x
Category:

Dessert

Method:

Oven

Cuisine:

Southern
Ingredients
One batch unbaked piecrust (the purchased two crust fine is perfectly fine, but if you want to make your own, click here for a great version

4

apples, peeled and cored (I like Macintoshs for this, but up to you)

1/8 cup

brown sugar

1 teaspoon

cinnamon

8

cloves
Maple syrup for garnish
Powdered sugar for garnish
---
Instructions
Preheat oven to 400 and line a rimmed baking sheet with parchment paper, nonstick foil or a silicone baking mat.
Divide the piecrust into 4 pieces and roll flat.
Place an apple into the center of each piece of piecrust. Mix brown sugar and cinnamon together and shake some into the core opening of each apple.
Press the edges of the pastry up and around each apple until it is fully covered. Flip the apple over and put it on the prepared baking sheet. Press a clove or two into the top to make a "stem" and bake for 30 minutes.
Cool slightly. Pour a little puddle of maple syrup onto each plate and put a dumpling in the middle, sprinkle with powdered sugar and serve!