I should start out by confessing right here and now that I have never in my life been to an actual clambake. I think they involve things like digging a hole in the sand, and wrapping things in seaweed, and other feats that I know I am never, ever going to pull off. Not unless someone invites me to a clambake and tells me exactly what to do. I would make a great clambake assistant, I think. But since there are no clambake invitations on my calendar, and since I know they involve clams which I do love, I decided to take matters into my own hands and create my own clambake. INSIDE. With a cookie sheet instead of a pit. So with apologies to the clambake purists out there, here goes!
As far as I can tell, the only mandatory ingredient in clamcakes are clams. So I got myself a nice pile of littleneck clams and scrubbed them up. I have also seen potatoes and sausage make appearances in the clambakes that I have read about, so I went for some baby potatoes and a spicy andouille sausage. And since I wasn't sure that clams alone would be enough to fill up both me and the Southern husband, I got us some shrimp as well. Listen, the clams are actually going to be BAKED, so I think this still qualifies as a clambake, even if I am totally pushing the ingredients to the edge of clambake acceptability.
I fired the oven up to 450 (which I arbitrarily decided was the temperature of firepits in the sand) and lined a rimmed cookie sheet with a couple of layers of nonstick foil. I scattered the potatoes on the foil and put them in the oven first, since sturdy little potatoes are going to take more time to cook than delicate clams and shrimp. After about 20 minutes I pulled out the cookie sheet and added the sliced sausage, the peeled shrimp and the clams. I dotted the whole thing with a little butter and sprinkled some Old Bay seasoning on top, because I don't know how to eat shrimp without Old Bay. Back in the oven. After about 15 minutes, my clambake looked like this.
The shrimp were pink, the clams were open (toss any that don't open. This is nonnegotiable. Toss 'em.) and the potatoes were tender. The butter had melted with the seafood and sausage juices and the Old Bay to make a delectable sauce. All it needed was a scattering of fresh parsley on the top.
I didn't bother with plates – I just plunked the cookie sheet down in between us and we dug in. You can serve it with bread to sop up that scrumptious sauce, or you can just mush the potatoes and dunk the clams and shrimp in it. One way or the other, it is fun and festive. Shells can be dropped right back down on the cookie sheet, so that when it comes time to clean up all that is left to do is crumple up the foil with the shells in it and toss it.
Please don't let this stop you from inviting me to your next authentic clambake – but in between now and then, I now feel clambake-happy!
Print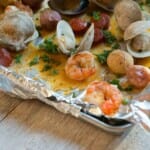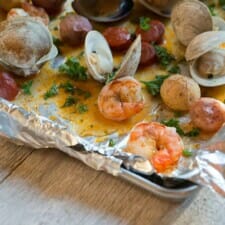 Cookie Sheet Clambake!
---
Author:

Prep Time:

20 minutes

Cook Time:

35 minutes

Total Time:

55 minutes

Yield:

4

servings

1

x
Category:

Dinner

Method:

Oven

Cuisine:

American
Description
If you don't have time to dig a sand pit for a traditional clambake, this cookie sheet clambake is almost as good!
---
Ingredients
1

pound baby potatoes (white or red are both fine), scrubbed clean

2

pounds littleneck clams, rinsed well

1/2

pound shrimp, peeled and deveined

1/2

pound andouille or other sausage, cut into

1

inch rounds

1/2

stick butter

1 teaspoon

Old Bay seasoning
Chopped fresh parsley for garnish
---