Fresh pineapple serves as not only a main ingredient but also the actual dish in this dramatically delicious recipe for pina colada fruit salad!
I would like to say that I came up with this deliciously dramatic dessert all on my own, but it's a variation on the one we look forward to every time we visit our favorite bed and breakfast at the Jersey Shore.
It's a beautiful plateful of fresh fruit, aromatic mint with a scoop of sorbet on the top for good measure…all served up in a fresh pineapple shell.
It's the perfect breakfast, lunch or even dinner treat, and while I love it best at that B&B (and more on them below), it's also something I make from time to time in my own kitchen, for both the good taste and the good memories.
So speaking of those memories…
Several times a year, the Southern husband and I point the car southward on the Garden State Parkway and head down the shore.
(Side note: this is what we folks from NJ say when we are heading to the part of our state that has the sand and the ocean. We aren't going to the beach, we are going down the shore. Once we GET down the shore we can go to the beach, but until we are within reach of the beach we are going down the shore. I know.)
Our favorite spot is Point Pleasant Beach, which is the quintessential Jersey Shore town.
Miles and miles of the Atlantic Ocean and a boardwalk full of rides and ice cream and Whack-A-Mole games and happy noise.
It had a rough time after Hurricane Sandy, our little shore town, but I'm happy to report that it is back on its feet. Jersey Strong.
In the summers we walk along the boardwalk and eat ice cream.
In the winters we bundle up and walk along the boardwalk again. I love the ocean 365 days a year.
I also love anyplace that has street signs like this one. Which Point Pleasant Beach has.
And our favorite place to stay…home of the gorgeous pina colada salad…is the Tower Cottage Inn.
Tony and Maureen are the proprietors, and at this point we honestly feel like family every time we walk in the door of their gorgeous inn, which is right in between the beach and the town.
They have several beautiful, beautiful rooms. Our favorite is the Tower Suite, which is in an actual tower in the inn.
It's the kind of place where Tony will come outside with a tray of iced tea and cheese and crackers when he spots you lazily reading on the porch, just because he thinks you might need a snack.
It's the kind of place where there are always freshly baked treats in the little dining room, and cold water in your room.
It's the kind of place where Tony will offer to give you his parking space and/or drive you to dinner during the height of the summer weekend crowds so you don't have to move your car. See? Family.
And every time we have been there, Maureen has made us this glorious pineapple fruit extravaganza as part of breakfast.
She makes her own gelato to go on top, and mixes in strawberries and melon which you could absolutely do too…I made mine with the fresh raspberries and blueberries that were at our farmer's market, and topped mine with store-bought coconut sorbet.
It tasted scrumptious, and made me look forward even more to our next trip down the shore and to the Tower Cottage Inn.
So if you ever find yourself heading down the Jersey Shore, I can't say enough good things about Tony and Maureen and their beautiful inn…and in the meantime, give Maureen's lovely pina colada fruit salad a whirl!
Print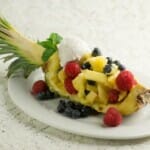 Pina Colada Fruit Salad
---
Author:

Prep Time:

20 minutes

Total Time:

20 minutes

Yield:

4

servings

1

x
Category:

Appetizer

Method:

No Cook

Cuisine:

American
Description
Fresh pineapple serves as not only a main ingredient but also the dish for this dramatically delicious pina colada salad!
---
Ingredients
1

pineapple, quartered lengthwise all the way through the fronds at the top

1 cup

fresh raspberries

1 cup

fresh blueberries
Sprigs of fresh mint for garnish
Coconut sorbet or gelato
---
Instructions
Run a knife carefully under the pineapple fruit in each quarter. Cut out the tough core at the center and cut the rest into bite sized pieces.
Gently mix together the pineapple and berries in a large bowl (use clean hands for this – it's the easiest way!)
Place each pineapple shell on a plate and divide the fruit mixture among each one, letting some spill over the side.
Place a small scoop of gelato on the top of each pineapple section near the fronds, garnish with mint and serve!