I am ridiculously excited about everything I am about to tell you, and not just because it involves a recipe for creamy, dreamy Lobster Avocado soup!  As delectable as this recipe is (and it IS!), even more delectable is everything I am going to tell you and show you about an amazing project going on right this very minute called Sing for Hope.  (And I promise that somewhere in all of this I will make an actual connection between lobster avocado soup and Sing For Hope, but you know me…it's a process).  In the meantime, get ready for an inspirational true story about 50 old pianos, how they got a new lease on life and are in the process of bringing hope and joy to a whole bunch of people.  Here goes!
I first heard about Sing For Hope from my sister Aileen Mary.  She is a singer and a songwriter, and has loved music her entire life.  From the time she could talk she was singing, and she's still singing.  So I was delighted but not at all surprised when she told me she was going to be working with an organization called Sing for Hope.  Out of the many wonderful things that they do is an art installation in New York City that brings brightly colored pianos to the parks and public spaces of NYC's five boroughs for anyone and everyone to play. For two weeks in the summer, 50 pianos are placed in areas throughout the city.  Anyone can play them, and everyone can listen to the impromptu concerts that spring up all around them.  After the two-week public exhibition, Sing for Hope donates the instruments to the under-resourced organizations, giving so many people access to instruments they might not otherwise have.  Wonderful, right?  But wait.  It gets even more amazing.
Every piano starts out like this.
Looking like a regular, well-loved but well-worn piano.  And then this happens.
A group of amazing artists donate their time and talent to turning every piano into a breathtaking work of art.
And 50 pianos metamorphosize from being instruments that produce musical works of art to being instruments that ARE works of art.
That first piano up there turned into this by artist Marc Evan.  BREATHTAKING.
This piano by artist Izabel Lam is the one I am going to visit next week with my sister.  I'm hoping she is thinking about something properly ocean-oriented to play for me.  Do you love the sea star on the top?  I absolutely LOVE the sea star on the top.
And we are also going to have LUNCH!  Which brings me to the lobster avocado soup part.  These pianos are located all over New York City from now through June 21, and a number of them are in prime locations for a picnic lunch.
And while I am all for the traditional sandwich picnic lunch, this summery soup is a great alternative (or addition!) to the usual picnic fare.  The soup part is a quick blend of avocado and lime juice and milk, and makes a thick soup that is very well behaved if you are transporting it anywhere.  The lobster gets steamed, torn up and plunked right in the center of the soup, along with a little lime zest.  It can be served either chilled or at room temperature…again, perfect for picnics.
Especially a picnic enjoyed next to a beautifully painted piano with someone playing some festive lunch music while you eat your summertime soup.
So if you live anywhere around the NYC area, come out and see the pianos.  Maybe sit down at one and play it, and then imagine what a long and wonderful life it is going to have.   And if you can't make it to see the pianos but still want to show your support for Sing For Hope, there are lots of ways you can get involved…they not only do this fantastic piano exhibition but they also produce various special events throughout the year to further promote their mission of Art for All, raising funds and awareness for the importance of arts access.  Click here for all the ways you can get involved.
In the meantime, enjoy some creamy, summery lobster avocado soup, and three cheers for all the  wonderful folks at Sing For Hope for making everyone's world a little more beautiful.
Full piano photographs by Steven Truman Gray
Pianos in process photographs by Lester Vrtiak  
Print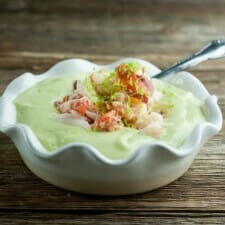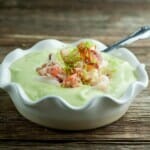 Lobster Avocado Soup
---
Author:

Prep Time:

20 minutes

Total Time:

20 minutes

Yield:

2

servings

1

x
Category:

Dinner

Method:

No Cook

Cuisine:

American
Description
Avocados, lobster and lime juice are a perfect combination for this cool and creamy summertime lobster avocado soup!
---
Ingredients
1

lobster, steamed and torn into bite-sized pieces

1

lime, zested and juiced

1/4 teaspoon

red pepper flakes

2

avocados, peeled and pitted

2 1/2 cups

milk

1/2 teaspoon

salt
---
Instructions
Mix the torn lobster with the lime juice and red pepper. Set aside.
Blend the avocado and milk in a blender until smooth. Thin it with a little more milk if needed and season to taste with salt and pepper.
This can either be chilled or served at room temperature. One way or the other, right before serving divide the lobster among two bowls of soup, garnish with lime zest and serve!