Before I get into the whys and wherefores of this ridiculously easy and delicious cheese and corn salsa, I wanted to explain myself.  I meant to mention this before I left, but I missed posting over the last week or so because the Southern husband and I were helping our newly minted college graduate daughter move to her new apartment.  More on that below, but as any of you who have ever packed and unpacked a moving box know, moving is EXHAUSTING.  Which means that sometimes you might only have the strength to have chips and salsa for dinner.  And if you are going to have chips and salsa for dinner, you might as well go all out and have this ready-in-5-minutes cheese and corn version!
Before I get going on this superfast recipe, here's a sneak peek at our moving adventures.  First of all, if you are from New Jersey like we are and need to move anywhere, I can't say enough good things about Supernova Moving.  These guys were AMAZING – they arrived on time, packed everything up perfectly, unloaded it in (not kidding) 100 degree heat on the other end, stayed after the move was done to help the Southern husband put together a new sofa, and gave the Southern daughter a cute little plant for her patio and a gift basket of Corona and nuts and other goodies.  And were so nice and cheerful the whole time.  Steve and Carlos, you guys ROCK.
And even though they did all the really hard work, we then had to unpack the boxes, go to Target and Bed Bath and Beyond and Harris Teeter (bonus points if you know what that is) and the DMV for both new license plates and a new driver's license and on and on and on and on.  This went on for four days until we were done, and I looked like this.
We did take a break in the midst of it all to take the Southern husband to the Durham Bulls game for Father's Day.
And then.
And then.
And then I had to do this.
Dropping her off at college was tough.  Hugging her goodbye when she has moved into her spanky new apartment 8 hours away is a whole new level of reality.  She's got her first job (third grade teacher!) and she is on her way towards making the world a better place, and I am SO bursting with pride.  And eternally grateful to all the folks who invented text messaging and Skype and all the other things that let me see how she is doing.  But that last hug?  Yowza.
Anyway, after all that, pretty much all I was capable of making was this salsa, which goes like this.  Get out a jar of your favorite jarred salsa.  If you want to make your own that will work fabulously too, but the jarred stuff is key to the ready in five minutes part.
You also need a hunk of queso blanco.
It's a delicious, mild cheese that you are going to cut up into teeny little cubes – about 1/2 a cup of them for 1 jar of salsa.  Or more.  I won't judge.  If you can't find queso blanco, Monterey Jack cheese will work just fine.  Stir it into the salsa.
Now take one ear of corn, cut the kernels off and stir that in too.  No need to cook it – fresh corn is tender and sweet and is going to give your salsa just the right amount of crunch.
Aside from ripping open the bag of tortilla chips and maybe cutting up some celery if you want to add some healthiness to the salsa supper, you are DONE.
As for us, we are back in our empty nest, just the two of us.
Well…two and a half.
Love and miss my grown-up bunny more than all the salsa in the world.
Print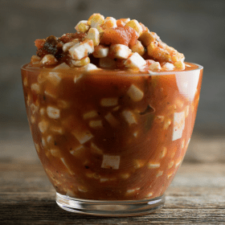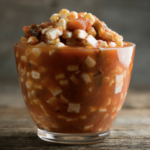 Easy Cheese and Corn Salsa
---
Author:

Prep Time:

5 minutes

Total Time:

5 minutes

Yield:

4

servings

1

x
Category:

Appetizer

Method:

No Cook

Cuisine:

Mexican
Description
Make this easy cheese and corn salsa with three simple ingredients in less than 5 minutes!
---
Ingredients
1

jar of your favorite salsa

1/2 cup

cubed queso blanco cheese, or Monterey Jack if you prefer

1

ear of corn, kernels cut off
---
Instructions
Comine all ingredients together and pour into a pretty bowl.
Serve with tortilla chips and veggies.