This post is mainly about pasta with lemon blue cheese rosemary sauce, but it's falling on the six year anniversary of this little blog of mine, so I have a few things to say about that as well. A whole lot of them start with thank you and some of them include a trip down memory lane. So if you are eager to get to things that involve lemons and fresh summery rosemary and blue cheese, head on down to the bottom of the post where that recipe is waiting for you. But since you are reading this right now, you are among the folks I want to say thank you to. So if you have time, read the middle part too. Here we go!
Six years ago (six years! Yeesh!) I decided I wanted to get a lot more serious about my photography. At that point I was mainly taking pictures of babies and dogs and the rambunctious teenagers who were galumphing around my house, and I still love taking pictures of all those things. I don't think I had ever taken a picture of my supper even once, even though cooking has been a love of mine since forever. The kitchen is my happy place. Anyway, my photography teacher gave me a 2 week assignment to photograph 14 days worth of still life. STILL LIFE. Babies and dogs and especially teenagers don't sit still. I was grumpy and stumped, until it occurred to me that supper counted as still life. So I started taking very bad pictures of my dinner, and at the same time I decided that I would put them up on a blog. I had a very vague idea of what a blog was. I did know that I liked this one and this one and this one.
So I headed over to Blogger and set one up. I did it without a lot of thought to the name or anything else, because I figured this was a 2 week operation that me and my mom would read. Its original catchy URL was www.framed-mylifeonepictureatatime.blogspot.com. Yep. Try telling that one to someone who wants to look at your blog. I had trouble remembering it myself. I did like my header picture though.
Which had nothing to do with food, and lots to do with rambunctious teenagers, but since only my mom and I were reading this blog, I wasn't worried.
So there I was, merrily posting bad pictures of my dinner and writing about them, and after two weeks, I was kind of hooked on the blogging thing and the taking pictures of my dinner thing. My pictures slowly got better. My writing slowly got better. And…people starting reading it.
PEOPLE OTHER THAN MY MOM.
Um.
So all of the sudden here I am with a food blog that has a name that has nothing to do with food and a header picture that had nothing to do with food, and I belatedly realized that I should try and make things a little more organized…and maybe now you understand my still a little funky blog name. Along the way my friend David Leite, who is one of the best writers I know, held my hand and gave me priceless advice as I figured out my way. There aren't enough words in the English language for me to thank him, or for me to tell you how much you must read his incredible David Blahg. My amazing website manager Cathy at WordPress Barista designed the site as it looks today and keeps the back-end of things running like a clock. Hugs to Cathy.
My wonderful friends in the blogging world encourage me, share my posts and generally are incredibly inspirational role modes. Joanne at Eats Well With Others, Robyn at Add A Pinch, Melanie at Big Mama, Lindsay at The Lean Green Bean and Ree at The Pioneer Woman – I am so lucky to call all of you my friends.
But most of all, all of you who take the time to read, comment (every comment still makes my heart sing!), tweet, Facebook and otherwise share your time and thoughts with me…I honestly can't tell you how grateful I am. There aren't enough words. I want to make all of you a huge plate of pasta with lemon rosemary blue cheese sauce and hug you.
So with all that said, here's that recipe, which is a great way to both celebrate blogaversaries and to usher in fresh herb season. My rosemary now looks like this….
…so I decided this was going to be my inaugural Fresh Rosemary of 2015 supper. I mashed up some butter and blue cheese, and cooked up a pot of fettuccine. When the pasta was cooked, I put it back in the pot with the mashed up butter and cheese and stirred it around until everything was nice and melty. A handle of fresh chopped rosemary, some lemon zest, and I had the most delectable, aromatic plate of pasta any girl could ask for.
So there you have it…my 1,088th post (seriously) over six years. I think I'm going to keep on going…as long as you keep on reading. Thank you. Thank you. THANK YOU.
Love,
Kate
Print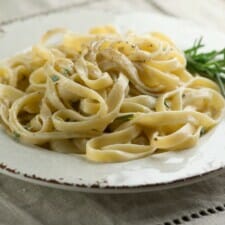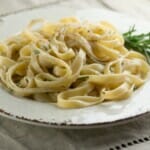 Pasta with Lemon Blue Cheese Rosemary Sauce
---
Author:

Prep Time:

5 minutes

Cook Time:

15 minutes

Total Time:

20 minutes

Yield:

2

servings

1

x
Category:

Dinner

Method:

Stovetop

Cuisine:

American
Description
Pasta with lemon rosemary blue cheese sauce is a perfect recipe to kick off fresh herb season!
---
Ingredients
2 tablespoons

soft butter

2 tablespoons

soft blue cheese

8 ounces

fettuccine
Zest from

one

lemon

2 tablespoons

chopped fresh rosemary
Fresh ground pepper
---
Instructions
Mash butter and blue cheese together with a fork
Cook pasta according to package directions in heavily salted water, saving a cup of pasta water before you drain.
Return drained pasta to pot and add cheese mixture, stirring until melted. Add just enough pasta water to make a light sauce.
Add rosemary and lemon zest and gently toss.
Serve on warmed plates with fresh ground pepper.