As I may have mentioned a couple of million times, the Southern husband and I are forever buying shrimp at Costco*.  Mainly because they have the best shrimp I have ever gotten anywhere, and as a side benefit you also get lots and lots of shrimp.  It comes in a giant bag which we break down into smaller bags and freeze.  And as a result, I always have tons of fabulous shrimp on hand whenever I get the urge to make things like this peppery, crispy on the outside, tender on the inside, ready in a flash salt and pepper shrimp!
You want to start with shrimp that have the shell on, ideally with the shell split down the back for easy peeling later.  (Costco shrimp come this way.  Win!)  You are going to shake them up in a mixture of cornstarch, salt and pepper until they have a nice coating.
Next, heat up some canola oil in a heavy deep skillet until it is sizzling hot, then ever so carefully add the shrimp – I do this with looooong tongs to stay as far away as possible from the, well, boiling oil.  Cook 'em for one minute, turn them over and cook for another minute.
Now take them out and drain them on paper towels until they are cool enough to handle but still warm, and serve them up!  I like to scatter a little parsley on the plate purely for color.  Peel off the shells, and inside is gently salty, peppery, slightly crunchy and mainly tender shrimp.
You can also do this with peeled shrimp to get more of the crunchiness and spiciness…I like them both ways.  And one way or the other, it's a good excuse to go back to Costco to get more shrimp.  And giant jars of peanut butter.  And….
*Update to this post, March 11 2015: Many of you have reached out to me to let me know about concerning issues regarding Costco's seafood suppliers and practices, which it seems like they are working on, but there is more to be done.  You can read more here and here.  I have been a Costco customer for years, but of course this information is important, and I am grateful to those of you who got in touch with me.  I'll definitely be watching how things develop.  I believe strongly in being responsible about where we buy things, and I'm fervently hopeful that Costco and the other retailers mentioned will do the right thing.
Print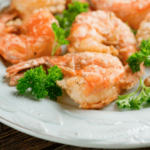 Salt and Pepper Shrimp
---
Author:

Prep Time:

5 minutes

Cook Time:

2 minutes

Total Time:

7 minutes

Yield:

4

servings

1

x
Category:

Appetizer

Method:

Stovetop

Cuisine:

American
Description
Shrimp, cornstarch, salt, pepper and canola oil are all you need for some perfect salt and pepper shrimp!
---
Ingredients
1

pound large shrimp (shells on or off, your choice!)

4 tablespoons

cornstarch

1 teaspoon

coarse salt

1 teaspoon

fresh ground pepper

1 cup

canola oil
Parsley for garnish (optional)
---
Instructions
Put oil in heavy deep skillet and heat over medium high until hot.
If you are using shell-on shrimp, cut the shells down the back of the shrimp.
Place cornstarch, salt and pepper in a zippered plastic bag and shake. Add shrimp and shake until coated.
Very carefully and using tongs, add the shrimp to the oil. Cook for one minute on each side until golden.
Remove and drain on paper towels. Cool slightly and serve, garnished with parsley if you like!
Recipe lightly adapted from Bon Appetit 
Related articles