Stromboli! It's like the love child of pizza and a calzone, and it can be all yours with this recipe! A fun and delicious lunch or supper treat.
Stromboli! For those of you who have never had the deliciousness that is stromboli (which I am going to say many thousands of times in this post because it is so darn fun to say), it's basically the love child of pizza and calzone. With a dash of the best sandwich you've ever tasted.
It's warm and cheesy and spicy and you can customize it pretty much every way you please…and it's ridiculously easy to make. What's the catch? THERE IS NO CATCH. There is only…stromboli!
Start by visiting your friendly neighborhood deli counter. You're going to want about a quarter pound of cheese and a quarter pound of sliced deli meat for each stromboli.
For this one, I went with Genoa salami and honey baked ham, and provolone for the cheese. You can vary this up endlessly…you could even put some veggies in there, like baby spinach or asparagus. If you want to try a cheese that is not really sliceable into thin pieces (like mozzarella or blue cheese or feta), just go for roughly the same quarter pound but in crumbles.
Next, you want some nice pizza dough. You can do anything from homemade (and for that I love my friend Ree's recipe) to yes, the kind in the can. Pillsbury makes a thin crust pizza dough that is not only pretty delicious, but comes in the rectangular shape we need for this baby.
Last but not least, you need pizza sauce. Again…anything from your favorite jarred kind to a homemade sauce (here's a link to the sauce from Oh Sweet Basil, which is scrumptious).
Here's how you make stromboli!
Ready? Roll your pizza dough out to about 13×9. You don't need a tape measure – just eyeball it. You do want the crust nice and thin, as we are going to roll it and you want the bites of stromboli to be more about the filling than the crust.
Ladle on a few spoonfuls of sauce, but leave about 3 inches along the long side of the top of the dough – in other words, the bottom 6 inches get a painting of sauce, the top 3 inches are clean.
Now lay down a layer of cheese on the sauce part, a layer of meat or veggies, another layer of cheese, another layer of filling until it is all used up. If you are using deli meat, 3-4 slices is going to be enough for one layer.
When all that is done, start rolling it carefully into a long cylinder. About two rolls over will do it, ending with the clean part of the dough which make it all stick together. Using two spatulas, transfer it seam side down to a baking sheet lined with parchment or a silicone baking sheet.
Slash a few holes in the top for the steam, and if you want to be all fancy, sprinkle some Parmesan on top.
Now bake it up for about 10-14 minutes or until the crust is nice and golden.
Here comes the hard part – let it rest for about 10 minutes before you slice into it, just to let everything settle down. Now slice it into about one inch slices and serve it up with more pizza sauce for dipping. You can have one slice or you can have ten. I leave that up to you.
Stromboli, stromboli, stromboli!
Stromboli.
Print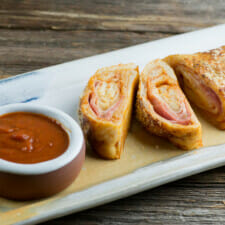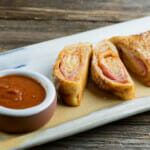 Stromboli!
---
Author:

Prep Time:

15 minutes

Cook Time:

10 minutes

Total Time:

25 minutes

Yield:

2

-

3

servings per stromboli

1

x
Category:

Dinner

Method:

Oven

Cuisine:

Italian
Description
Stromboli! It's like the love child of pizza and a calzone, and it can be all yours with this recipe! A fun and delicious lunch or supper treat.
---
Ingredients
1

12 ounce batch pizza dough, either homemade or from the supermarket

1/4

pound deli meat (salami, ham, etc)

1/4

pound cheese (I like provol

one

for this, but any thin slices or crumbled cheese will work)

1 cup

pizza sauce
Parmesan cheese for garnish (optional)
---
Instructions
Preheat oven to 425 and line a baking sheet with parchment or a silicone baking sheet.
Roll out the pizza dough to 1/8-1/4 inch thickness, to about a 13×9 inch rectangle.
Spread a few spoonfuls of pizza sauce along the long bottom 2/3s of the dough, leaving a clean 3 inch strip across the top.
Layer on the cheese and meat, alternating as you go.
Fold the short ends of the dough in about an inch (this helps seal the ends).
Roll the dough long ways until you have a long rolled cylinder. Place it seam side down on the baking sheet.
Cut several slashes on the top for the steam, and sprinkle with Parmesan. Bake for 10-15 minutes until crust is golden. Cool for 10 minutes, cut into slices and serve with extra pizza sauce for dipping.