Oh, this fudge. I have to admit, when I first made it, I was thinking the whole time that while I knew it was going to be addicitively scrumptious (because, FUDGE), it also fell into the category of other, well, down-market items I have been known to serve my innocent family. Frito Chili Pie, for example. But hey, we can't do fine dining all the time, right? And, it's cake batter fudge! But as it turns out, later in the day I got some indisputable proof that my humble cake batter fudge was a little bit more upscale than I had been giving it credit for.
First the fudge itself. You want a box of white cake mix (I used Betty Crocker Supermoist), some confectioner's sugar, some butter, some milk and of course the sprinkles. Sprinkles make everything happier. Dump 2 cups of cake mix, 2 cups of confectioner's sugar and 1/2 stick of butter into a microwave safe bowl and nuke it for 2 minutes. Now add the milk and stir it until it comes together. You'll know it is the right consistency when the fudge pulls away from the side of bowl when you stir it – if it is not doing this once it is mixed up, add more cake batter mix and confectioner's sugar by the tablespoonful until it does.
Now line an 8×8 inch baking pan with nonstick foil, spoon in the fudge, and press it until it covers the pan. Scatter on a generous handful of sprinkles and press them down onto the top of the fudge. Pop it in the fridge and wait an excruciatingly long hour until it is set, and then cut it into squares.
It is a sprinkly-sweet mouthful of cake batter deliciousness. it's like licking the bowl, only better. It's the best kind of ridiculous. But I still wasn't totally confident about it until later in the day, when THIS happened.
One of the best parts of my foodie-ish life is that I have made dear friends of actual highly trained spectacular real-life chefs. Aside from being all-around delightful fun to be around, they are also my culinary heroes, and the day I was making my fudge, I happened to be hanging out with both of them that afternoon. And I had happened to mention that I was making cake batter fudge on my Facebook page.
BRING THE FUDGE, said my friend Christine, who is a cookbook author and is about to open what will probably be one of the hottest restaurants in my area in a few weeks.
Gulp. Bring my low-end fudge? I mentioned that it was low-end fudge.
BRING THE FUDGE, she said. So I brought the fudge, artfully stacked on a plastic disposable plate because I figured I was already so far gone, a plastic plate seemed appropriate. And when I got there, not only was Christine there, but so was Adam, who is my other rock-star-of-a-chef friend, and the genius behind another hot ticket restaurant in the area. My fudge and I started to tremble.
Well. Adam happily ate at least three pieces. Enough said. And Christine said, "A year round treat suitable for the finest trailer formica tables to the most polished mahagony. And the most important thing: it tastes like frosting."
Let's just say that me and my cake batter fudge are holding our heads high!
Print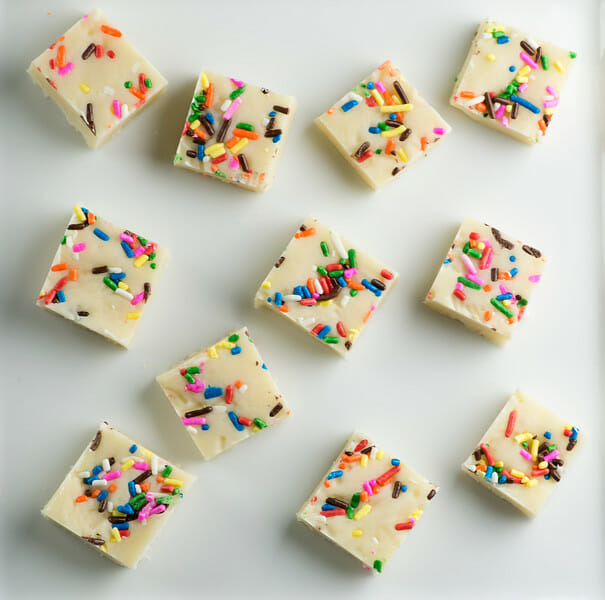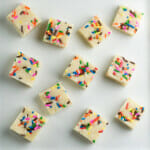 Easy Cake Batter Fudge
---
Prep Time:

15 minutes

Cook Time:

2 minutes

Total Time:

17 minutes

Yield:

16

squares of fudge - the way I cut it, anyhow!

1

x
Category:

Dessert

Method:

Microwave

Cuisine:

American
Ingredients
2 cups

(NOT the whole box) of white cake mix. I use Better Crocker Super Moist

2 cups

confectioner's sugar

1/2

stick butter

1/4 cup

milk
Sprinkles!
---
Instructions
Line an 8×8 inch pan with nonstick foil
Put cake mix, sugar and butter in a microwave safe bowl. Microwave for 2 minutes.
Add milk and stir until the fudge pulls away from the side of the bowl. If it's not doing this after it's combined, add more cake mix and sugar by the tablespoon-ful until it does.
Press fudge into the pan. Top with sprinkles, pressing the sprinkles into the top of the fudge.
Refrigerate for an hour, then remove and cut into squares.