Cut your chicken cooking time in half and double the deliciousness with this super easy recipe for lemon sage spatchcock chicken!  You may never go back to cooking chicken the old way again.
Okay, let me get the whole spatchcock explanation done right up front.   When you spatchcock your chicken, you basically cut out the backbone (which is super easy – more on that later!),  which lets you flatten it out so that the chicken is flat instead of round.  It makes it quicker to cook, easier to carve up into pieces, and as an extra added bonus is very fun to say.  As in, "I think I'm going to spatchcock a chicken tonight."   Ready to spatchcock?
Get yourself a nice whole chicken.  I love the Bell and Evans chickens if you can find 'em.  They are organic and no antibiotics and all that good stuff.  Grab your best pair of kitchen shears ( and if you don't have kitchen shears, click here.
  You NEED kitchen shears.  Once you have them you will wonder how you ever lived without them.)
Anyway, turn your chicken over so the breast side is down and cut out the backbone – just snip all the way down one side and then all the way down the other.  Save that backbone – we are going to use it later.  Now flip the chicken over and cut through that piece of cartilage right at the breastbone.  This will let you flatten the chicken out just like a book.  Click here for a great video that shows just how easy all this is.
Now that you have spatchcocked your chicken, pop it onto a cooling rack that you have placed on a foil-lined rimmed backing dish (I am all about the easy clean-up!).  Rub it with a little olive oil and salt and pepper, and tuck some lemon slices and fresh sage all around it.
Be lavish.  Not only is it going to give your chicken a lovely hint of lemon and sage, it is also going to make your kitchen smell like spatchcock chicken heaven.
Pop it into a 400 degree oven, and let's get back to that backbone.  Grab those kitchen shears again (see?!) and cut it into 3 or 4 pieces.  Heat up some olive oil in a small heavy pot and sear the backbone until it is starting to turn brown on all sides.  Now add in some chopped shallot, carrots and celery and cook it for a few minutes more.
Now pour in about 1 1/2 cups of white wine, scrape any browned bits off the bottom and let the whole thing simmer for about 15 minutes or so.  Strain it and return the liquid to the pot, and let it sit until your chicken is nice and done.
After about 45 minutes, your chicken should be golden and crispy and perfect.  I like to pop an instant read thermometer right into the thickest part of the breast – it should read 170 degrees or a little higher.  Take your perfect chicken out of the oven and tent it with foil while we finish the sauce.
Heat up the sauce to a simmer and whisk in some butter until it is melted.  Season it to taste with salt and pepper – it will be more of a nice light sauce than a gravy, and when you drizzle it over the chicken it will give it the perfect finishing touch of deliciousness.
Now carve the chicken into pieces – I usually do both drumsticks, the wings, and then I cut the breast into four pieces.  Put the chicken on a platter or warmed plates, pour a little of the sauce over it and serve the rest in a pitcher on the side.
One last word on the name: the always marvelous Food Republic says "This wacky term comes from Ireland, and may be an abbreviation of "Dispatch the cock," a phrase which the Irish apparently threw around in the 18th century when they needed to whip up a quick and simple chicken dinner."  As a good Irish girl, this sounds totally right to me!
Print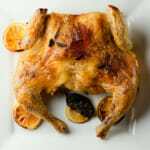 Lemon Sage Spatchcock Chicken
---
Author:

Prep Time:

20 minutes

Cook Time:

40 minutes

Total Time:

1 hour

Yield:

4

servings

1

x
Category:

Dinner

Method:

Oven

Cuisine:

American
Description
Cut your chicken cooking time in half and double the deliciousness with this super easy recipe for lemon sage spatchcock chicken!
---
Ingredients
1

whole chicken

1/4 cup

olive oil
Coarse salt and fresh ground pepper
One lemon, sliced
One large fragrant bunch of fresh sage
For the sauce
2 tablespoons

olive oil

1

shallot, peeled and chopped

1

stalk celery, chopped

1

carrot, chopped

1 1/2 cups

white wine

2 tablespoons

butter
Salt and pepper to taste
---
Instructions
Preheat oven to 425 and place a cooling rack on a rimmed baking sheet that you have lined with foil.
Spatchcock your chicken! Turn it breast side down and cut out the backbone. Flip it over and snip the cartilage right above the breastbone until the chicken lies flat. Save the breastbone.
Rub the chicken all over with olive oil and liberally sprinkle with salt and pepper. Place it breast side up on the rack and tuck lemon slices and sage all around it. Roast until golden and an instant read thermometer inserted in the thickest part of the breast reads at least 170, about 40 minutes. Remove and tent with foil.
Meanwhile, make the sauce: Heat 2 tablespoons olive oil in a heavy small pot over medium high heat. Cut the breastbone into pieces and sear for a few minutes until browning.
Add shallot, carrots and celery and cook for another few minutes. Add wine and simmer for 15 mnutes.
Strain out the solids and return liquid to the pan. Right before serving, add the butter and stir over low heat until melted. Season to taste with salt and pepper.
Cut the chicken into pieces, drizzle with the sauce and serve at once.