This easy recipe for baked avocado with eggs and bacon cooks up your egg in the creamy center of the avocado for maximum healthy deliciousness!  And if you decide to smoosh all this goodness on a piece of toast…well, save a piece for me!
I am all about eggs for dinner.  And that's not just because eggs totally call for bacon along with them – it's just that they are so easy and comforting and pretty much good for you.  I also love avocados with all my heart, and everything I just said about the egg is also true about the avocado.  Well, maybe not the bacon part, but everything else.  All true.  So I guess it was only a matter of time before I put the two of them together, right?  Welcome to baked avocado with eggs and bacon.
You want to start with a nice ripe avocado.  It should give a little when you push on it.  You also need a couple of eggs, some bacon that you have cooked up until it is nice and crispy, and a little chopped scallion or chives to give the whole thing some zing.
Cut your avocado in half and scoop out the pit.  And what do you know, once the pit is gone you have a perfect little hole in each side of the avocado, just about the right size for…for…an egg!  If your eggs are the large variety, you can scoop out the hole so it is a little bit bigger.  You want it to be able to hold the egg yolk and some of the white.
Now cut a thin slice off of the bottom of the avocado – we are doing this so it won't roll around.  Place your avocado halves on a baking sheet lined with foil.
This easy recipe for baked avocado with eggs and bacon cooks up your egg in the creamy center of the avocado for maximum healthy deliciousness!Click to TweetNext, separate your eggs and carefully pour the yolk into the avocado.  Once the yolks are in there, pour just enough of the white into the hole so that it fills it up.  It can overflow a little – you just don't want it spilling all over the baking dish.  If you have underestimated how much room you need, you can gently pour the egg back into a little bowl and scoop out more avocado until you have room.
Bake the avocados for 15 minutes.  By then the eggs will be set but still creamy.  Take them out of the oven and sprinkle them with bacon pieces and chopped scallion.
Now!  You can either spoon it right out of the avocado peel, making sure to get some avocado and egg in every bite.  OR, you can do this…
Scoop it all out and mush it onto a piece of toast.  I'm just going to let you think about that for a sec.  You are putting avocados on your grocery list right now, aren't you?  Me TOO!
Warm and wonderful and good and good for you.  Hurray!
Print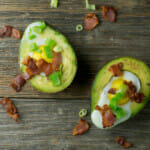 Baked Avocado with Eggs and Bacon
---
Prep Time:

15 minutes

Cook Time:

15 minutes

Total Time:

30 minutes

Yield: Serves

1

-

2

, can be increased endlessly!

1

x
Category:

Breakfast

Method:

Oven and Stovetop

Cuisine:

American
Ingredients
1

ripe avocado

2

eggs

2

slices bacon, chopped

1

scallion, sliced
Two pieces of toast (optional)
---
Instructions
Preheat oven to 425.
Cut avocado in half and carefully remove the pit. Slice off a small slice of the bottom of each half (just enough that they sit still without rolling around) and place them on a rimmed baking sheet lined with foil.
Separate the egg whites from the yolks, being careful not to break the yolks. Slip an egg yolk into the hole in each avocado half. (If the hole doesn't look big enough, scoop out a little avocado to make more room.)
Carefully pour in enough egg white to fill up the rest of the whole. A little overflow is okay!
Bake for 15 minutes.
While the avocados are baking, cook the bacon until crispy and drain on paper towels.
Place baked avocados on a plate, scatter with bacon and scallions and serve, either just as they are or with warm toast.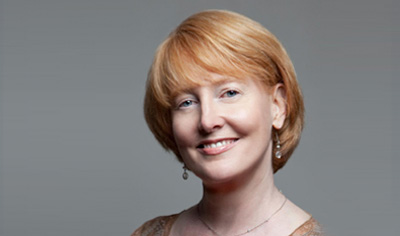 Hi there!  I'm Kate, and I'm a recipe writer, food photographer and devoted bacon lover.  I started Framed Cooks in 2009, and my mission is to create and share family-friendly recipes that make cooking both easy and fun…yes, I said FUN!  My kitchen is my happy place, and I want yours to be that place too.  And if you make this recipe, I would love you to tag @FramedCooks on Instagram so I can see the deliciousness!