You've had barbecue chicken before, but have you had barbecue chicken with Alabama white sauce? If not, you're in for a treat!
We just got back from dropping the Southern daughter off at college in beautiful Clemson, South Carolina.  She's a senior now, but as all of you mamas with college kids know, one of the realities of dropping your babies off at college is that it Never Gets Easier.
Amid all of the packing and unpacking and trips to Walmart, there is this catch in your throat, and you immediately forget every naughty thing they have ever done and said because they are your baby and you are having to soak up every last glimpse of them right up until the moment you fiercely hug them goodbye.
And in the meantime if you are lucky enough to be sending them to Clemson, you eat some pretty fabulous barbecue.  Which immediately makes me want to make barbecue.  You'd think I would be able to come up with a South Carolina version, but this chicken barbecue with Alabama white sauce?  It's ridiculously good.  (Especially now that Clemson routinely beats Alabama in football.  Ha!)
Before I get into the ridiculously good part, let me show you a little of the inspiration from this last trip.  I call it Barbecue Karma.
There's this place on the way into Clemson that is only open on Thursday, Friday and Saturday, and it's the closest to heaven the Southern husband is ever going to get on this earth.
It's called the Smoking Pig, and it is just plain perfect barbecue.  Pork, chicken, brisket, fried okra, banana pudding, peach cobbler perfect.
Every table has a roll of paper towels instead of napkins, and four bottles of sauce (sweet, hot, mustard,vinegar.  Go for the vinegar.)
After eating the best barbecue in the world, we headed on down to Palmetto Moonshine.
Partners in crime.  She got a jar of apple pie moonshine.  He got peach, and some of the straight up variety.  I began to wonder if I was ever going to see the north side of the Mason Dixon line again.
Below is Palmetto Moonshine's version of social media.  And it was working!
Lots of friendly honking as cars drove by, and several takers besides my own relatives.  My personal favorite part of this place is the fact that they have goats living on the roof. Goats.  On the roof.
You can put goat treats in a bucket and pull it up to them with a pulley rope.  It's a good life to be a Palmetto Moonshine goat.
Anyway, after several days of this, you can see why I was bursting with barbecue ideas, and on the top of my list was to try my hand at Alabama white barbecue sauce.  This non-tomato-based sauce originates in Northern Alabama, and is a concoction of egg yolks, cider vinegar, oil, salt and pepper.
It is a creamy, spicy, tangy sauce that goes perfectly with chicken that is nice and charred from the grill, and is a scrumptious alternative to the red sauce most of us are used to.  I didn't baste the chicken with it, but rather served it up on the side to be slathered on as folks ate.
So if you (like me) consider barbecue to be a legitimate comfort food, give this version a try.  And if that doesn't work…well, I've got some peach moonshine I can share.
Print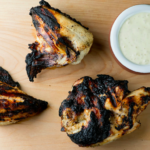 Barbecue Chicken with Alabama White Sauce
---
Author:

Prep Time:

10 minutes

Cook Time:

20 minutes

Total Time:

30 minutes

Yield:

4

servings

1

x
Category:

Dinner

Method:

Grill

Cuisine:

Southern
Description
You've had barbecue chicken before, but have you had barbecue chicken with Alabama white sauce? If not, you're in for a treat!
---
Ingredients
4

bone-in chicken breasts

1/4 cup

apple cider vinegar

1 tablespoon

poultry seasoning

2 cups

buttermilk
For The Sauce
2

egg yolks

1/4 cup

apple cider vinegar

1 cup

canola oil

1 teaspoon

black pepper

1 teaspoon

coarse salt
---
Instructions
Combine chicken, 1/4 cup vinegar, buttermilk and poultry seasoning in a large ziplock bag. Turn over a few times and marinate 6-8 hours or overnight in the fridge,
Heat grill to high, and cook chicken until done, about 20-30 minutes, turning occasionally. Discard sauce.
While chicken is cooking, place all the sauce ingredients except oil in a food processor. Process for one minute, and then slowly pour the oil through the feeding tube. Process another minute or two until slightly thickened.
Serve chicken with sauce on the side.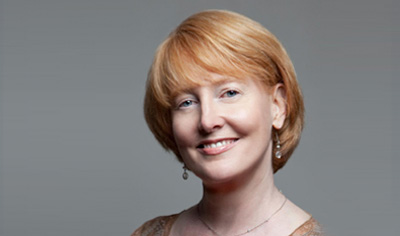 Hi there!  I'm Kate, and I'm a recipe writer, food photographer and devoted bacon lover.  I started Framed Cooks in 2009, and my mission is to create and share family-friendly recipes that make cooking both easy and fun…yes, I said FUN!  My kitchen is my happy place, and I want yours to be that place too.  And if you make this recipe, I would love you to tag @FramedCooks on Instagram so I can see the deliciousness!