Yes, the classic BLT is the king of sandwiches. But just wait until you try it with a fried egg added to the mix. Bacon, Lettuce, Tomato and Fried Egg Sandwiches!
It's hard to believe that anything could improve on the perfection that is a bacon, lettuce and tomato sandwich. There is, after all, the whole bacon part. And then there are the sweet tomato slices, the crispy crunchy lettuce, the creamy mayo, all held together with a couple of perfectly toasted pieces of bread.
Couldn't get any better, right? That's what I thought too! And then one day I decided to put an over easy egg on my BLT, and my world rocked.
I have to pause for a second here and say, this past holiday season I got bacon as a gift from More Than One Person. Gorgeous, fancy, thick-cut, mouthwatering bacon from places I would never get to on my own, like Brooklyn.
Another fabulous bacon gift came from my brother, who gave me a couple of packages of glorious hickory smoked pork bacon (which is in the picture you see up there of the sandwich). He got it from a friend of his named Kurt, who runs a farm in the Hudson Valley and doesn't sell his bacon. My brother had to trade him a bottle of tequila to get it for me. Now THAT is brotherly love.
I should also mention that this same brother gave me bacon gumballs, bacon jelly beans, bacon mints and a bacon lollipop. A big one. All of which I am slightly afraid to try, but I like looking at them.
Anyway, my point is this: when making a BLT with fried egg, seek out the best bacon you can find, and proceed the same way you usually make your BLTs, but at the very end of the process, make yourself an over easy egg. You want it to be nice and creamy, because one of the best parts of this whole shebang is having the yolk melt all over all the other BLT stuff when you take that first bite. Yes, it is going to be messy. Yes, it is going to be worth it.
All of which is to say, you CAN improve on a classic, and bacon makes a perfectly wonderful gift for that special someone. Especially if that special someone is me! Hint hint hint.
Print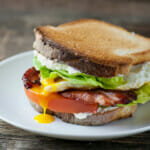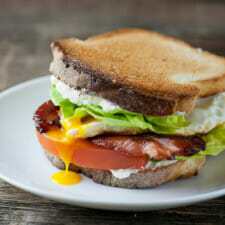 Bacon, Lettuce, Tomato and Fried Egg Sandwiches!
---
Prep Time:

15 minutes

Cook Time:

15 minutes

Total Time:

30 minutes

Yield:

2

glorious sandwiches

1

x
Category:

Lunch

Method:

Stovetop

Cuisine:

American
Ingredients
4

slices of bread, lightly toasted

2

slices thick cut bacon, cut in half

4

tomato slices

2

leaves romaine or bibb lettuce
Fresh ground pepper

1 tablespoon

butter

4

eggs
---
Instructions
Cook bacon in a skillet over medium-high heat until it is done to your liking. Drain on paper towels and set aside, leaving the drippings in the pan.
Reduce heat to medium-low. Crack eggs into separate small bowls (not into the pan – this works much better, I promise!) and slide them in the pan. Cook them for 1 1/2 to 2 minutes and then gently flip them. Cook them for another 15-30 seconds and then slide them out of the pan onto a plate.
Assemble sandwiches as follows: Toast, spread generously with mayo, grind some pepper on the mayo, lettuce (you will probably have to fold the lettuce in half), tomato, bacon, egg, more mayo on the top piece of toast. Take a big bite. Be very happy.