Once you make your own potato chips, you won't ever be tempted by the bag again! This easy recipe for homemade potato chips with blue cheese dip is a fun place to start.
Somewhere along the line I read that one of the best ways to control snacking was to make the snack yourself.  First of all, whatever it is (popcorn, chocolate chip cookies, you get the drift) is going to taste better simply by virtue of being made with fresh ingredients.
And second, the whole process of assembling the ingredients, making whatever it is, waiting for whatever it is to cook and cool and so on is going to slow you down since that is more complicated than grabbing a box or a bag of the pre-made stuff.
This all made complete sense to me, so I decided to test the theory with a batch of homemade potato chips.
Now, the first part of the theory?  Absolutely correct.  While I have certainly been known to put away more than my fair share of Ruffles, these homemade chips were, dare I say it?  A whole lot better.  Light, delicate, and just the right amount of salty and crispy and YUM.
They would have been perfectly wonderful without the little side dish of blue cheese dip I made to dunk them in, but let's just say that little side dish of blue cheese dip did not go to waste.
The second part of the theory I'm not so sure about though.  While this is certainly not as speedy as tearing open that bag of Ruffles….it's actually pretty fast and simple.
The ingredients are russet potatoes, canola oil and salt, and the process is as simple as run the potatoes (CAREFULLY) through a mandoline (3 minutes), heat up the oil in your friendly Dutch oven (10 minutes) and fry up the chips in the oil (5 minutes for a giant pile of chips).
Spread them on a paper towel-lined cookie sheet (30 seconds), sprinkle them with sea salt (10 seconds) and voila!  Chips that taste like chips are meant to taste, and not a chemical or preservative in sight.
Now, if you want to get crazy like I did and add some blue cheese dip to the mix, you can do that during the 10 minutes that the oil is heating up.  Whirl some of your favorite blue cheese with some sour cream in your food processor, then slowly thin it with milk (or buttermilk, if you want a lovely tang) until it is dip consistency.  Done and done.
I'm compiling a list of my other snack food vices to continue testing this theory on…all in the name of scientific research, of course.  Suggestions welcome.  :)
Print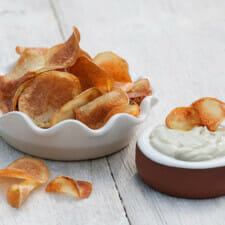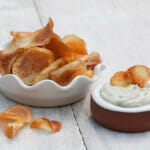 Homemade Potato Chips with Blue Cheese Dip
---
Author:

Prep Time:

10 minutes

Cook Time:

5 minutes

Total Time:

15 minutes

Yield:

6

servings

1

x
Category:

Appetizer

Method:

Stovetop

Cuisine:

American
Description
Once you make your own potato chips, you won't ever be tempted by the bag again! This easy recipe for homemade potato chips with blue cheese dip is a fun place to start.
---
Ingredients
For the chips!
2

russet potatoes

4 cups

canola oil
For the dip!
2 ounces

blue cheese

1/2 cup

sour cream
Milk or buttermilk for thinning
---
Instructions
Pour oil into a Dutch oven or other heavy pot with tall sides and heat over medium high heat to 350.
Using a mandoline set to a thin setting, VERY CAREFULLY slice the potatoes into chip shapes. I usually stop slicing when the potato has about an inch left, just because I am extremely cautious with my mandoline slicer.
Using a spider or a large metal slotted spoon, carefully lower the potato slices in batches into the hot oil. They will cook up very quickly – usually a minute or two is all it will take for them to be nice and golden brown. Scoop them out and drain them on a cookie sheet lined with paper towels and sprinkle with sea salt. Continue to cook in batches until all the potato slices are cooked – I usually do about 4 batches with 2 potatoes.
To make the dip, combine the blue cheese and sour cream in a food processor and blend until well combined. Thin the mixture with milk or buttermilk until dip consistency.
These chips are best the day you make them (not that you will have any problem with that – they go fast!). After the oil has cooled you can return it to the container and re-use it for another potato chip fry or two.