Fried okra! If you are not already a believer, give this Southern delicacy a try!
I've been writing this blog for over four years now, and I've been with my Southern honey for a whole lot longer than that. And with the combination of the two, I've covered grits. I've covered barbecue. I've finally mastered chicken fried steak. But even though I've made fried okra more times that I can count, I've never been quite brave enough to put it up here on the blog…there's something about okra that seems to bring out passionate feelings in people, both on the "I love it" and the "Don't get near me with that stuff!" side. So I finally asked my beloved Facebook group, and the vote was overwhelming pro-okra. So…deep breath…here goes!
Now, I totally get the hesitation that some folks have. If you cut into a piece of okra it is, yes, a little…sticky? Gooey? Not the usual consistency of a vegetable? But that is the beauty part of frying it up this way…you are frying up the whole piece of okra. It's going to be coated in a lovely mixture of egg whites and cornmeal and fried until it is crispy and dusted with sea salt, and there is nothing on the planet earth that wouldn't taste good that way. On that I think we can all agree, right?
So, another deep breath and get yourself a nice pile of okra. It's usually in season from July through September, and I am still seeing nice big piles of it at the farmer's markets around me. Some people like to slice their okra into chunks before frying it, but I like mine fried whole…and it's even quicker that way! Whisk together some egg whites and a little water in a medium sized bowl. Now take a ziplock bag and pour in some cornmeal (I like the fine-grind variety for fried okra) along with a little salt and pepper.
Heat up about 2-3 inches of canola oil in a heavy deep pot or skillet, and line a baking sheet with paper towels. Now comes the fun part – the fry-up! Dump the okra in the bowl with the egg whites and stir until the okra is nice and coated. Now spoon the okra into the bag with the cornmeal, zip it up and shake. Just like Shake and Bake – remember that? Shake it up good.
Now gently lower the okra into the hot oil – I use a large metal spider for this, but a metal slotted spoon will work just fine too. Give it a gentle stir, and let it fry away until the okra is a nice light golden color, about 3-5 minutes or so. Scoop it out with your slotted spoon and transfer it over to the baking sheet to drain and cool a little. Give it a nice generous sprinkle of coarse or sea salt, a grinding of pepper, and then dish it out. In my house, that means putting the baking tray with the okra out on the counter and stepping back…I put a little hot sauce on the side in case anyone wants to sprinkle some on, and then I just wait for this happy face.
It works every time. Fried okra…as the college kids say: YOLO!
Print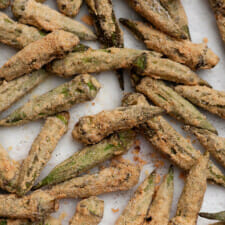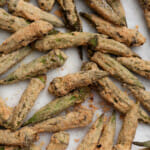 Fried Okra!
---
Prep Time:

10 minutes

Cook Time:

9 minutes

Total Time:

19 minutes

Yield: About

4

appetizer sized servings

1

x
Category:

Appetizer

Method:

Stovetop

Cuisine:

Southern
Ingredients
1

pound fresh okra

3

egg whites, whisked with 2 tablespoons cool water

1 1/2 cups

fine cornmeal

1/2 teaspoon

salt

1/4 teaspoon

pepper
Canola oil for frying
Coarse salt for sprinkling
Hot sauce on the side!
---
Instructions
Pour 2-3 inches of oil into a heavy deep skillet or pot and heat to about 350 degrees.
Toss the okra with the egg whites in a medium mixing bowl.
Put the cornmeal, salt and pepper in a zippered plastic bag. Add okra, zip the bag closed and shake until okra is well-coated with cornmeal.
Gently add the okra to the hot oil with a metal spider or slotted spoon (you may need to cook in batches, depending on the size of your pot). Cook until lightly golden, about 3-5 minutes.
Drain on a paper towel-lined baking sheet. Sprinkle generously with coarse salt and fresh ground pepper and serve warm with hot sauce on the side.