This fresh and lovely little chowder was actually on my list to share with you next summer.  The way this blog works is that I cook and take pictures almost every day…but I only post three times a week.  Believe it or not, I already have almost a full summers-worth of recipes lined up for you.  So once I finished figuring out this chowder recipe, I was going to park it on the back burner for next summer…until my friend Dennis saw my notes for it on my kitchen counter, and said (and this is a direct quote): "GET THIS POSTED, GIRL!"  And because I try and always do what Dennis says, I bumped something else out of the way and here I am with what I am now fondly thinking of as Summertime 2013 (not 2014!) Shrimp Chowder.
It's full of lovely summery flavors…the shrimp of course, but also leeks and lime juice and new potatoes and one of my favorite summertime tastes ever…
Yup.  Fennel.  I have to discipline myself not to Eat All The Fennel while I am chopping it up.  I really need to buy two fennels….one for me and one for the recipe.
Anyway, this chowder starts the way you should start all shrimp soups or stews, which is by sauteeing the shrimp shells in a little olive oil.  I know, it sounds weird, but I promise that it will give your chowder this lovely, deep, ocean-like taste.  You're going to simmer them in some clam juice and fresh herbs, and then strain the whole thing so that you have an easy and perfect broth.
Next, gently cook up your veggies in a little butter, and then add your gorgeous broth with some cream (yes cream, we are making chowder here, so we must use cream) and let the whole thing bubble away until everything is nice and warm.  And last but not least, add in the shrimp and simmer them them until they are just cooked.  This is going to take about 2 minutes…we want them nice and tender.  Taste and season with salt and pepper to your liking.
Now scoop it out into soup bowls.  I like to first scoop out the shrimp and veggies with a slotted spoon, and then add enough of the gorgeous broth for the solids to still be the main attraction and the broth to be the supporting player. Does that make sense?  It does to me, but that's just me.
Squeeze a generous amount of lime juice over each serving, and if you kept any of the pretty leaves from the fennel they make a nice bright garnish.
And there you have it, way ahead of schedule.  Dennis, I think I know what YOU are having for dinner next week??
Adapted from Martha Stewart's recipe
Print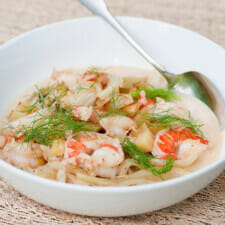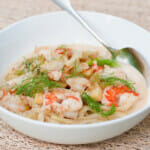 Summertime Shrimp Chowder
---
Prep Time:

20 minutes

Cook Time:

35 minutes

Total Time:

55 minutes

Yield:

4

servings

1

x
Category:

Dinner

Method:

Stovetop

Cuisine:

American
Ingredients
3 tablespoons

olive oil

1 1/2

pounds large shrimp, peeled and cleaned, shells reserved

1 cup

white wine

1 cup

clam juice

1 cup

water

1/4

stick butter

1

leek, trimmed to white and light green parts, cleaned and sliced

1 cup

cubed Yukon gold potato

1

fennel, sliced, with leaves saved for garnish

1 teaspoon

celery seed
Salt and pepper

1 cup

heavy cream
Juice from

one

lime
---
Instructions
Heat oil in a Dutch oven and saute shrimp shells for 5 minutes. Add wine, clam juice and water and simmer for 15 minutes.
Pour broth through a fine mesh strainer and toss the solids.
Melt butter in the same Dutch oven and add leek, potato, fennel and celery seeds. Cook over medium high heat for 10 minutes.
Add shrimp broth and cream and cook just until shrimp are done, about 2-3 minutes. Season to taste with salt and pepper. Add lime juice and stir.
Scoop out the shrimp and veggies with a slotted spoon and divide among bowls. Ladle on as much of the creamy broth as you like, garnish with fennel leaves and serve.