"Sprinkle once, sprinkle twice, sprinkle chicken soup with rice"….read the wonderful book by Maurice Sendak and then make this easy recipe for chicken soup with rice!
Among the many amazing people I have been lucky enough to know, two of the most amazing are my friend Toni Markiet, and the extraordinary Maurice Sendak.  So much as already been said about Maurice that I will only add that in addition to creating some of the most brilliant books the world has ever seen, he made it impossible for me to ever have a bowl of chicken soup with rice and not think about him and smile.
As you may know, we lost him just about a year ago, and it's still hard for me to believe he's not out there, sitting at his kitchen table with his faithful German Shepherd at his feet.  I asked his dear friend Toni, who knew him so very well, if she would share some of her delicious memories with us.  And so in Toni's words…
June 10, 2013 would have been Maurice Sendak's 85th birthday, so let's talk about food because Maurice loved food with a deep and abiding love. 
You are not surprised, are you?  This is the man who brought us In the Night Kitchen with its warm cake and cool milk; and remember "mix it once, mix it twice, mix that Chicken Soup With Rice?  And of course, after the rumpus and the roars and the sailing across a day and weeks, what does Max come home to in Where The Wild Things Are but his supper, waiting for him, still hot!  Maurice firmly believed that food = love.
In the thirty years we were friends, many of our visits together centered around food. 
My first meal with him was at Lutece.  I don't remember much except that the waiter was intimidating and we had Grand Marnier Chocolate Souffle for dessert.  But it wasn't always that grand.  There were tuna salad sandwiches scarfed down on the 30 block walk to the Met and the long trek down to the Flat Iron area to get pastry-wrapped Kosher hot dogs and knishes.  Maurice loved roast chicken, pasta with arugula and lemon, apple cinnamon pound cake, and Leonidas chocolates for any occasion—he was happy to make one up if need be.
Food is how we show care and attention and trust without having to say a word.  As far as Maurice was concerned, the food could be fancy, it could be plain, it could be sweet or sour…it just had to be good and as often as possible, shared with the people who matter to you.  You are not surprised, are you?  I'll leave you with this note from the end of Higglety-Pigglety Pop!
"Hello,
As you probably noticed, I went away forever.  I am very experienced now and very famous.  I am even a star.  Every day I eat a mop, twice on Saturday.  It is made of salami and that is my favorite.  I get plenty to drink too, so don't worry.  I can't tell you how to get to the Castle Yonder because I don't know where it is.  But if you ever come this way, look for me."  
Jennie
So, happy birthday, dear Maurice.  We'll celebrate with chocolates, cake, Chicken Soup with Rice and good friends.  But I can't promise you a salami mop.  You're on your own there!
Beautiful words from my dear friend Toni, and to celebrate Maurice's birthday I'm giving away three sets of some of the most delicious books he created: Where The Wild Things Are, In The Night Kitchen, Higglety-Pigglety Pop! and of course, Chicken Soup With Rice.  Just leave me a comment telling me your favorite children's book (and I know there will be some Sendak classics mentioned) and in a week I will randomly pick three lucky winners.
In the meantime, with love and gratitude to  the extraordinary Maurice, here is some sprinkle once, sprinkle twice, sprinkle chicken soup with rice.
This giveaway is now closed.
Print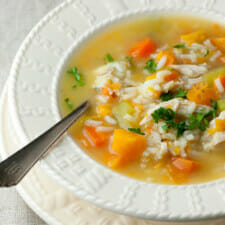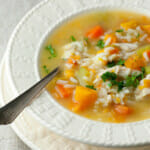 Chicken Soup With Rice
---
Prep Time:

15 minutes

Cook Time:

20 minutes

Total Time:

35 minutes

Yield:

4

servings

1

x
Category:

Dinner

Method:

Stovetop

Cuisine:

American
Ingredients
2 tablespoons

olive oil

1

leek, cleaned and chopped (light green and white part only)

2

celery stalks, sliced thinly

2

carrots, peeled and chopped

4 cups

chicken broth (I like the boxed Pacific and Imagine brands)

1/2 cup

rice

2 cups

shredded cooked chicken
Salt and pepper to taste
Chopped fresh parsley for garnish
---
Instructions
Heat the olive oil in a Dutch oven or other heavy pot over medium high heat. Add leek, carrots and celery and stir until the leek is softened, about 3-5 minutes.
Add rice to the pot and stir for another 2 minutes.
Pour in chicken broth and bring to a boil. Lower heat to a simmer, cover the pot and cook until the rice is done, about 15 minutes.
Stir in chicken and season to taste with salt and pepper. Ladle into bowls, garnish with parsley and serve.