A little while ago I went to one of my favorite cities in the world: beautiful, merry old London.  I love this city so much…I get to see old friends (hi, Simon!) and revel in the fact that for once I am in a place where the tea drinkers like me outnumber the coffee drinkers I'm surrounded by at home.  I always come home inspired to make my own tea out of actual leaves that aren't in a bag, and to try my hand at some British favorites, and this time was no different.  Which meant that shortly after I got home, the Southern husband found himself eating batter-dipped fish and chips lovingly presented to him in a newspaper cone.
But before I regale you with my fish and chip recipe, I have to say that London has been the source of some of the best meals of my entire life.  Last year I was treated to the magnificent Dinner by Heston….let's just say I took the menu home with me, framed it and hung it on my kitchen wall.  True fact.  And this time, I had what will go down in history as the most delectable lunch of my life.
The Ritz in London.  Oh my goodness, from the moment we walked in the door and down this hall.
You can probably see the grand piano – you can't see that there was also a harp.  Very appropriate, since I pretty much had died and gone to heaven, especially when my lunch arrived.
Langoustines.  White asparagus. Pea shoots.  A sauce that I couldn't tell you what it was, other than glorious.
And then there was this.
Those are baby poached pears and various permutations of chocolate and the rest is a blur of deliciousness.
And finally (please forgive me for this one) I went to the powder room, and was so overwhelmed by the gorgeousness that yes, I did this.
I took a selfie in the ladies room.  I was THAT American tourist.  I did have the dignity to wait until there was nobody else there, but then I put it on Instagram.  I was overwhelmed by the moment.
Once I was back in the States and had composed myself, I set about making the Southern husband and I some fish and chips…strips of sweet, tender cod dipped in beer batter and quickly deep fried just until they are golden and perfect, with slender chips (or fries, if you are from New Jersey).  We ate them straight out of the newspaper cone I set them on to drain, with a little malt vinegar and salt shaken on for good measure.  It wasn't the Ritz, but that supper and the nice cup of tea that followed just might get me through until my next visit.  So if you, like me, would like a little bit of London on your plate…fish and chips!
Print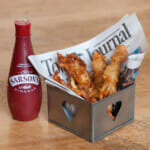 Fish and Chips!
---
Prep Time:

15 minutes

Cook Time:

25 minutes

Total Time:

40 minutes

Yield:

4

servings

1

x
Category:

Dinner

Method:

Stovetop and Oven

Cuisine:

English
Ingredients
4

Russet potatoes, cut into thin strips
Kosher salt

1 gallon

canola or other vegetable oil (not olive oil)

1

12 ounce bottle of beer

2 cups

flour

1 teaspoon

Old Bay seasoning

1/4 teaspoon

cayenne pepper

1 1/2

pounds cod fillets, cut into strips about

1

inch wide
Malt vinegar for serving
---
Instructions
Place 1 1/2 cups flour in a large bowl and whisk in beer. Stir in seasonings and let sit for one hour.
Heat oil in a large deep Dutch oven to 375.
Fry potatoes until golden brown, about 10 minutes. Drain on paper towels, sprinkle lightly with kosher salt and keep warm in a 200 degree oven.
Pat fish dry and dredge in remaining flour.
Return oil in the Dutch oven to 375 and using tongs, carefully lower battered fish into the oil. You'll want to cook the fish in batches, 3-4 at a time, so they don't stick together. Cook until golden brown, turning gently from time to time, about 5 minutes per batch. Drain on paper towels and sprinkle lightly with salt.
Serve with chips and malt vinegar on the side.
Notes
If you want a shortcut on the chips, frozen shoestring fries from your supermarket will cook up just fine in the hot oil. Follow the package directions for deep frying.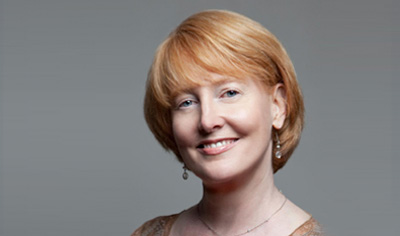 Hi there!  I'm Kate, and I'm a recipe writer, food photographer and devoted bacon lover.  I started Framed Cooks in 2009, and my mission is to create and share family-friendly recipes that make cooking both easy and fun…yes, I said FUN!  My kitchen is my happy place, and I want yours to be that place too.  And if you make this recipe, I would love you to tag @FramedCooks on Instagram so I can see the deliciousness!