You won't believe that this tender coconut pecan cake comes from your blender. Yes, your blender! Whirl up this easy recipe today.
I have so many, many things to say in this post.
It's going to be one of those stream of consciousness kind of rambling things that includes pictures of my recent jaunt to Nashville, an apology to the Southern husband and a video-chat with my bunny who is off at college.
So if you want to skip over all of that and get right to the recipe, which is a super-easy one bowl coconut pecan cake that you make in your blender, feel free to skip right on down to the end. I'll understand!
But if you can bear it, here goes. A few weeks ago, I went with a bunch of my buddies to Nashville. Despite the fact that I am Southern by marriage, and despite the fact that I have loved country music ever since I bought the 45 for The Devil Went Down To Georgia in 1979, I'd never been before.
I'm head over heels in love with the show Nashville (when it got cancelled I cried real tears), and so I was a little bit out of my mind with happiness when we got to this place.
The fabulous Bluebird Cafe, which looks exactly like it does on the show on the outside, and nothing like it does on the show on the inside.
It was even better – everyone crowded around these four amazing singer-songwriters and listened reverantly to a couple hours of seriously amazing music.
I was in heaven. Heaven! And it only got better when we went out to dinner the next night and this was on the menu…
I'm just going to let you marinate in the thought of bacon with maple cotton candy for a second or two.
Another night we went to the Wildhorse Saloon, a big old place right on the main drag where all the honkeytonks are.
There was lots of good Southern eating, and line-dancing, and cowboy boots all around. The line-dancing and the girls in their cowboy boots immediately made me miss my cowboy-boot-wearing Southern daughter, who was only 6 hours away in South Carolina.
So I had to run back to my hotel room and videochat with her.
She chided me for coming home from line-dancing before 10pm at night before the real line-dancing even gets rocking, but I am a wimp when it comes to late nights, and that's just how things are.
Once I got home from all this excitement, I needed to figure out a new Southern-type recipe to make. NEEDED. And since to the Southern husband Southern cooking needed to either involve grits, okra or pecans and I was in a dessert frame of mind, pecans it was.
Which brings me to the apology. Our ancient blender finally bit the dust, and he gallantly said he would go out and get is a new one. I got all excited imagining the deluxe fancy Vitamix chrome and glass beauty that would soon be sitting on my counter.
So when he proudly came home with a $20 plastic Hamilton Beach number, I was blatantly ungrateful. I might have even suggested that the new blender would not even come CLOSE to working the way I wanted a blender to work. How much power could a $20 motor have? I mean, really??
Here comes the apology part. Because this recipe (see? I finally got to the point!) calls for dumping all the ingredients, including a bunch of pecans, into your blender, blending it until it is smooth, pouring it into a pie plate and baking it up.
Yes, that's really all it takes, so everything was riding on the blender. And as you have probably guessed, our $20 blender blended this cake up just perfectly, and has now gone on to blend various other things just fine.
So honey? I'm sorry I maligned our blender. I promise never to sass you about small kitchen appliances ever again.
And for the rest of you…especially you folks who hung in for this entire meandering post…please blend yourself up some super easy to make, seriously delicious coconut pecan cake.
You deserve it!
Print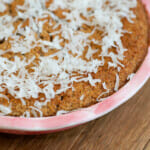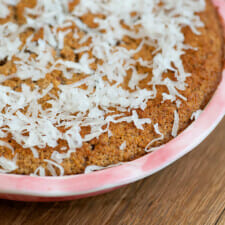 Coconut Pecan Blender Cake
---
Author:

Prep Time:

10 minutes

Cook Time:

45 minutes

Total Time:

55 minutes

Yield:

8

servings

1

x
Category:

Dessert

Method:

Oven

Cuisine:

Southern
Description
You won't believe that this tender coconut pecan cake comes from your blender. Yes, your blender! Whirl up this easy recipe today.
---
Ingredients
1 1/2 cups

milk

1 cup

sugar

1 cup

sweetened coconut

1/2 cup

flour

1/2 cup

chopped pecans

1/2

stick butter, softened

4

eggs

2 teaspoons

vanilla

1 teaspoon

baking powder
Additional coconut for garnish
---
Instructions
Preheat oven to 350 and grease a 10 inch pie pan.
Put all ingredients except for the extra coconut into a blender, and blend until fully combined. Pour into the pie pan.
Bake for 45 minutes until golden. The center will still be a little soft.
Scatter additional coconut on top and let cool slightly. I like to scoop this out of the pan (rather than slicing it) and serve it with some vanilla ice cream!