Welcome to the latest in my "no, I'm not going to take the easy road and just make banana muffins out of those ripe bananas" posts, wherein I take those overripe bananas I always seem to have lounging around on my countertop and make something out of them that is not banana muffins.  Not that I don't love my banana muffin recipe – I do!  But you only go around once, and I wanted to make sure that I got in at least a couple batches of these banana chocolate chip coffee cupcakes.
And please let me clear one thing up right away…I recently posted a recipe for coffee cake in a mug that you can make in 90 seconds, and I got various and sundry people pointing out that there was no actual coffee in the recipe.  So before you guys start wondering about the title of this one too: these are cupcake versions of coffee cake.  As in, cake that you eat with coffee.  Or even more confusingly, tea, which is my caffeinated drink of choice.  Are we all thoroughly mixed up at this point?  You're welcome.
The most important point is that these are quick and easy and filled with things like banana and chocolate and sour cream and cinnamon sugar.
They have a chocolate walnut center that will make you so happy that you won't really notice whatever it is you are drinking alongside them anyway.
As you can tell, I took a whole bunch of pictures of these babies in their cute pink liners, and then was utterly conflicted about which ones to use.  So I put a whole raft of them up on my Framed Cooks Facebook page and asked my fabulous readers to vote.  The top one was their fave (and the Southern husband's too, for that matter).  So click here to find me on Facebook, where I'm constantly asking for picture advice and thoughts on what I should cook for dinner.  I should warn you also that it's going to be full of the Agony and the Ecstasy of my upcoming kitchen renovation as well.  So there's that to consider.
Meantime, it's totally worth getting yourself a bunch of bananas and letting them get too ripe on purpose, if you don't have an innate talent for that happening automatically, the way I do.  It's one of my many secret skills…banana ripening.  It comes in handy!  And with that, I'm going to leave you with all you really need other than ripe bananas, which is the recipe.
Print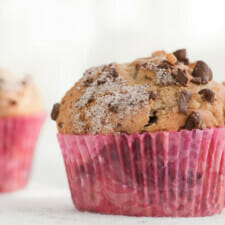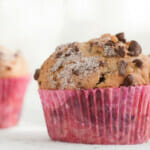 Banana Chocolate Chip Coffee Cupcakes
---
Prep Time:

15 minutes

Cook Time:

20 minutes

Total Time:

35 minutes

Yield:

20

-

24

cupcakes

1

x
Category:

Breakfast

Method:

Oven

Cuisine:

American
Ingredients
1/2 cup

chopped chocolate chips (or you can use the mini ones)

1/2 cup

chopped walnuts

2 teaspoons

cinnamon

1 3/4 cups

sugar

1

stick butter, room temperature

3

eggs, slightly beaten

2

very ripe bananas, peeled and mashed

8 ounces

sour cream

3 cups

flour

2 teaspoons

baking powder

1 teaspoon

baking soda
---
Instructions
Preheat oven to 350. Line two twelve-serving muffin tins with liners (you can make these without the liners, but they will be pretty dark on the sides. I vote for the liners!)
Mix together the chocolate chips, nuts, 1 teaspoon cinnamon and 1/4 cup sugar.
Cream the butter and the rest of the sugar together in a large mixing bowl at medium high speed.
Reduce speed and add all remaining ingredients. Mix until smooth, about 2 minutes.
Put about a tablespoon of batter in each muffin liner (a cookie scoop works wonderfully for this). Top each with about 1/2 teaspoon of the chocolate mixture. Divide remaining batter on top of this, and then sprinkle each cupcake with the rest of the chocolate mixture.
Bake for 20 minutes, then test for doneness by inserting a toothpick into the center of one muffin – it should come out clean.
Cool for about 10 minutes in the pan, then remove and cool on racks.