Approximately one million years ago when the Southern husband and I were young and foolish, we had a lot less, well, stuff than we have now.  We had one television, one car, one teeny antique house and no hound dog.  We didn't have Iphones or digital cameras or laptops.  (Neither did anyone else…we are talking the Dark Ages here.  We are talking pre-Internet.  We are talking phones with curly cords. ) One thing that we DID have, however, was a very fine cast iron cooking pot, which has somehow escaped over the years.  We loved that pot, and among other things we made this wonderful Greek stew over and over and over in it, so whenever I make it these days it zaps me back to those olden days.
Here's how I looked back then.  A lot more hair, a few less pounds and one adorable toddler that I hung out with a lot.
Here's the Southern husband.  Also more hair, he annoyingly weighs EXACTLY the same now as he did then, and there's that little sweet pea again.
Anyway, I've since acquired a La Crueset dutch oven to make this family favorite in, and it still tastes just as exotically wonderful as it did back in the days when we were eating it at our wobbly first kitchen table.  It's official name is stifado, and it is traditionally made with lamb, but since lamb was outside of our budget back in the day we made it with good old beef chuck and it turns out just fine that way.  What sets this stew apart from the more traditional varieties are all the simply lovely things it cooks with: cinnamon sticks, red wine, balsamic vinegar, raisins, orange peel, cumin and a few other delightful things.  Instead of the traditional carrots and onions this stew features tiny white onions, and when you serve it you scatter some pine nuts and feta cheese on top.
I told you it was exotic!  The result is a spicy, flavorful pot of deliciousness that will warm you up to the bottom of your toes. And for me, it will take me down memory lane to that time when Facebook was that paperback book you spent quality time with during your first semester in college (all you young-uns can email me and I will explain.)  So here's one of my family favorites – what's the meal that takes YOU back across the years?
Print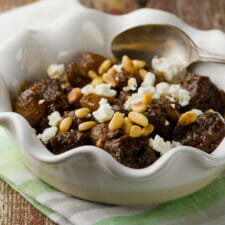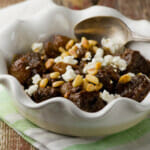 Stifado, Otherwise Known as Greek Beef Stew
---
Prep Time:

20 minutes

Cook Time:

2 hours, 20 minutes

Total Time:

2 hours 40 minutes

Yield:

6

servings

1

x
Category:

Dinner

Method:

Stovetop

Cuisine:

Greek
Ingredients
1/4 cup

olive oil

3

pounds beef chuck, cut into cubes

1

large onion, chopped

3

cloves garlic, minced

1 1/2 cups

red wine

3 tablespoons

balsamic vinegar

2 tablespoons

brown sugar

1

six-ounce can tomato paste

1 teaspoon

cumin

1 teaspoon

ground cloves

2

bay leaves

2

cinnamon sticks or

1 teaspoon

ground cinnamon

1 cup

raisins

2

strips of orange peel (cut with a paring knife – go all around the orange)

1/2 teaspoon

fresh ground pepper

2 cups

frozen small white onions, thawed
Crumbled feta cheese (room temperature) and toasted pine nuts for garnish
---
Instructions
Heat oil in your favorite heavy stew-making pot over medium high heat and sear the beef until browned on all sides. Remove beef and set aside.
Add onion to pot and stir for one minute. Add garlic and stir for another minute.
Add wine, vinegar, sugar and tomato paste and stir until combined. Add spices, raisins, orange peel and meat and stir to combine. Bring to a simmer, turn heat to medium low, cover and cook for one hour.
Add onions, stir and cook for another hour.
Serve garnished with a little feta cheese and pine nuts.
Adapted from the very wonderful COLD WEATHER COOKING