What's better than brownies? Brownies topped with cookie dough! And what's better than cookie dough topped brownies? Folks who look out for you. Here's an amazing recipe and an even more amazing story behind them.
I have a whole lot to say in this post.
It's going to have a happy ending full of cookie dough-topped brownies and a very special cookbook giveaway, but in the meantime I'm going to talk about small towns and hurricanes and good neighbors, and here in the beginning I'm going to say how blessed the Southern husband and I feel to live in a town where we are surrounded by the kindness of our friends, our family, our neighbors and a whole lot of people who reach out and help no matter what is swirling around us. So here I go.
We are lucky enough to live in one of the prettiest little towns in New Jersey you would ever want to see. Our town is situated in a valley right along a lovely river.
Once upon a time it was a farming village, and while we don't have too many cows left around us these days, the memories of those days are still all around us, including some beautiful old buildings, like my parents' 200 year old farmhouse and this lovely old house in the center of town across from our general store.
(Yep, we have a general store. Its name is Elmer's.)
Our town used to have a grist mill, and while the stones now are taking a rest from grinding grain, they are still here.
A few weeks ago, however, our sleepy little town turned upside down. An unwelcome guest named Sandy came to visit, and while we didn't suffer anywhere near the heartbreaking devastation that our sister towns up and down the beautiful Jersey shore did, we all woke up to a permanently changed landscape that Tuesday morning.
I walked outside my house, which used to be lined with giant, hundred year old pine trees, and tears started rolling down my face.
There most of them were, lying across the yard all in a row. They had stood guard over us for so many years, and as their last good deed they fell away from our house instead of towards it. There must have been a guardian angel watching over us.
Within an hour, there were friends at our house with chainsaws and hugs. They had driven around scores of other downed trees and wires to get to us, to make sure we were okay and to help.
And through the next week through dropping temperatures our house and thousands around us had no power, which meant most of our town had very little heat, lights, gas…all those things you've been reading about or maybe going through yourselves. But what we did have in abundance was compassion.
We had calls (hurray for the old-fashioned land line!) and offers of help from all over. The few folks with with power offered up their showers, their spare rooms and their electrical outlets to other neighbors. Our heroic town employees and volunteers worked night and day through dropping temperatures and eventually snow to clear trees, provide water and ice and information and comfort.
Our community is slowly coming back, and we're getting there with the help of one another. Our one small town has been one big family.
Which brings me to my recipe and my giveaway. This past summer I was lucky enough to be part of a community cookbook project that was put together by an enthusiastic and dedicated group of folks from right here in my small town.
I love community cookbooks…you find some of the very best, time-tested, beloved recipes in them…and I was tickled pink when they asked me to both photograph the cover AND contribute a few recipes. Here's how it turned out.
Isn't it beautiful? I promised I'm not one little bit biased.
This cookbook has a wealth of recipes that are the favorites of so many of the good folks from my little town. And while it would have been precious to me before, the fact that it came out just as we were all helping each other get back on our feet seemed just so right to me.
Because now more than ever, I have learned first-hand about the overwhelming kindness of both friends and strangers, and the blessedness of living in my own, still beautiful corner of the world.
So please enjoy the sweet and easy brownie recipe from this cookbook featured below…I gave these brownies to one of the good friends down the road who helped us weather our part of the storm.
Thanks for listening. And to everyone who reached out to us and others with help and comfort over the past several weeks…thank you.
Print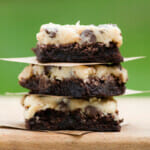 Cookie Dough Topped Brownies
---
Author:

Prep Time:

20 minutes

Cook Time:

30 minutes

Total Time:

50 minutes

Yield:

20

-

24

brownies, depending on how you cut them!

1

x
Category:

Dessert

Method:

Oven

Cuisine:

American
Description
What's better than brownies? Brownies topped with cookie dough! Make yourself a batch with this fun recipe.
---
Ingredients
1

package brownie mix, plus ingredients to prepare it

1/2 cup

butter, softened

1/2 cup

brown sugar

1/4 cup

white sugar

3 tablespoons

milk

1 teaspoon

vanilla extract

1 cup

flour (see note)

1 cup

chocolate chips
---
Instructions
Prepare brownies according to package directions, using a 13×9 inch pan lined with foil sprayed with cooking spray. Allow the foil to extend over the edges as this will let you lift the brownies out of the pan easily. Cool completely.
When brownies are cooled, lift them carefully out of the pan, using the foil edges as a handle, and place on a cutting surface.
Combine butter, sugars, milk and vanilla in a medium mixing bowl and mix well. Stir in flour until completely combined, then stir in chocolate chips. (This will give you a "cookie dough" that is perfectly safe to eat, as there are no raw eggs in it.)
Drop spoonfuls of cookie dough on top of the cooled brownie. Using your fingers, gently press down on the dough until it is spread evenly across the top of the brownie.
Cut the brownies into small squares (a pizza cutter works well for this if you have one!) and serve.