I love and adore blue cheese with a purple passion, and I am forever tossing yet another hunk of it in my grocery cart. But one of the reasons that I love it – the sharp, tangy, cheesy flavor – is also one of the reasons I always have leftover blue cheese. A little goes a long way. As a result, I am always looking for ways to use up the current leftover chunk of blue cheese that is always lounging around in my fridge. And that is how this easy and elegant gorgonzola honey and leek tart was born!
It's even MORE perfect because the other thing that I am constantly needing to use up is leeks. I've said it before and I'll say it again…every leek recipe I own calls for one leek, but leeks tend to hang out in groups of three. Or more.
I'm just not brave enough to sneak one leek out of the rubber band and show up at the cash register looking all innocent, so I tend to be constantly awash in leeks. Which also works out great for this recipe!
Here's how super easy it is: pick up a box of frozen puff pastry (usually in the dessert section of your supermarket), thaw out one sheet, and roll it with your rolling pin until you have a nice thin rectangle, about 12 by 10 inches. Now cut that rectangle in half lengthwise so you have two thin rectangles about 5 by 12. (I apologize for the math. Shudder.) Take a paring knife and lightly cut around the edge of each one so you have about a 1/2 inch border. Don't cut all the way through the dough – just enough so you have a thin line running around the edge. That way your tart will puff up around the edges. Now pop your dough onto a cookie sheet that is lined with parchment paper or a Silpat while you make the filling.
And oh, that filling! Slice up your leek nice and thin and saute it in some butter until it is soft and wonderful. Now heat up about 1/2 cup of honey in the microwave for about 15 seconds, just until it is nice and liquid. Grab your blue cheese, crumble it up, and you are ready to roll.
Pour the honey over the top of your dough and spread it around until it reaches the inner edge of the border. Now scatter the leeks and the blue cheese over the top. If you have some pan drippings from the leeks, drizzle that on as well. Grind on some black pepper, and then pop them in the oven until they are nice and golden, about 15 minutes. Let them cool for about 15 minutes, and then slice them into triangles, making them as fat or as skinny as you want. Toss some fresh thyme on top, and voila!
Now, this tart makes a lovely appetizer or a first course, but we had it for supper with a nice glass of red wine one evening, and life was pretty much perfect. And all because of some leftover blue cheese. Which proves once again that leftovers can be your best friend!
Print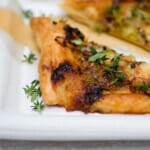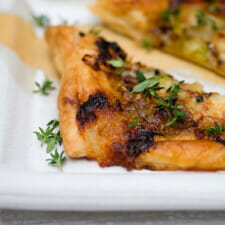 Gorgonzola Leek Tart
---
Prep Time:

20 minutes

Cook Time:

23 minutes

Total Time:

43 minutes

Yield:

2

tarts, enough appetizer for

4

people or a light supper for

2

1

x
Category:

Appetizer

Method:

Stovetop and Oven

Cuisine:

French
Ingredients
4 tablespoons

butter
One leek, rinsed well, halved and sliced thinly

1

sheet frozen puff pastry, thawed

1/2 cup

honey

1/2

to

3/4

cup crumbled Gorgonzola or other blue cheese, crumbled
Freshly ground pepper
Fresh thyme for garnish
---
Instructions
Melt butter over medium heat and saute leeks until soft, about 8 minutes. Set aside.
Preheat over to 400. Roll out puff pastry to a 12×10 inch rectangle, and then cut in half length-wise to make two 12 x 5 inch rectangles. Cut about halfway through the dough about 1/2 inch edge all the way around to form a border. Transfer the dough to a parchment-lined cookie sheet.
Heat the honey in the microwave until liquid, about 15 seconds. Divide between the two pieces of dough and spread to the edges.
Scatter the leeks and cheese evenly between each tart. If you have any pan drippings from the leeks, drizzle that on top as well. Grind fresh pepper over each tart.
Bake until golden, about 15-20 minutes. Cool about 5 minutes, cut into triangles (a pizza cutter works great for this), scatter fresh thyme over the top and serve!