Turn cucumbers into spicy delicious pickles in 48 hours…with no canning! This fun recipe for easy homemade pickles happens all in the fridge.  Let's get to pickling!
I don't know what came over me one day, but I suddenly got this inescapable urge to make my own pickles.
Now mind you, I have never pickled, canned or preserved anything in my life.  My beloved collection of mason jars have been used exclusively for shaking up salad dressing and scrambled eggs, and for serving brownie cake with ice cream.
But somewhere along the line I figured out that there was such a thing as refrigerator pickles…no boiling or canning or other intimidating things involved…and I was in!
Here's how you make easy homemade pickles with absolutely no scary canning involved!
I started with a pile of these.
Cute little kirby cucumbers.  They are like the little brothers of regular cukes…about 4 or five inches long, and my farm market was selling them by the basketful.  I figured it was a SIGN.
So I washed them off and cut them into halves and quarters.  And then I got down to the pickling.  I mixed up a combo of white vinegar, sugar, salt, mustard seeds, red pepper flakes and hot water.  I cooled it off a bit and in the meantime tossed my cukes with crushed garlic and lots and lots of fresh dill.
When the vinegar mixture was cooled off, I poured it over the cucumber dill mixture until the cukes were underwater (or should I say, under-brine?  Brine is what us pickle-makers call the vinegar stuff).  I put a plate on top of the cukes to make sure they stayed obediently submerged, covered the whole thing with plastic wrap and put it in my fridge.
Then I waited.  48 long hours.  Periodically I would peek into the refrigerator to see what was happening, which looked like not too much.  The bowl of cucumbers looked exactly the same every time I peeked.
Finally at the end of the second day I fished one out of the bowl and took a bite.  And…it was a PICKLE!
A tart, spicy, crunchy, slightly garlicky, totally miraculous pickle!  That I had made myself!
And as the days went by, they only got better – spicier and more and more pickle-ish.  Now, I've made my own butter, my own ricotta cheese, my own applesauce…but honestly, nothing has ever made me as ridiculously excited as making my own pickles.
Which is good, because incomprehensibly, the Southern husband is not a big pickle fan.  He ate a couple to be polite and supportive, but aside from that it's been me and about one million pickles.
Anyone want a really fabulous pickle?
Print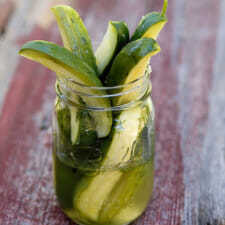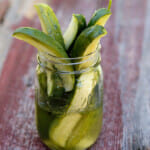 Easy Homemade Pickles
---
Author:

Prep Time:

10 minutes

Cook Time:

5 minutes

Total Time:

15 minutes

Yield:

10

pickles

1

x
Category:

Staples

Method:

Stovetop

Cuisine:

American
Description
Turn cucumbers into spicy delicious pickles in 48 hours…with no canning! This fun recipe for easy homemade pickles happens all in the fridge.
---
Ingredients
2

pounds of kirby cucumbers (about

10

pickles), washed and halved or quartered

1 1/2 cups

white vinegar

1/8 cup

sugar

4 teaspoons

kosher salt

2 teaspoons

mustard seeds (you can find these in the spice aisle)

2 cups

hot water

1 cup

chopped fresh dill

1/4

to

1/2

teaspoon red pepper flakes, depending on how spicy you like things!

5

garlic cloves, peeled and crushed
---
Instructions
Stir together vinegar, sugar, salt, mustard seeds, and hot water until sugar and salt are dissolved, and let cool.
Put the pickles, dill, red pepper and garlic into a large deep bowl and stir until the dill is evenly distributed.
Pour the vinegar mixture over the cucumbers. If they aren't submerged, add a little more water until they are. Put a plate on top of the cukes to keep them down in the liquid, cover the bowl with plastic wrap and refrigerate.
Marinate for about 48 hours. These pickles will keep several weeks in the fridge, and they will get spicier over time. Once I go past the 48 hour mark, I keep them in a covered glass cookie jar in the brine – takes up less fridge space that way!