So…what is agnolotti, you may be asking? (Or you may not. You, unlike me, might already be totally best friends with agnolotti. But just in case…..) Agnolotti is like a very close cousin of ravioli…a delicious pillow of pasta filled with all kinds of wonderful things…cheese, meat, or in the case of those agnolotti up there, butternut squash and parmesan cheese and (I'm not kidding) teeny bits of amaretti cookies. Agnolotti is a little bit smaller than ravioli…a big cousin and a little cousin, you might say. Kind of like these guys.
I know. I am completely shameless about slipping in pictures of adorable people who are related to me at all available opportunities.
Back at the agnolotti, a little while ago the very nice people at Buitoni gave me some of their new pastas to try out, and one of them was this scrumptious roasted butternut squash agnolotti. And as soon as I figured out what agnolotti actually WAS, I knew I needed to come up with a sauce that was worthy of such pasta deliciousness. Luckily part of the answer was growing by leaps and bounds right outside my kitchen door.
Sage! I have a sage plant that clearly has aspirations of becoming a sage tree one day soon, so I'm cutting big beautiful bunches of it for sauces and salads and at this point, sage bouquets that I am plunking on various tables and shelves around the house. Waste not, want not!
So with the sage as inspiration, I sautéed some chopped walnuts in butter until they were warm and fragrant. Then I used the same butter to cook up a handful of shallots and chopped sage. A little white wine, a little cream, some parmesan, and I had a silky, summery, creamy sauce that was worthy of this delicious agnolotti. I served it with a little cold sliced grilled chicken on the side, and suppertime was pretty close to perfect that night. If you live in the Northeast USA, you can get some roasted butternut squash agnolotti for your own self (look in the refrigerated section), but if you don't, this sage sauce will work just fine with whatever agnolotti (or ravioli!) you can get your hands on…and if you need any sage, just holler. I've got some.
Print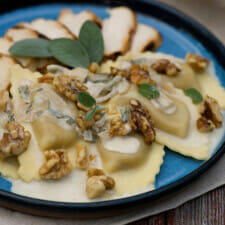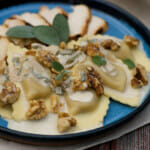 Agnolotti with Sage Walnut Cream Sauce
---
Prep Time:

5 minutes

Cook Time:

10 minutes

Total Time:

15 minutes

Yield:

2

servings

1

x
Category:

Dinner

Method:

Stovetop

Cuisine:

Italian
Ingredients
One

9 ounce

package refrigerated agnolotti or ravioli

2 tablespoons

butter

1/4 cup

coarsely chopped walnuts

1/4 cup

chopped shallots

3 tablespoons

chopped fresh sage, plus extra for garnish

3/4 cup

white wine

2/3 cup

heavy cream

1/2 cup

grated parmesan cheese
Salt and pepper
---
Instructions
Cook agnolotti according to package directions and remove from pasta water with slotted spoon.
While pasta is cooking, make sauce by melting butter in medium sized skillet over medium-high heat. Add walnuts and stir until lightly toasted, about 2-3 minutes. Remove with slotted spoon, keeping butter in pan.
Add shallots and chopped sage to skillet and stir for one minute. Add wine and cream and bring to a low boil. Simmer for 5 minutes.
Stir parmesan cheese into sauce, and season to taste with salt and pepper.
Divide pasta between two plates and pour sauce on top. Garnish with walnuts, sage leaves and freshly ground pepper and serve at once.